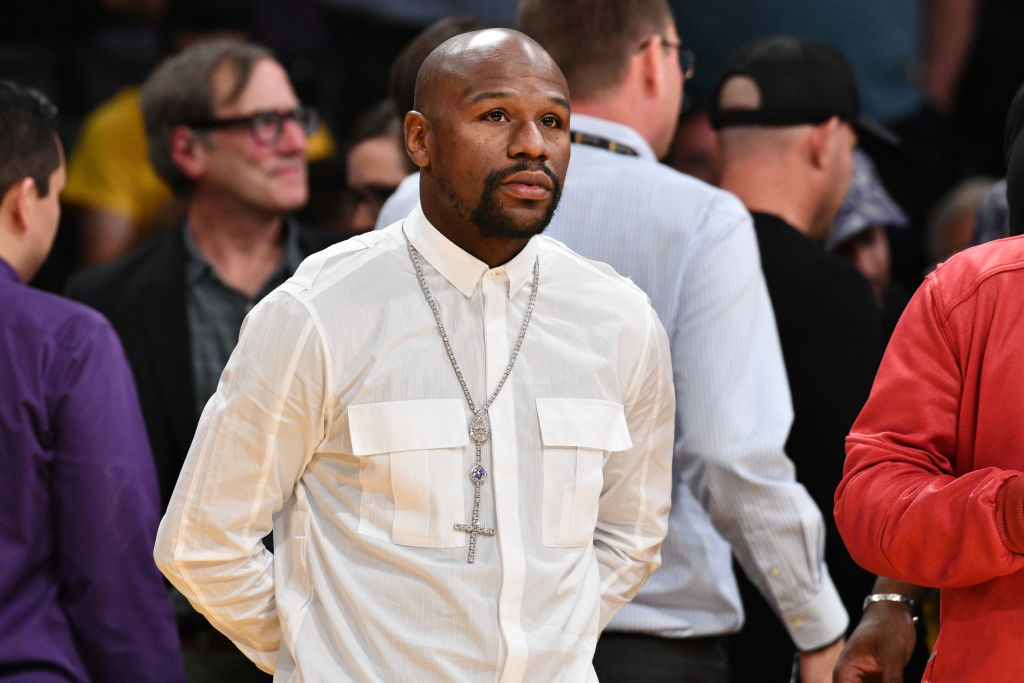 Floyd Mayweather Made $1 Billion in Boxing, Now He Wants to Make the Same in a Different Line of Work
Floyd Mayweather made more than $1 billion while boxing and now he wants to make the same amount in a different line of work.
Floyd Mayweather is one of boxing's all-time greats. He's also the wealthiest of them all. Mayweather made his money as a successful boxer, but he hasn't fought since his well-publicized bout with MMA star Conor McGregor in 2017. He has retired from boxing three times and has made more than $1 billion in his career. Mayweather is hoping to match that amount while he heads down a new career path.
Floyd Mayweather's boxing career
In 50 bouts, Floyd Mayweather has never lost a professional fight. From his debut on Oct. 11, 1996, through his finale against Conor McGregor on Aug. 26, 2017, Mayweather was perfect in the ring. He won 27 fights via knockout. He also had some big wins against quality opponents such as 'Sugar' Shane Mosley, Oscar De La Hoya, and Manny Pacquaio.
During his career, Mayweather captured 15 world titles and was named Fighter of the Decade for the 2010s by the Boxing Writers Association of America. In a 2016 story, ESPN named Mayweather the best pound-for-pound fighter in the last 25 years. "In his era, he had no peer defensively and is perhaps the greatest defensive fighter in history," ESPN wrote.
Three times in Mayweather's career, he has retired. There have been recent rumors swirling of him returning to the ring for yet another comeback. TMZ Sports, however, reported that any comeback would likely be off or put on hold after Mayweather suffered through the recent deaths of his uncle and the mother of his child, who died a week apart in March from separate incidents.
Mayweather and his money
It's easy to see where Floyd Mayweather earned his nickname 'Money.' Not only is he a boxing champion, but he's also become the pay-per-view champ. In an article by Business Insider detailing the 55 best-selling PPV fights, Mayweather is the owner of the top two and he certainly cashed in on them.
His bout with Manny Pacquaio on May 2, 2015, tops the list with 4.6 million PPV buys, while his fight with MMA star Conor McGregor two years later had 4.3 million. In that fight against McGregor, Mayweather took home $275 million. Not bad for a night's work.
For his PPV history, Mayweather has generated more than 24,000,000 buys. He has raked in $1.7 billion in revenue. In 2006, Mayweather also founded his own boxing promotional firm, Mayweather Promotions. Mayweather has made a lot of money from boxing, but now that his career, at least in theory, is over, he's finding another way to make his money.
Mayweather looking to make another billion outside boxing
There's nothing else to prove in the right for Floyd Mayweather. He's 50-0 and he's made more than $1 billion for throwing and ducking punches. Unless he decided to unretire once again for another huge payday, we've seen the last of Mayweather as a boxer.
According to Mayweather's longtime business partner Leonard Ellerbe in an article Wednesday in The Insider, Mayweather's new goal is to make money through real estate. More specifically, Mayweather would like to double his billion-dollar boxing income by making another billion through property sales.
Ellerbe, the CEO of Mayweather Promotions, told The Insider that the boxer would love to expand his real estate portfolio. "He's consistently making investments," Ellerbe said. Mayweather is clearly motivated by money and he's clearly a hard worker. If it's possible for him to make more money in property than boxing, he'll likely find a way to accomplish it.