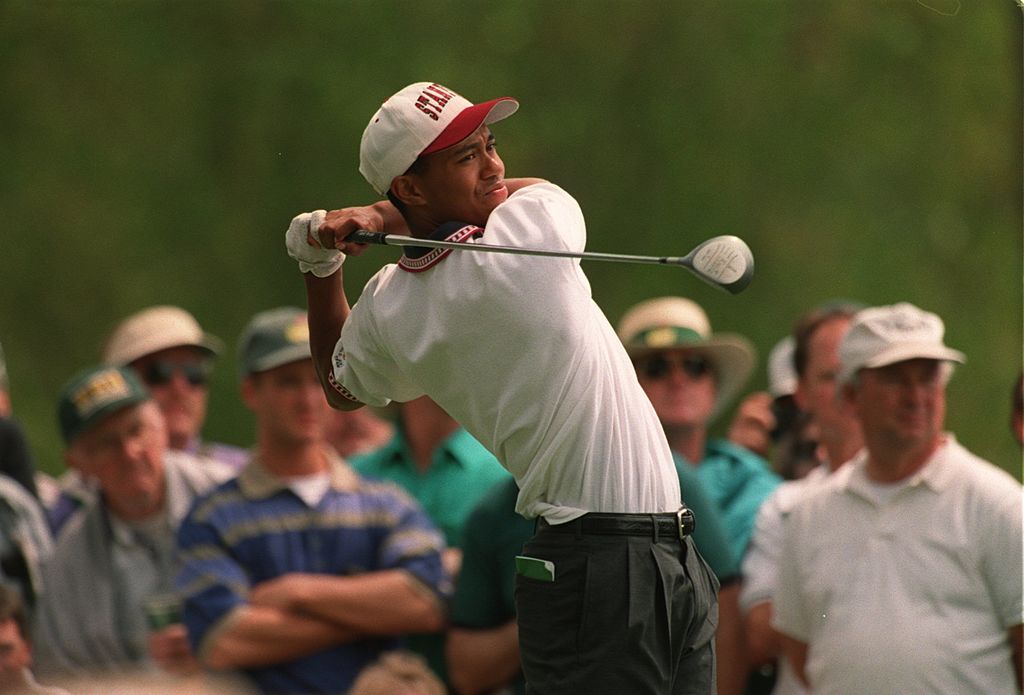 How Did 19-Year-Old Tiger Woods Do in His Debut at The Masters 25 Years Ago Today?
On April 6, 1995, 19-year-old amateur Tiger Woods made his major championship debut at The Masters. How did the future five-time winner fare?
On April 6, 1995, the patrons at Augusta National Golf Club had no idea that they were witnessing history when a 19-year-old amateur named Tiger Woods first teed it up at The Masters. Or maybe they did.
Tiger Woods had burst onto the golf scene when he was just two years old, appearing alongside Bob Hope on The Mike Douglas Show and the legend grew from there. He shot a 48 for nine holes when he was three. He first broke 80 for 18 when he was eight. He won the Junior World Golf Championships six times and broke 70 when he was 12.
He became the youngest U.S. Junior Amateur in history at 15. He made his PGA Tour debut at 16. At 18, he won his first U.S. Amateur title in the summer of 1994, which qualified him for The Masters and U.S. Open the following year. He enrolled at Stanford University, winning his first-ever collegiate event and earning All-American honors. Yeah, the guy could play.
So in April 1995, Tiger Woods set out to make his first appearance in a major championship at The Masters, beginning a journey that would change the game of golf forever.
Tiger Woods wowed the pros in practice rounds
Tiger Woods was enthralled with Augusta National. Staying in the Crow's Nest, the rustic accommodation reserved for amateur players, the 19-year-old found himself wandering all over the grounds, trying to unlock doors to get a glimpse of anything he could. He made his way to Butler Cabin and actually stumbled upon the champions' locker room, obviously reserved for past champions. That didn't stop Tiger. With nobody around, Woods strolled right through. It would only take a couple of more years for him to gain full access.
The biggest names in the game at the time were all wondering about this Tiger Woods kid. The stories were around and some had seen him here and there in the few events that he'd played on the PGA Tour but this was a chance to really get a good look. Tiger impressed.
In his first practice round, Woods played alongside then-two-time champion Nick Faldo, who couldn't believe how poised the teenager was. Impressed with his length, Faldo complimented Woods on his overall talent, sentiments echoed that day by the likes of Fred Couples, Raymond Floyd, Nick Price, and Greg Norman. In the Par-3 Contest, Woods was paired with the legendary Gary Player, who knew he was seeing something special.
But it was now time to tee it up for real.
Tiger's first round at The Masters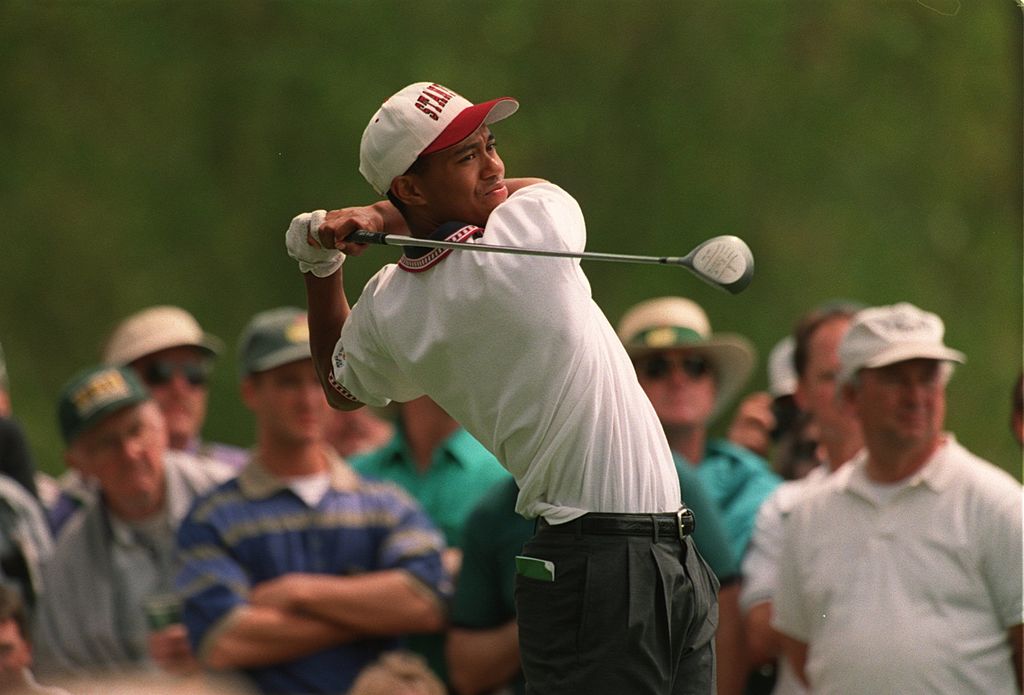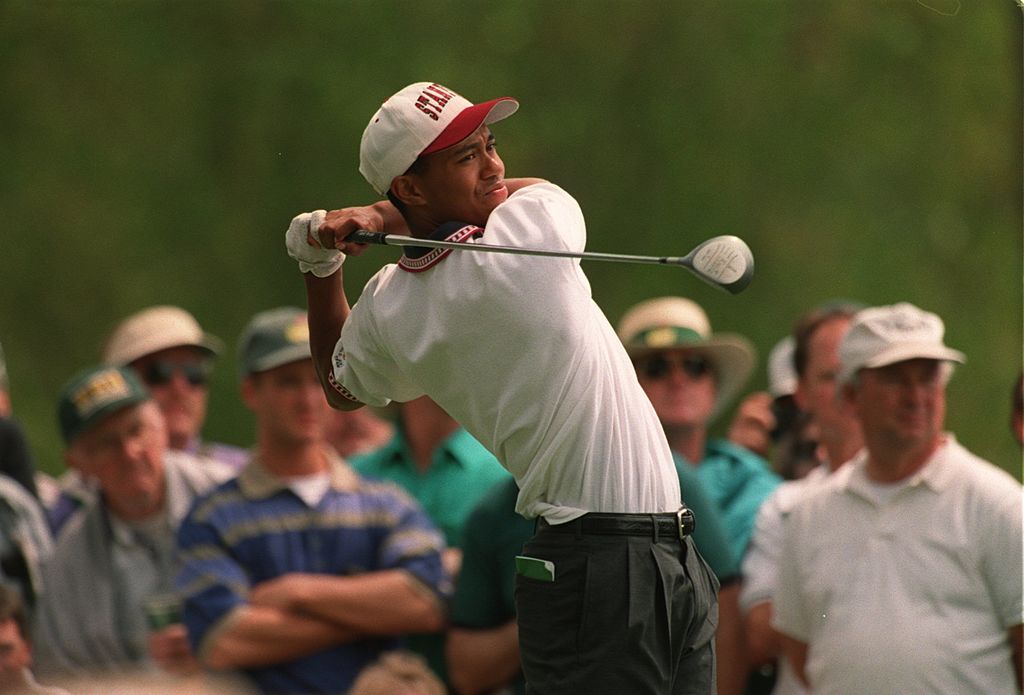 One of the perks of being the reigning U.S. Amateur champ is getting to play with the defending Masters champion, who in 1995 was Jose Maria Olazabal, who was astounded by Tiger Woods' length.
"I needed binoculars to see where he hit the ball."

1994 Masters champion Jose Maria Olazabal on Tiger Woods
On the first hole of his major championship career on a drizzly day at Augusta National, Tiger Woods hit the green in regulation but then embarrassed himself with the birdie putt, rolling it some 50 feet past the hole and back off the green. After what Tiger himself would later call a "chicken shot" for his fourth, he holed a dicey bogey putt for a five. Woods would later recall the moment in his memoir.
"I made it. Great start to my Augusta career. Hit the green in regulation, and then hit my first putt off the green."

Tiger Woods on his first hole at The Masters in 1995
Woods quickly recovered, using his length to his advantage at the par-5 second, making birdie to get back to even for the day. But then he bogeyed two of the next three holes to sit at 2-over through five holes. After pars at six and seven, Woods again took advantage of his distance, making birdie at the par-5 eighth to get back to 1-under. A par at the ninth gave him an opening-nine 37.
Woods birdied the par-4 10th and headed to Amen Corner at even-par for the tournament. After pars at 11 and 12, Tiger hit a little snag at the par-5 13th, making bogey to drop back to 1-over. But he got the shot back with a birdie at the par-5 15th and closed with three straight pars for an opening-round 72, six shots behind Olazabal, who was tied for the lead with David Frost and a 24-year-old lefty named Phil Mickelson.
Woods was the only amateur to make the cut
After another round of 72 on day two, Tiger Woods was the only amateur of five in the field to make the cut. It was the first time Woods had made the weekend in a professional event.
His worst round came on Saturday, where he struggled to a five-over round of 77. He was 15 shots out of the lead heading into Sunday and ended his first Masters run with his third even-par round of 72 for the week, obviously finishing as the low amateur in 41st place. Ben Crenshaw was the winner that week, an emotional victory that came just one week following the death of his mentor, the legendary Harvey Penick.
Following his first appearance at The Masters, Woods sent a letter to Augusta National, thanking them for such a wonderful experience.
"Please accept my sincere thanks for providing me the opportunity to experience the most wonderful week of my life. It was Fantasyland and Disney World wrapped into one. I was treated like a gentleman throughout my stay and I trust I responded in kind. The Crow's Nest will always remain in my heart and your magnificent golf course will provide a continuing challenge throughout my amateur and professional career.

"I've accomplished much here and learned even more. Your tournament will always hold a special spot in my heart as the place where I made my first PGA cut and at a major yet! It is here that I left my youth behind and became a man. For that I will be eternally in your debt."

Tiger Woods in a letter to Augusta National following his first Masters appearance
After a second U.S. Amateur win, Tiger Woods returned to The Masters in 1996 and missed the cut. Following a record-setting third U.S. Amateur victory, he gave up his right to compete at The Masters when he turned pro in August 1996. However, after winning in Las Vegas in just his fifth professional start, Woods automatically qualified and returned to The Masters in 1997.
And I think we all remember what happened then. In the 25 years since Tiger Woods' debut at The Masters, he's won the coveted green jacket five times, just one behind Jack Nicklaus' all-time record of six.