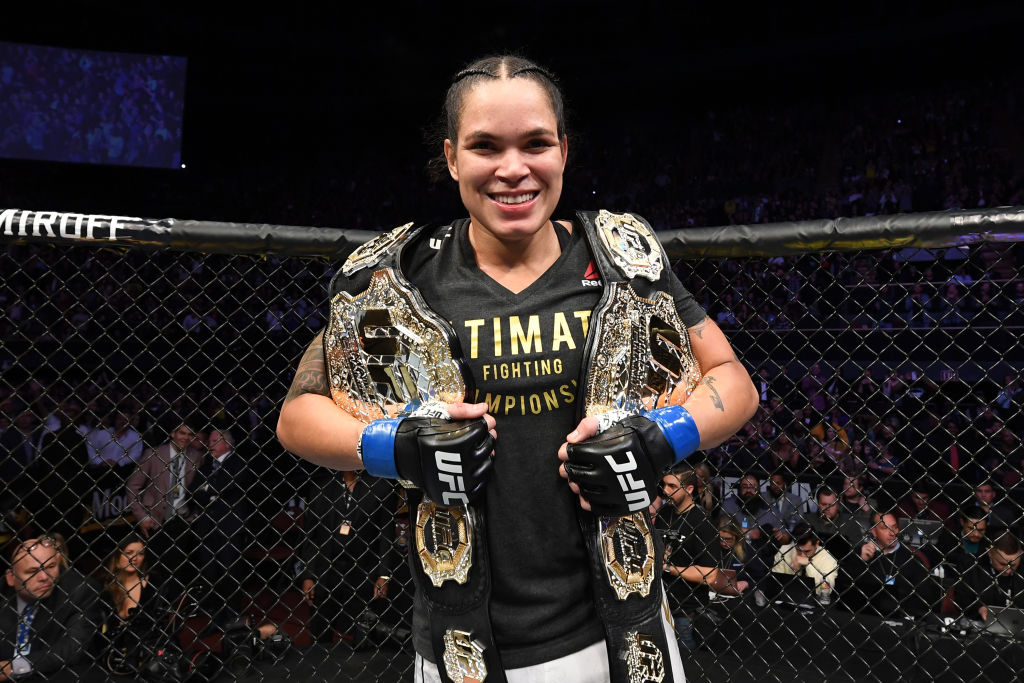 How Many Weight Classes Are There in Women's UFC?
Women are taking the UFC by storm. How many weightclasses are there in the UFC women's division now and who are the champions?
Although Ronda Rousey has since left the UFC, her legacy in helping create and popularize women in the UFC lives on. The UFC currently has four different weight classes for women. Here's a breakdown of each one.
Strawweight – 115 lb
The women's strawweight division is one of the most interesting divisions in the entire UFC. There are many highly-skilled fighters who are in title contention and who can beat the other women in the division. 
Currently, the champion of this division is Zhang Weili. Weili became the champion after she knocked out Jessica Andrade in less than a minute. Andrade, in turn, became the champion when she slammed Rose Namajunas on her head, knocking her out. 
Namajunas famously became the champion after she knocked out Joanna Jedrzejczyk in an upset victory. Jedrzejczyk was a dominant champion and she beat multiple women, including Andrade, in her title reign. 
Jedrzejczyk earned her title after she brutally knocked out Carla Esparza, the first-ever strawweight champion. Esparza, poetically enough, won the inaugural strawweight title after she choked out Namajunas.
This back and forth trading of wins and losses just goes to show how deep the division is. Many fans don't expect Weili to lose anytime soon, but with the women in her division, she just may.
Other highly skilled women to look out for in this division include Tatiana Suarez, Michelle Waterson, and Claudia Gadelha.
Flyweight – 125 lb
The UFC opened the women's flyweight division recently, but it already has its dominant champion. Nicco Montaño won the inaugural flyweight belt when she beat Roxanne Modafferi. 
However, after Montaño failed to make weight to defend her belt against Valentina Shevchenko, she was stripped of it. To crown the next champion, the UFC matched Shevchenko with Jedrzejczyk. 
At the time, Namajunas was the strawweight champion, so Jedrzejczyk had no chance to win her title back. She decided to move up in weight and face Shevchenko for the title. 
In a dominant five-round decision, Shevchenko easily won the title. After that, she successfully defended it against Jessica Eye, knocking her out with a spectacular head kick. 
Then, Shevchenko beat Liz Carmouche in another dominant five-round decision. With performances like that, no one knows who can beat Shevchenko at flyweight. 
Some women who may try though include Joanne Calderwood, Viviane Araujo, and the strawweight champion, Weili.
Bantamweight – 135 lb
Likely the most popular women's division, bantamweight is the home of the women that everyone's heard of. First, it was ruled by Rousey, and then after a period of time, it's now ruled by Amanda Nunes. 
Rousey, of course, had a long and dominant reign before she was famously knocked out by Holly Holm. Holm in turn, lost against Miesha Tate in her first title defense. Tate in turn, lost against Nunes in her first title defense. 
After that though, Nunes has dominated everyone that the UFC sends her way, including beating Shevchenko and Holm. The rest of the division, unfortunately, isn't very interesting, as Nunes has beaten many of them already. 
Two women to watch out for though, are Ketlen Vieira and Aspen Ladd, both of whom are pretty good fighters and will likely fight for the title soon.
Featherweight – 145 lb
This is arguably the worst division in the entire women's UFC because there are simply not enough fighters. The UFC started this division so that Cris Cyborg could fight in the organization. She did that and won the title easily.
However, Nunes knocked out Cyborg and won the title, and then Cyborg left the UFC a few months later. As a result, featherweight is simply an empty division that may get closed in the future.
A future division
One weight class that won't be empty if the UFC decides to start it is the atomweight division, which has a weight limit of 105 lb. Asian MMA organizations have this weight class so the UFC could potentially start this division in the future.