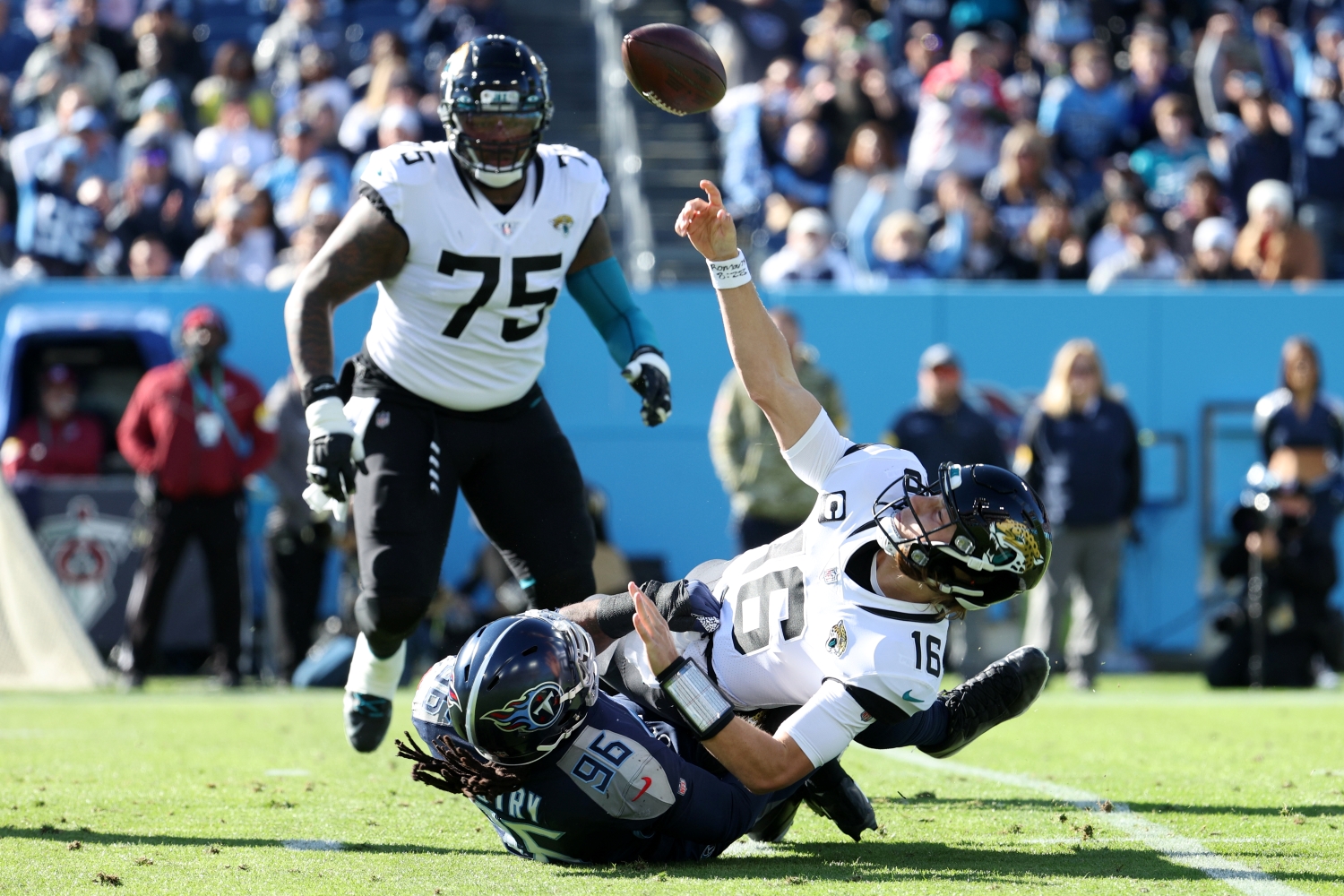 What the Jacksonville Jaguars' Plan of Attack Must Be for the 2022 NFL Offseason
With Urban Meyer gone and Trevor Lawrence in need of help, here's what the Jaguars need to do to make their 2022 offseason a success.
Poor Jacksonville Jaguars fans.
A year that began with so much promise quickly went south. In fact, Urban Meyer wasted no time raising eyebrows and inspiring countless hours of talk show content with his habit of making questionable decisions. And even though Jaguars owner Shad Khan went out of his way to make the three-time national champion one of the highest-paid coaches in the NFL, he ultimately pulled the plug on an experiment that can only be described as an abject failure.
Luckily for Jacksonville fans, the 2021 offseason included one positive development: the arrival of Trevor Lawrence. Unfortunately for the uber-talented quarterback, he entered a dismal situation that didn't set him up for immediate success. But with Meyer gone, Lawrence already has a better chance of justifying the generational-prospect hype that has surrounded him for years. And he certainly looked more like a quarterback who deserved to be the No. 1 overall pick in the Jags' Week 18 victory over the Indianapolis Colts, giving them a 3-14 record for the year.
But what exactly must the Jaguars do to climb out of the depths of the AFC South? While it's highly unlikely they can compete for the playoffs in 2022, executing a sound plan of attack could allow the perennial losers to start winning games with more frequency.
Let's take a closer look at the major roster-related decisions the front office must make, along with potential targets in the 2022 NFL Draft.
Biggest offseason questions
Who will replace Urban Meyer as head coach?
Nobody knows the answer to that question at this point, and it's fair to wonder whether the Jaguars will get it right with their next hire. And after essentially wasting a year of Lawrence's talent, they can't afford to not get it right this time around.
Jacksonville could turn to someone like Josh McDaniels, who has demonstrated the ability to develop quarterbacks with the New England Patriots. After watching Bill Belichick's longtime offensive coordinator work his magic with Mac Jones in 2021, Khan should consider letting McDaniels do the same with Lawrence.
Of course, the Jaguars should have quite a few candidates interested in working with a signal-caller who possesses elite traits and All-Pro upside. Buccaneers OC Byron Leftwich seems like a logical fit for the job, as does Chiefs OC Eric Bieniemy Bills OC Brian Daboll could also make the leap to NFL head coach soon, and it's impossible to ignore what he's done with Josh Allen and not come away impressed.
In addition to figuring out who will coach the team, the Jaguars must also determine who will manage the roster. General manager Trent Baalke doesn't have a particularly impressive track record, and a fresh start might be best for everyone involved.
Will Khan can the veteran personnel executive after one year? If he wants his most important player to succeed, he may need to do just that. Still, it remains to be seen if the Jaguars are willing to hit the reset button at head coach and GM — again.
Top free-agency decisions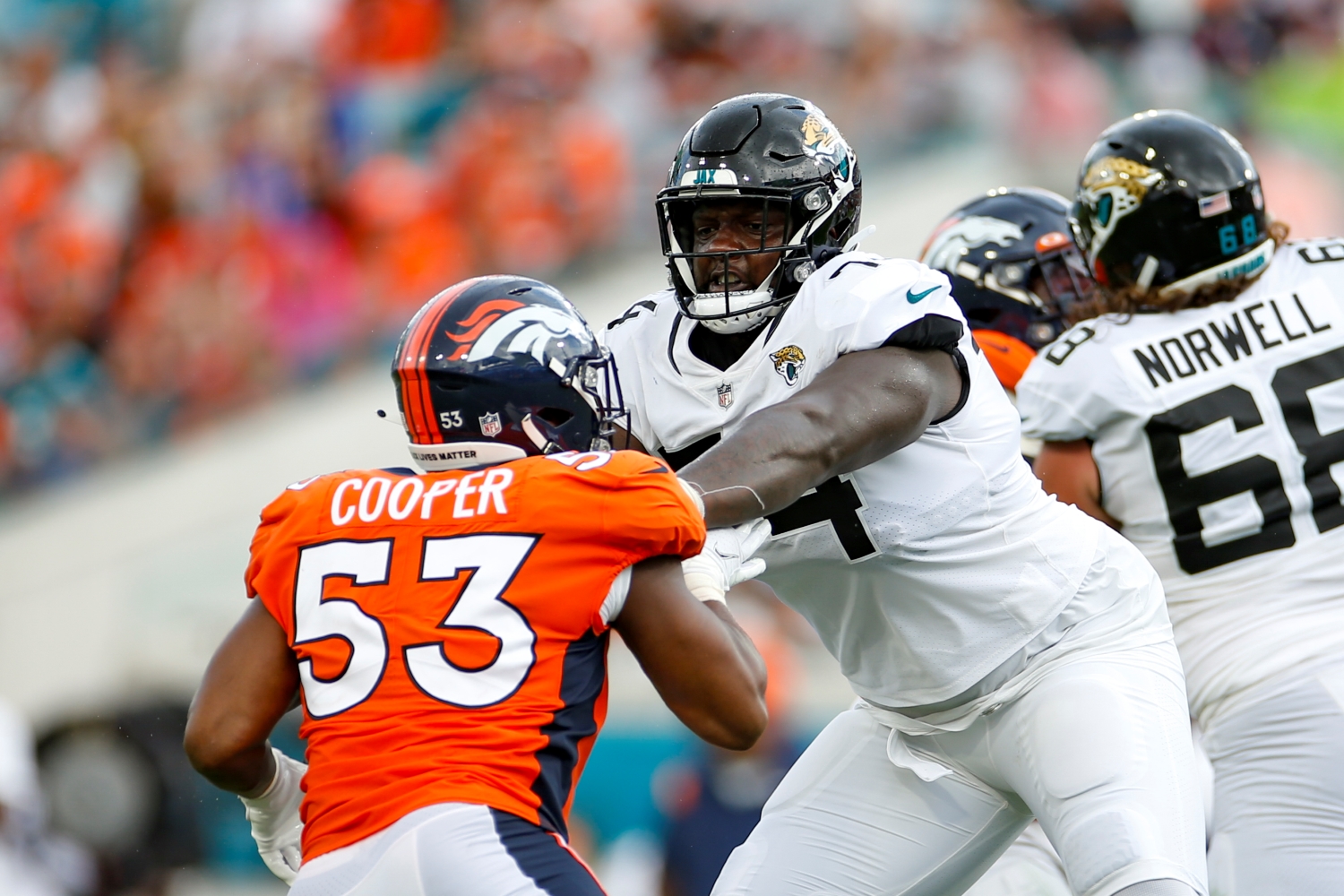 Key free agents: Cam Robinson (OT), Andrew Norwell (OG), A.J. Cann (OG), D.J. Chark (WR)
To no surprise, the Jaguars don't exactly have a ton of free agents worth retaining. Whether it's Baalke or someone else, whoever is in charge will have to decide whether to keep several members of Lawrence's protection squad.
Cam Robinson, who played the 2021 season on the franchise tag, will look to secure a multi-year deal coming off his age-26 campaign. The 2017 second-round pick has had an inconsistent NFL career, so it wouldn't be a surprise if the Jaguars let him walk. Still, breaking in a new blindside protector would represent a bit of a risk.
Ironically, Jacksonville's two other impending free agents of note share the same meeting room as Robinson. Andrew Norwell reset the guard market in 2018 by joining the Jaguars on a five-year, $66.5 million deal. The former Carolina Panther has yet to earn a Pro Bowl nod in Jacksonville, and at 30 years old, he should be motivated to find a suitor for his services who offers a legitimate shot at winning a Super Bowl ring.
Meanwhile, longtime starting guard A.J. Cann could also be on his way out. A third-round pick in 2015, the 30-year-old lineman has developed into a solid player and respected leader.
But will he want to stick around for another rebuild?
2022 NFL Draft needs and potential targets
Top picks: First round (own), second round (own), third round (own), third round (Carolina Panthers via CJ Henderson trade)
Draft needs: OT, WR, DL, TE, LB
Other than quarterback, the Jaguars could use an upgrade at just about every position. But if we must be picky, they have to fill holes at offensive tackle, wide receiver, and defensive end.
Between Robinson's expiring contract and Jawaan Taylor's disappointing play, Jacksonville could easily need new starters at left and right tackle. Luckily, it should be in prime position to secure one of the most physically gifted prospects in the 2022 class in Alabama's Evan Neal.
In addition, Lawrence will never succeed without better weapons. And if the Jaguars want to pull a page out of the Cincinnati Bengals' playbook, they may use their first-round pick on a wideout over a tackle.
Arkansas' Treylon Burks averaged 16.8 yards per catch and snagged 11 touchdown receptions as a junior, and his 6-foot-3, 225-pound frame would give Lawrence a big-bodied target to turn to in critical moments. Ohio State's Garrett Wilson (6-foot, 192 pounds) doesn't have the same build, but he can turn an ordinary catch-and-run into a score.
Of course, the Jaguars could also go with a player who will get paid to hunt quarterbacks. Michigan's Aidan Hutchinson and Oregon's Kayvon Thibodeaux should become top-five picks, and both are in consideration to go No. 1 overall. Either one would add some serious sizzle to a pass rush that doesn't have a single established threat outside of 2019 first-round pick Josh Allen.
1 player on each side of the ball who must step up in 2022
Trevor Lawrence started the day with 10 INTs.

He's now leading the NFL in INTs with 14. [tied with Joe Burrow] #Titans winning 17-0.pic.twitter.com/tNrsF1qwvc

— Dov Kleiman (@NFL_DovKleiman) December 12, 2021
It seems unfair, but the player who must step on offense is undoubtedly Trevor Lawrence. Sure, his rookie-year struggles stemmed largely from having a lackluster supporting cast and awful head coach. But the gifted quarterback also deserves criticism for turning the ball over and making some poor decisions.
Will Lawrence improve in 2022? Based on his mental makeup and skill set, it would be unwise to bet against him. But his future success hinges on what happens during the offseason, and it'll be up to a new regime to surround him with the right pieces. Ultimately, though, if he doesn't take his game to another level next season, the Jaguars won't win many more games.
As for the defensive side of the ball?
It's time for Josh Allen to prove he's an elite defender rather than someone who just makes splash plays. After racking up 10.5 sacks as a rookie, the 6-foot-5, 262-pound edge rusher hasn't come close to hitting the double-digit mark. He has to become a down-to-down force who commands attention from offensive lines.
If not, it might not matter how many points Lawrence and the offense score.
All statistics courtesy of Pro Football Reference.