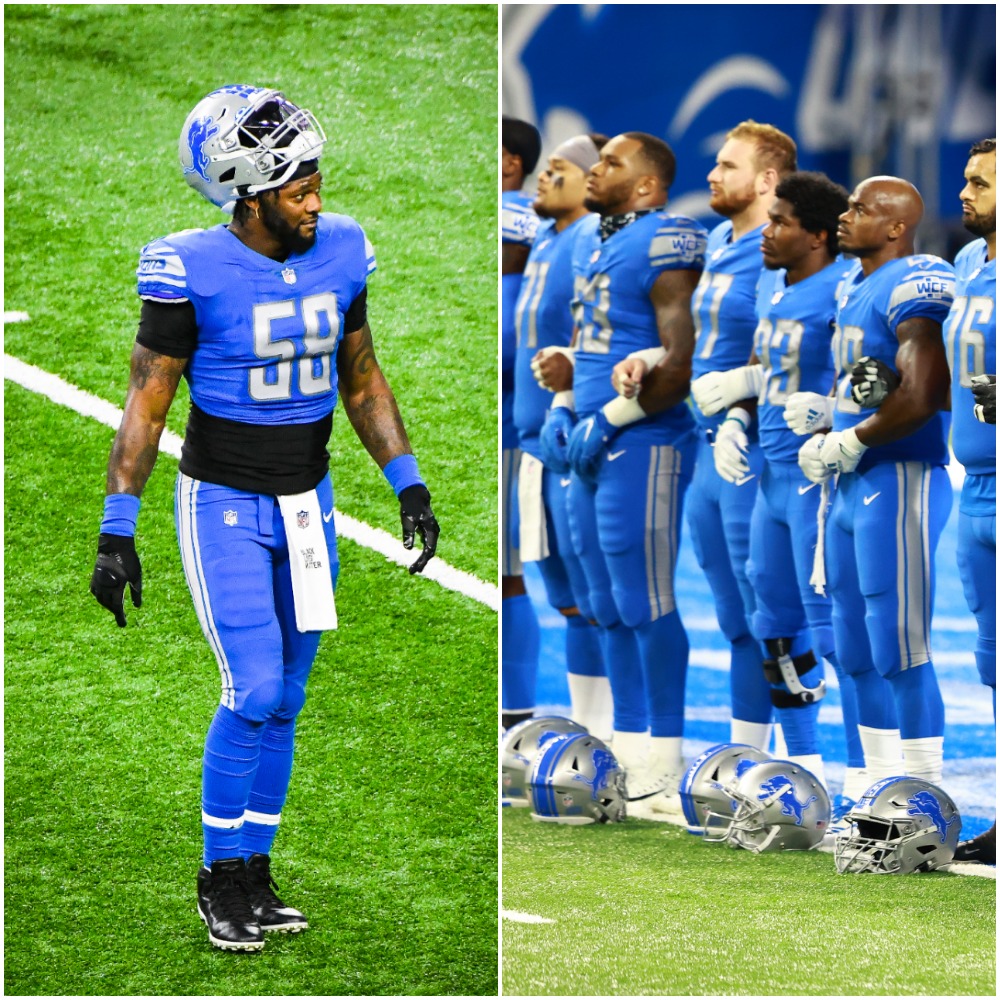 Jamie Collins' Agent Fires Off Expletive-Laced Tweet Following Detroit Linebacker's Ejection
The agent of Detroit Lions linebacker Jamie Collins erupted in an expletive-laced outburst on Twitter after Collins was ejected for a bizarre incident. The agent has a point.
For months NFL fans, coaches, and players have looked forward to the 2020 NFL season-opening day with great anticipation and trepidation. The excitement of kicking off the season has been tempered by the concerns it might not ever happen in the midst of a worldwide pandemic.  
For new Detroit Lions linebacker Jamie Collins, the season-opening game against the Chicago Bears is one he'd just as soon forget as he didn't last long because he was ejected in the first half for a bizarre incident. Collins' agent took to Twitter soon after the ejection and let it be known he didn't agree with the call. 
Jamie Collins' career includes Pro Bowl appearance
Coming out of Southern Mississippi, Jamie Collins was not viewed as a top linebacker on anyone's draft board heading into the 2013 NFL Draft. Bill Belichick and the New England Patriots were impressed enough to take Collins with the No. 52 pick in the second round. 
In New England, Collins blossomed. After starting eight games his rookie season, Collins became a fixture for the Patriots defense in 2014 and 2015. That 2014 season he finished the season with an impressive 115 tackles, along with four sacks, two interceptions, and four forced fumbles.
In 2015, Jamie Collins played even better, recording 89 tackles, 5.5 sacks, one interception and a league-leading five forced fumbles. For his efforts, he earned his first Pro Bowl trip. Since that season, Collins has bounced back and forth between Cleveland and New England. He played last season in New England and had another stellar season recording 81 tackles, three interceptions, and seven sacks.
Jamie Collins ejected in first half
This past offseason, Jamie Collins left New England for a piece of New England in Detroit. He signed a three-year, $30 million contract with the Lions and reunited with former Patriots' defensive coordinator and current Detroit head coach Matt Patricia.
Collins started the first game of the 2020 NFL season for the Lions against the Chicago Bears. In just over a quarter of action, he was effective with three tackles, a quarterback pressure, and a defended pass. 
Then, in the second quarter, Collins had a bizarre exchange with referee Alex Kemp. Collins appeared to be talking about the previous play and leaned over to demonstrate the hit to the official. Strangely, as Collins bent over, the referee appeared to lean in with his chest, then dramatically reacted to the collision with Collins' helmet, and threw a flag. 
Collins was called for unsportsmanlike conduct and ejected from the game for making contact with an official. While the letter of the law says making contact with an official is worthy of an ejection, there's reason to believe Collins would have never touched Kemp had the ref not leaned forward. 
Collins' agent angrily reacts to ejection
Jamie Collins' agent David Canter responded to the incident on Twitter shortly after it happened. He was not pleased. 
"Are you f**king kidding me. You can't eject a player for this. Totally f**king overzealous interpretation of the rules. He is clearly demonstrating that a player was illegally lowering his helmet to deliver a blow. Completely ridiculous ejection."
It's worth noting referee Alex Kemp ejected Earl Thomas in 2016 during a game for hugging him. Players should take note that Kemp does not like being touched. Now it will be interesting to see how much the league office touches Jamie Collins and his bank account. 
Like Sportscasting on Facebook. Follow us on Twitter @sportscasting19.