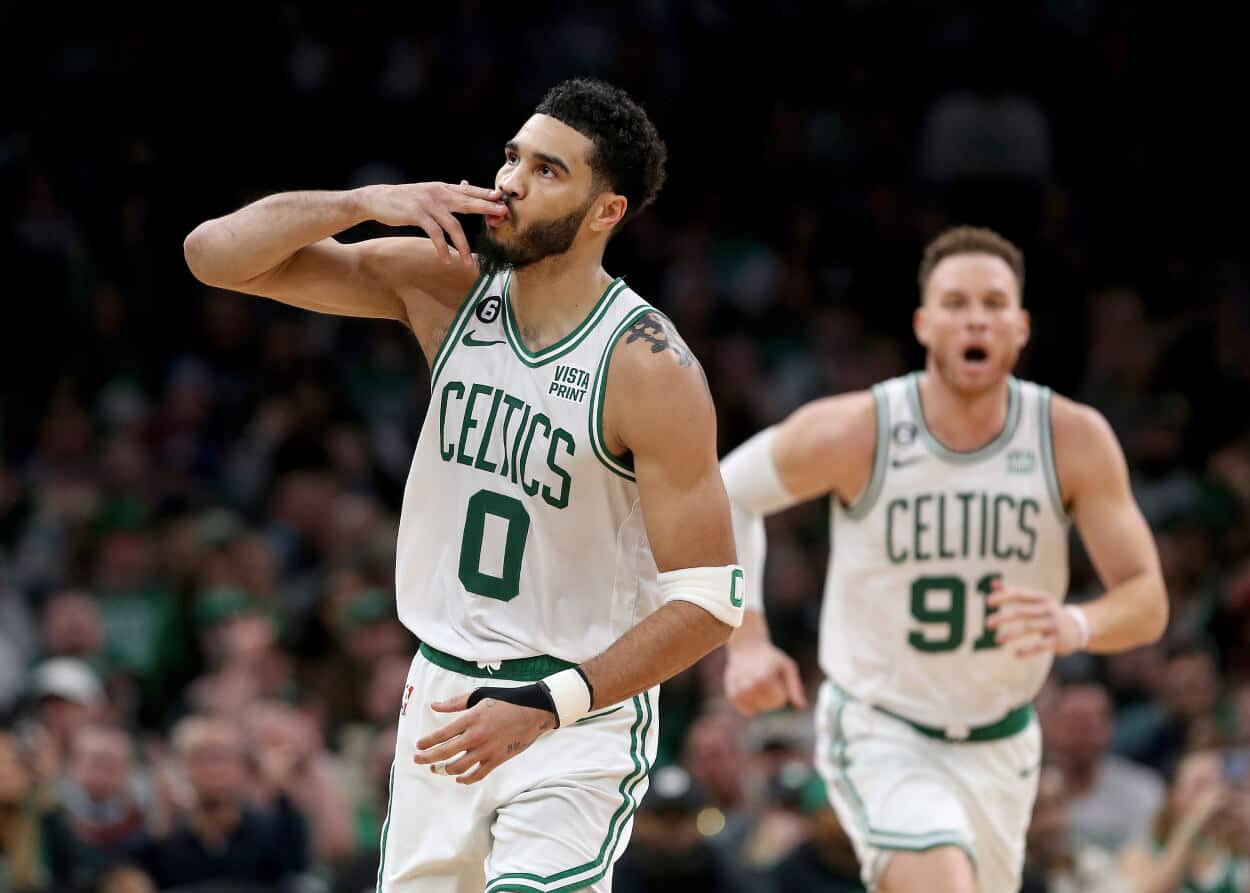 Jayson Tatum Heads Into the Second Half of the Season After Completing a Unique NBA Trifecta
Boston Celtics star Jayson Tatum completed a rare trifecta during his performance at the NBA All-Star Game.
Jayson Tatum and the Boston Celtics have some pressure on them. Although they have the NBA's best record, the surging Milwaukee Bucks are half-game behind them after rattling off 12 straight wins before the All-Star break. Tatum and the Celtics also have to live up to last year's post-All-Star Game performance when Boston ended with a 17-5 mark.
The Celtics (42-17) get back into action Thursday when they travel to face the Indiana Pacers to kick off the second part of the season. Tatum heads to Indiana after pulling off a trifecta that's never been done in the NBA.
Jayson Tatum gets back into action with the Boston Celtics after record-setting All-Star Game effort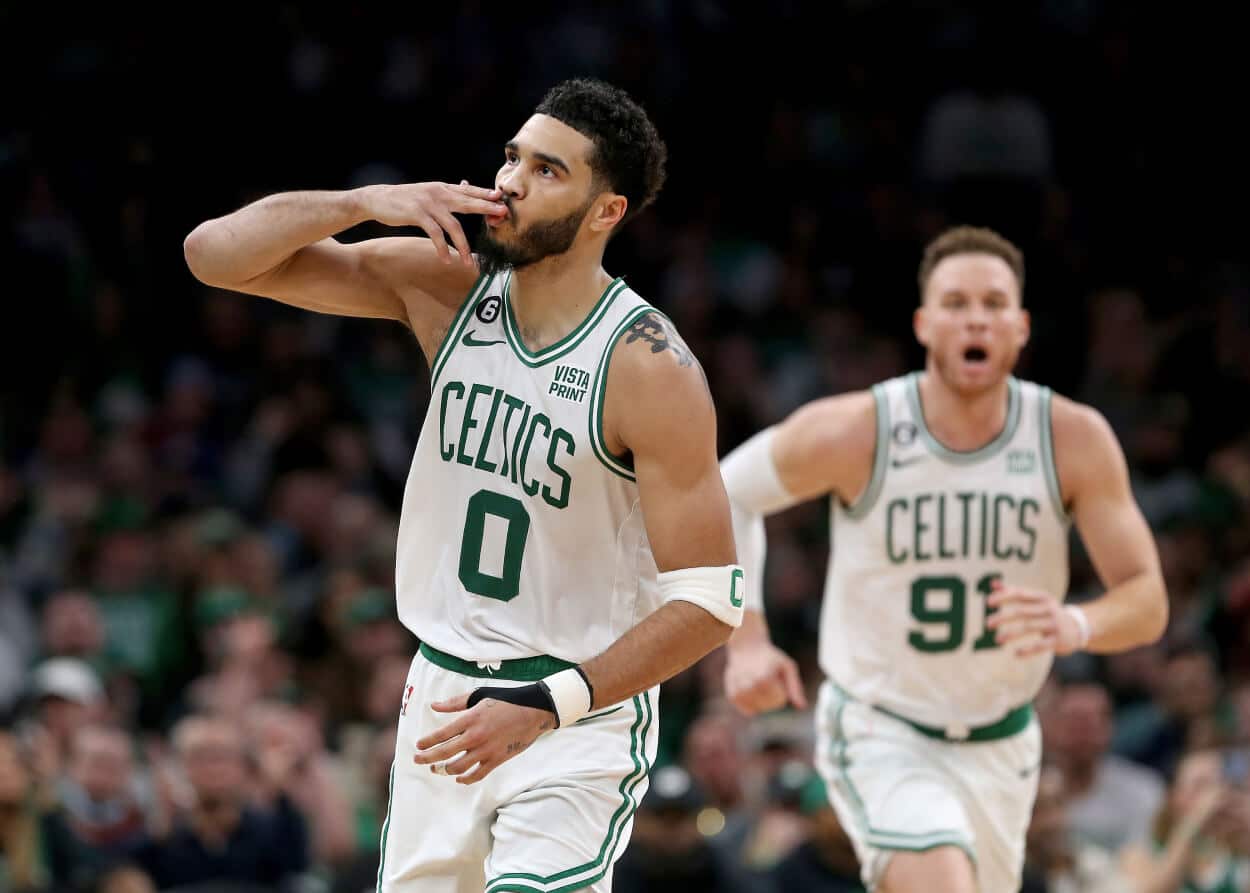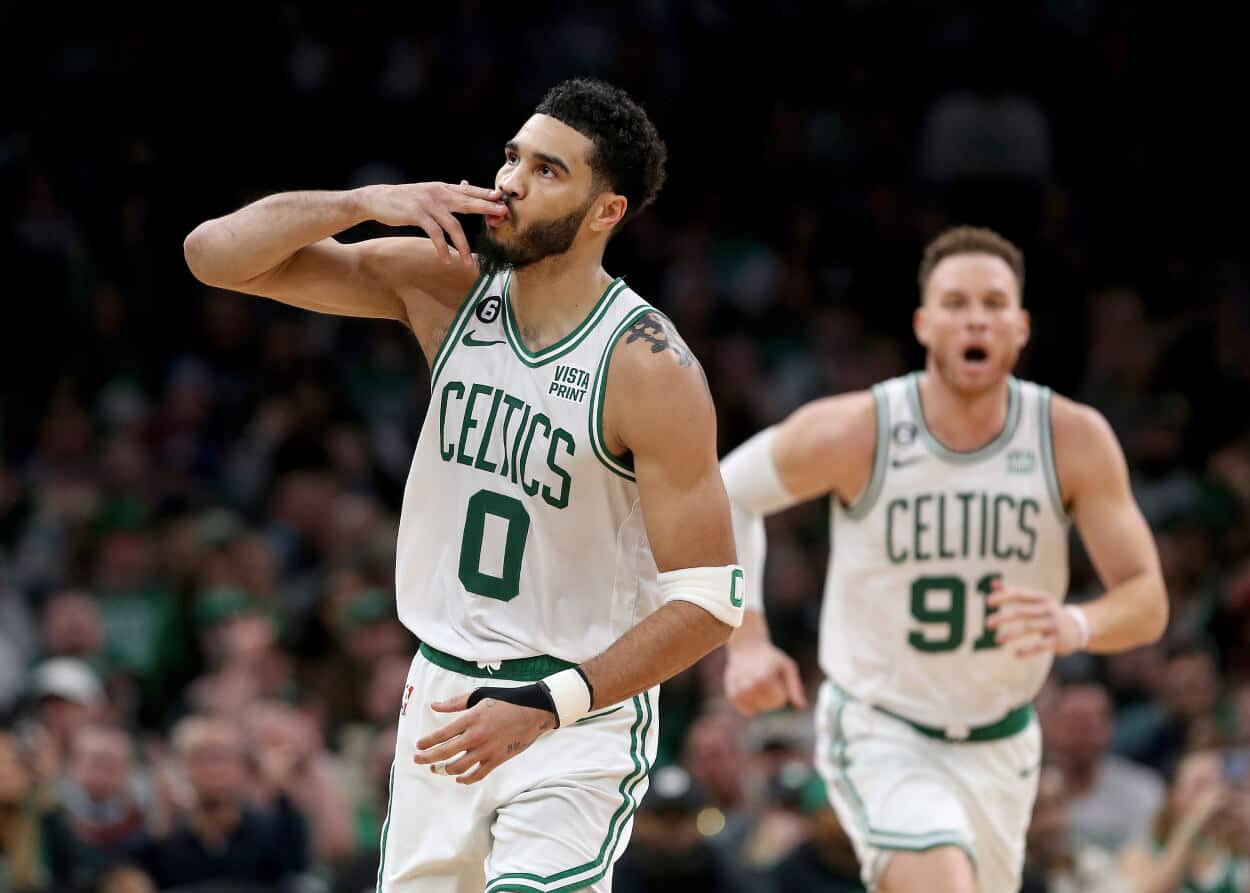 Tatum earned his fourth straight All-Star Game selection this year. He's put himself in the race for MVP after averaging career-highs in points (30.6), rebounds (8.6), and assists (4.5).
His All-Star Weekend didn't start off so great, however. Taking part in the three-point contest, Tatum was the first to shoot, and he struggled. The Celtics star finished with a round of 20 points and never made it to the second round.
He more than redeemed himself with his performance in the All-Star Game when he finished with an ASG-record 55 points in his team's 184-175 victory Sunday. Tatum's 55 broke the previous mark set by Anthony Davis, who racked up 52 points in 2017.
In a game where zero defense is played, Tatum made 22 of 31 shots from the field (10-for-18 from three-point range). He added nine rebounds and six assists to walk away with the Kobe Bryant All-Star MVP trophy.
"It's extremely special to me," Tatum, 24, said of the award, per ESPN. "My first All-Star Game was in Chicago in 2020 when they renamed the MVP after him, and I remember telling myself that someday I got to get one of those."
With his All-Star Game performance, Tatum completed a never-been-done-before trifecta
Tatum knew he had a lot of points at the All-Star Game, but admitted he didn't think about the record until Portland Trail Blazers guard Damian Lillard brought it up.
"I found out midway through the fourth," Tatum said. "I think I had like 49 and Dame was like, 'Yo, the record's 52.' He was like, 'Go get it.'"
When all was said and done, Tatum became the first player in NBA history to finish with 50 or more points in a game during the regular season, postseason, and the All-Star Game. Not including the All-Star Game, Tatum has hit 50 or better seven times.
He's done it five times during the regular season, with his biggest total coming on April 30, 2021, against the San Antonio Spurs. In that game, he had a career-high 60 points. Tatum also did it in a play-in game against the Washington Wizards on May 18, 2021, scoring 50 points.
Ten days after that 50-point outing in the play-in game, Tatum did it again. In a playoff contest against the Brooklyn Nets, he put up another 50 in Game 3 in the first round of the postseason. Tatum went 16-for-30 from the field and 13-for-15 from the line in Boston's 125-119 victory.