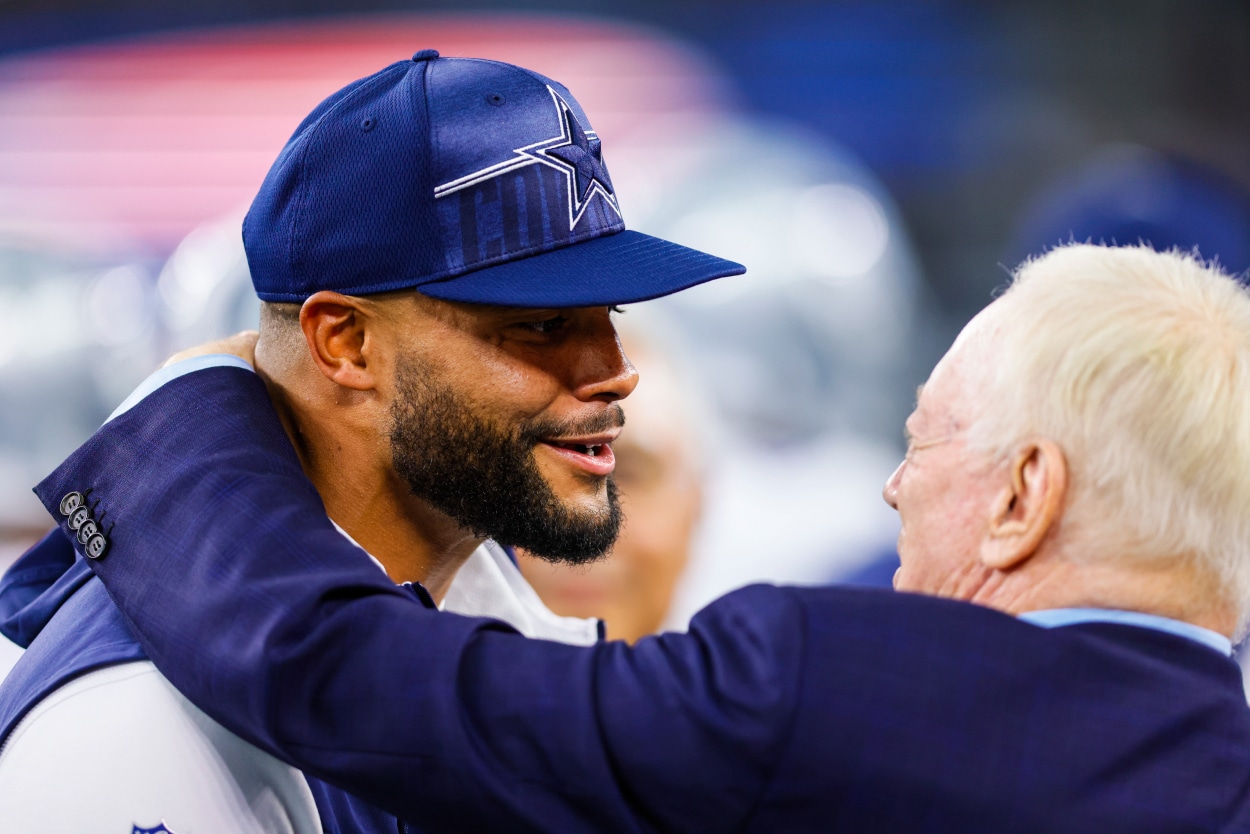 Jerry Jones Reacts to Dak Prescott Being Sedated for 11 Hours To Get Tattooed
Dak Prescott and the Dallas Cowboys begin the 2023 season with a Sunday night game against the New York Giants.
Earlier this spring, Dallas Cowboys quarterback Dak Prescott was sedated for nearly 11 hours as he got an enormous tattoo on his leg. He never told head coach Mike McCarthy, and he never said a word to owner Jerry Jones before undergoing the detailed ink design. When it was done, he let McCarthy know but never told Jones. Jones eventually found out.
Dak Prescott
Cowboys quarterback Dak Prescott certainly has one of the most detailed legs in the NFL. There's plenty of meaning in his full leg tattoo that took more than 10 hours to complete.
According to the Fort Worth Star-Telegram, the tattoo honors his late mother and brother. It has images that honor Kobe Bryant, Muhammad Ali, and Michael Jordan. It also brings back memories of where he grew up by having a sign from the Pine Creek Estates mobile home park in Louisiana where he grew up. There are plenty of memories and memorials on the leg.
With that much detail, Prescott had to be sedated, and people thought he was "crazy" for going through this process. He doesn't care what people think, and he admits he is crazy.
"People are gonna think its crazy and it is crazy," Prescott said, per the Telegram. "I get that. But I'm crazy. That's my point is I am. I know I am. I'm not afraid of nothing.
"I did all this in one sitting. Ten-plus one day, and the next day I went for like two more hours. They came over on a Friday, ran over all the ideas, worked on them and printed them and came back the next day and laid them on my leg."
Jerry Jones reacted to Prescott's lengthy procedure
Mike McCarthy found out about the procedure the following day.
"I was like 'whoa, what the … happen to your leg'," McCarthy said. "So he shows it to me. I'm like 'Jesus Christ, how long did that take? You've been doing it all week?' He said, 'No, I did it all at one time.' He showed me a video of it and I'm like 'Oh, my God.'"
Jerry Jones didn't find out about it until a reporter asked him about it during training camp.
 "I certainly didn't know he was under for 10 hours," Jones said. "Just so you're clear, I had no idea about tattoos. I better get up to date on it. I had no idea that required that kind of sedation of any tattoo. It further explains to me why I don't have a tattoo."
Jones was then asked if he was concerned that his high-priced QB was sedated for 10-plus hours for a tattoo.
"I don't have a comment," Jones said before commenting. "My comment is it explains to me why I don't do tattoos."