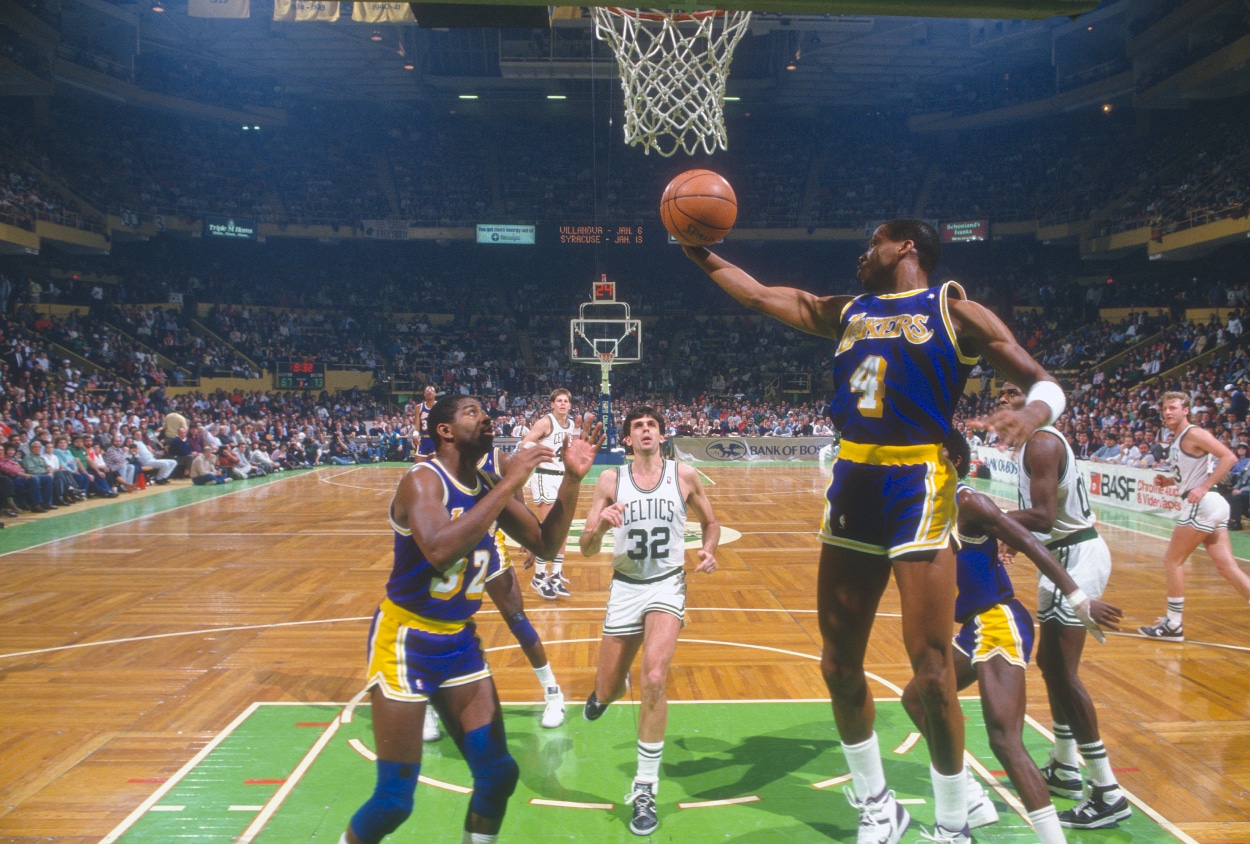 Kareem Abdul-Jabbar Refused to Give In to Migraines, and Pat Riley Refused to Take Credit for the Lakers' Wild Game 6 Win in 1984 NBA Finals
Despite fighting a migraine earlier in the morning, Kareem Abdul-Jabbar led the desperate LA Lakers to a Game 6 win over the Boston Celtics in the 1984 NBA Finals.
The 1984 NBA Finals between the Boston Celtics and the Los Angeles Lakers goes down as one of the best in basketball history. It had everything. If Larry Bird vs. Magic Johnson wasn't enough, it also had Kevin McHale vs. Kurt Rambis. It had James Worthy vs. Cedric Maxwell. Kareem Abdul-Jabbar battled through headaches and also gave the Celtics quite a few.
Abdul-Jabbar suffered those migraines throughout the series, but none were as severe as the night before Game 6. He labored throughout the game. Lakers coach Pat Riley also made a key lineup adjustment that paid dividends, although he refused to take credit for it.
Kareem Abdul-Jabbar and the Lakers desperately needed to win Game 6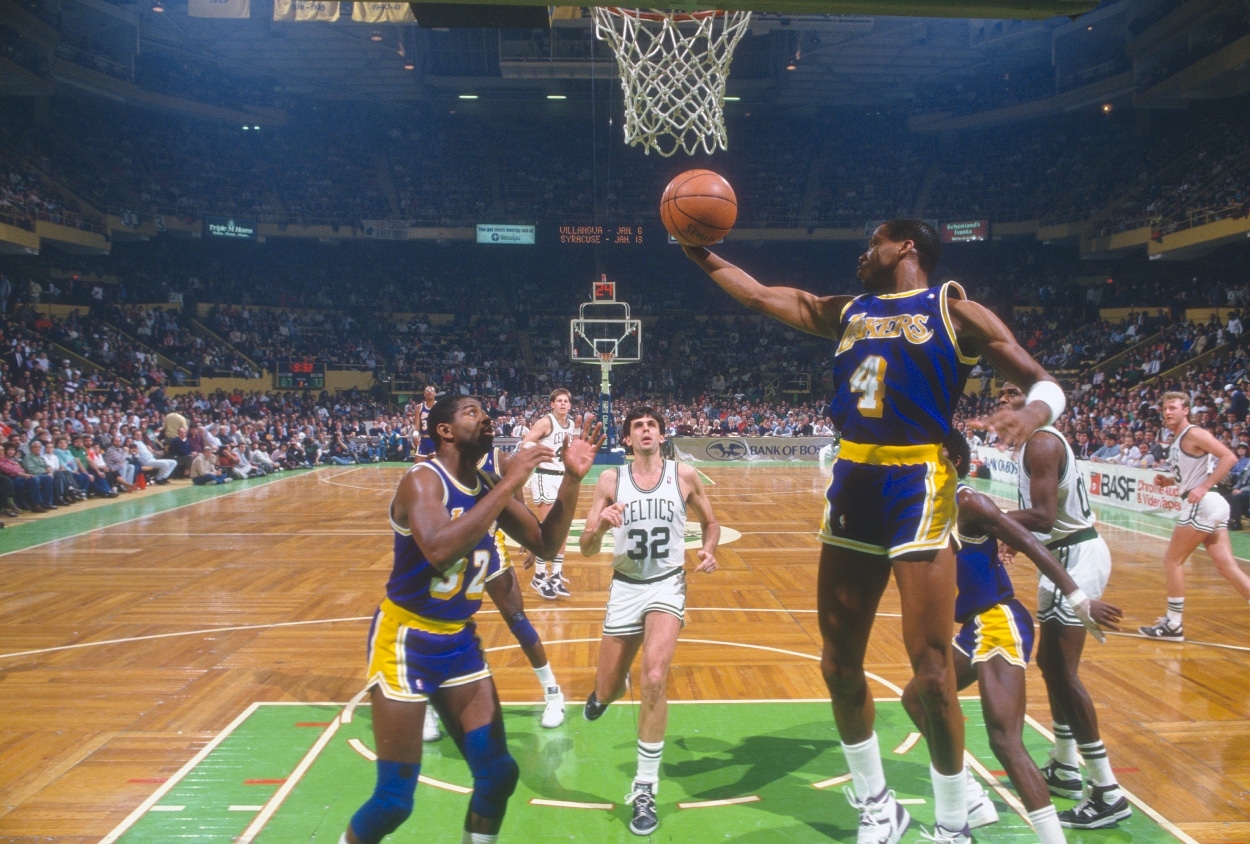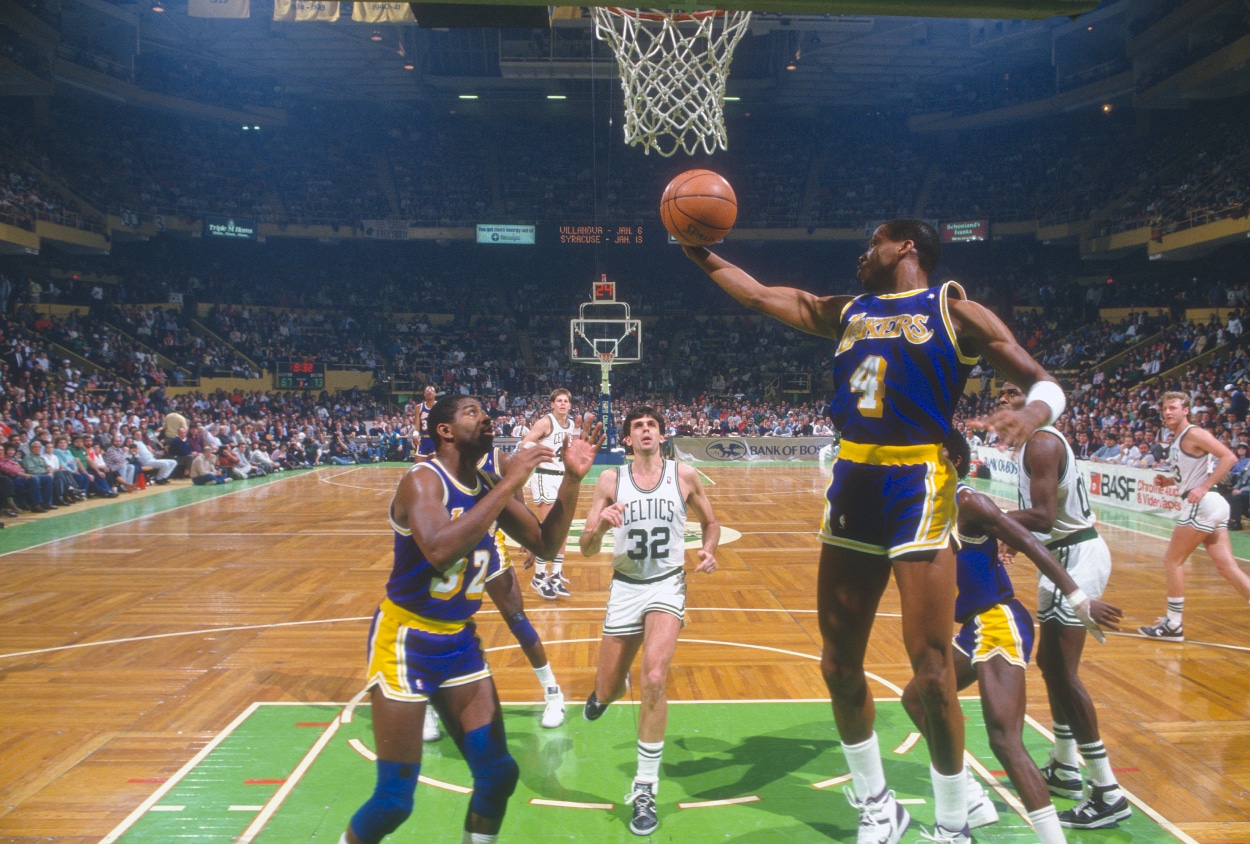 If not for Gerald Henderson's miraculous steal in Game 2 that propelled Boston to an overtime win, there's a pretty good chance the Celtics get swept in the series. The Lakers stole Game 1 in Boston and blew out the Celtics in the first game in LA, winning Game 3, 137-104.
In Game 4, Boston trailed 76-70 in the third quarter before momentum swung in its favor after Kevin McHale clotheslined Kurt Rambis, who was heading in for a layup. The Celtics rallied for another overtime victory to even the series. The Celtics won Game 5 at home in a heat wave with game-time temperatures at 97 degrees. The game was played in the old Boston Garden that had no air conditioning, and that took its toll on the Lakers, who fell, 121-103.
According to Sports Illustrated, Abdul-Jabbar suffered his sixth migraine in two weeks in the very early hours of Sunday, June 10, 1984, the date of Game 6. That game was an afternoon contest, and it was do-or-die for the Lakers. For much of the game, it appeared "die" would win out.
The Celtics held an 11-point lead midway through the third quarter. Then the Lakers turned it up, even with their captain ailing and Magic Johnson leaving the game with a right knee injury.
Abdul-Jabbar's inspiration and Byron Scott's shooting lifted the Lakers
Before the game and after battling the migraine, Abdul-Jabbar gathered his Lakers teammates for a rare meeting. At that point, Johnson knew the captain meant business.
"That meant so much to us," Magic said of Abdul-Jabbar, who finished with 30 points and 10 rebounds in a 119-108 victory. "When your leader has strength like that, you have to follow him."
When Johnson left with his injury, rookie Byron Scott, who struggled throughout the series, came in and played the role of hero. Scott came on strong, finishing with 11 points in 17 minutes. He nailed a three-pointer to snap a 93-93 tie, and the Lakers took off from there.
Riley got a lot of credit for making that lineup adjustment. He said he "wasn't making an adjustment but just groping." Instead, he gave credit to his big center for toughing it out.
"Two trucks rolling on the top of his head wouldn't have kept him from going to the post."

Pat Riley on Kareem Abdul-Jabbar in 1984
Abdul-Jabbar said there was never a doubt he'd play.
"You hear a lot about Celtic pride and tradition, but we've got some of that here, too," he said. "There was never any question that I was going to play; I was just going to have to be sick. I couldn't hold my breakfast, so maybe it was vapors I played on."
Like Sportscasting on Facebook. Follow us on Twitter @sportscasting19 and subscribe to our YouTube channel.
RELATED: Pat Riley Issued a No-Friends Policy After His Lakers Collapsed Against the Celtics in the 1984 NBA Finals