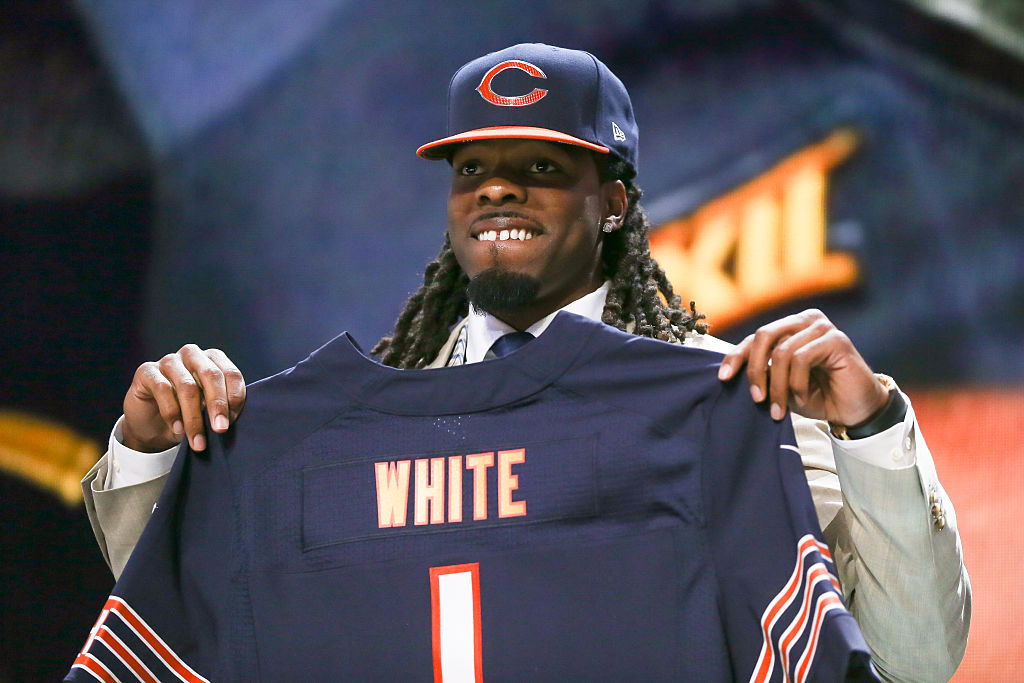 Kevin White, the WR Drafted After Amari Cooper, Always Caught the Wrong Kind of Breaks
Kevin White, the wide receiver drafted after Amari Cooper, had a string of bad luck with the Chicago Bears and is now out of the NFL.
Kevin White was once of the top receivers in college football and was taken in the first round of the 2015 NFL draft. Five years later, he's out of the NFL.
White was a highly-touted pro prospect out of West Virginia with blistering speed and great hands. Unfortunately, he proved to be injury-prone and could never build any momentum in the NFL. He caught a string of bad luck that most wouldn't wish on their worst enemy and, at 27, his career may already be over because of it.
Kevin White was a stud his senior year at West Virginia
After spending his first two years at the collegiate level at Lackawanna, a junior college in Pennsylvania, Kevin White made his Division I debut at West Virginia in 2013. He appeared in 10 games for the Mountaineers that season, catching 35 passes for 507 yards and five touchdowns.
The following season, Kevin White became an absolute star. While the Mountaineers didn't have a great season, finishing 7-6 (5-4 in the Big 12) and losing to Texas A&M in the Liberty Bowl, White became one of the elite receivers in college football. He caught 109 passes (third in the nation) for 1,447 yards (sixth in the nation) and 10 touchdowns (20th in the nation) and was a finalist for the coveted Fred Biletnikoff Award. The winner that year? Amari Cooper.
Cooper and White were considered the two best receivers in the 2015 NFL draft and were selected as such. Cooper was taken with the fourth overall pick by the Oakland Raiders and Kevin White was taken seventh by the Chicago Bears.
White missed his entire rookie season due to injury and the breaks kept on coming
In drafting a receiver with 4.35 speed, the Chicago Bears were thrilled to have Kevin White as a new weapon for Jay Cutler. Coming off a 5-11 season, they were hoping that White could inject some life into a dull Bears offense that ranked in the bottom half or bottom third of most categories.
Unfortunately, Kevin White never made it to the regular season. He suffered a shin injury in training camp that wasn't thought to be serious at first. He returned to camp only to fracture the shin and underwent surgery in late August. He never played a single down in his first year in Chicago.
Upon his return in 2016, White showed the promise that Bears fans had been waiting on for a year. Through the team's first four games, White caught 19 passes for 187 yards. It was then announced that he had fractured the fibula in his left leg. He didn't play another game that season.
In 2017, Kevin White caught two passes for six yards in the season opener against the Falcons before fracturing his left shoulder blade. He again missed the remainder of the season. White played in nine games in 2018, but never started, and caught four passes for 92 yards.
Kevin White doesn't have an NFL home
The Chicago Bears declined the fifth-year option on Kevin White and he became a free agent following the 2018 season. In March 2019, he signed a one-year deal with the Arizona Cardinals but never made it to the regular season. Dealing with a hamstring injury, White was cut on August 21 and was never picked up during the season. He remains without an NFL team.
In 14 career games in the NFL, Kevin White caught 25 passes for 285 yards. He never scored an NFL touchdown.
Amari Cooper just signed a 5-year/$100 million deal with the Dallas Cowboys and the man who was drafted soon after him is out of the league. It just goes to show what the wrong kind of breaks in the NFL can do.