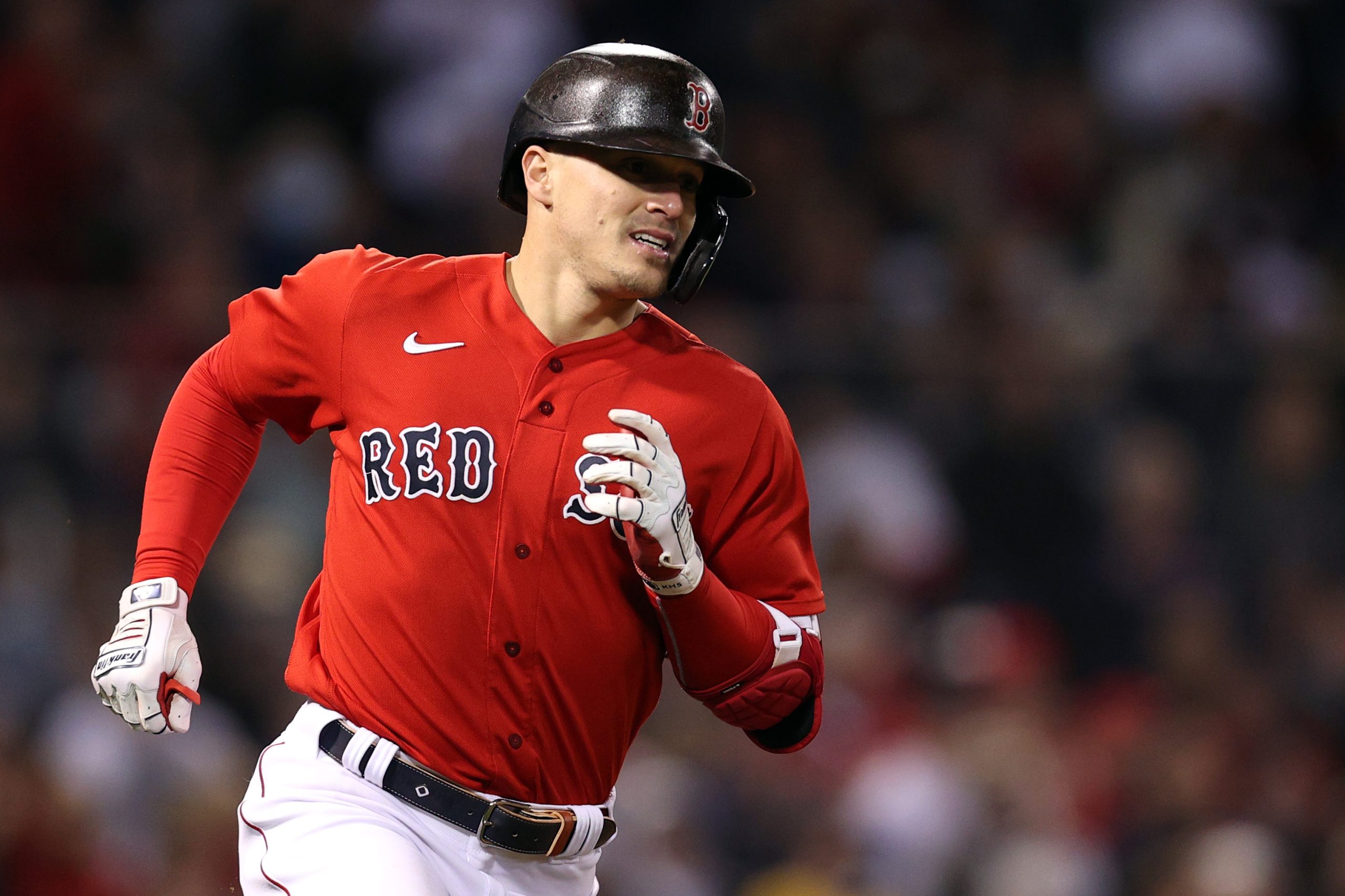 It's Time for Kiké Hernández to Bring Back the Rally Banana as Desperate Red Sox Pinned in a Corner
The Boston Red Sox face elimination against the Houston Astros, so it's time for Kiké Hernández to break out the rally banana.
Desperate times call for desperate measures. The Boston Red Sox have reached that point. After dropping two straight at Fenway Park, the Red Sox find themselves one game from elimination as they head to Texas, trailing the Houston Astros 3-2 in the American League Championship Series. It's time for Kiké Hernández to step up. He's already come up big on the field in the postseason, but now he needs to take it up a notch and resurrect the rally banana.
Kiké Hernández has been a postseason savior for the Red Sox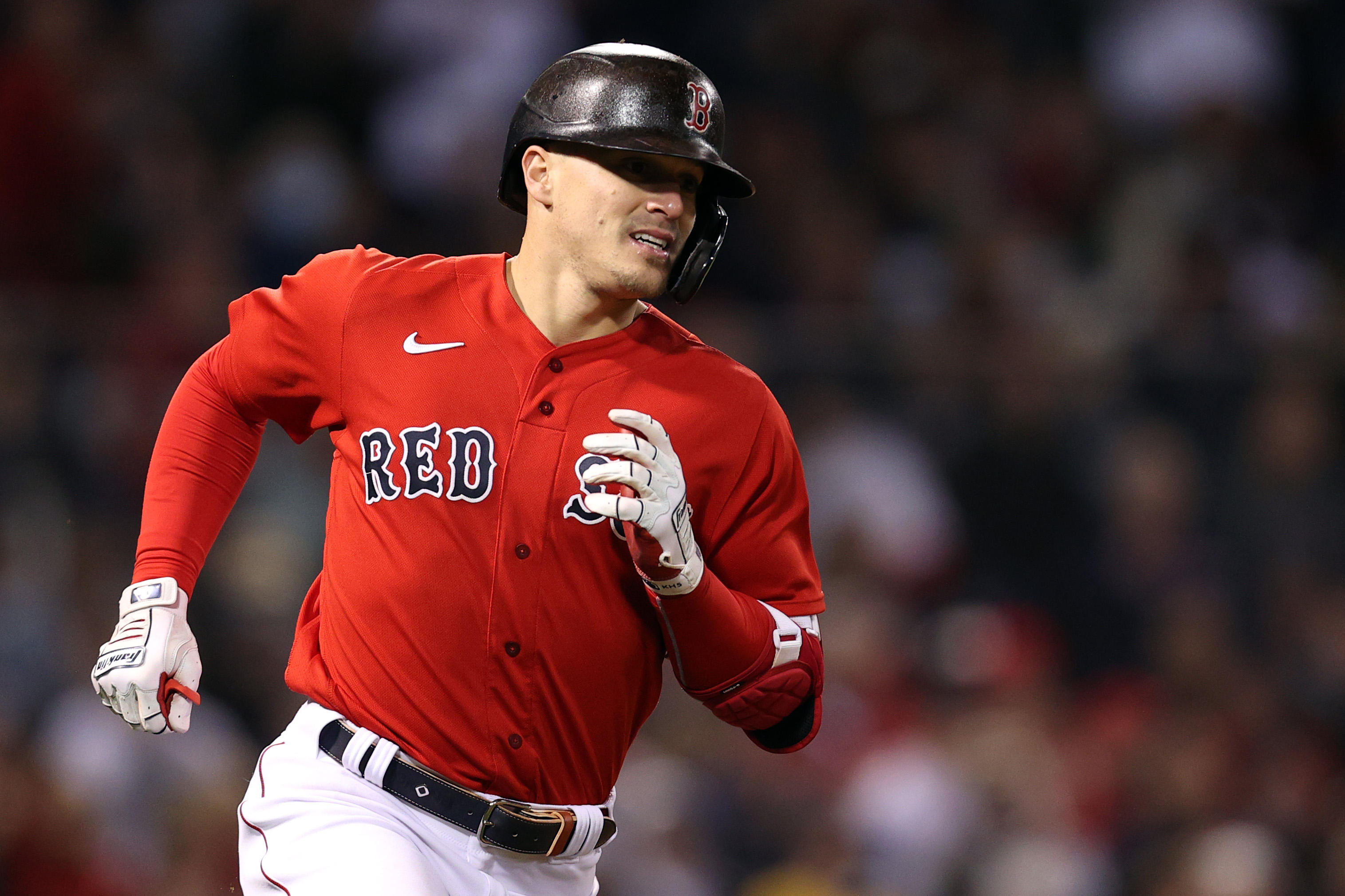 Through Game 5 of the series with the Astros, Hernández is 19-for-41 in the postseason and that's after an 0-for-4 performance Wednesday night. In Game 1, a 5-4 Red Sox loss, Hernández smacked a pair of solo home runs, had a double and a single, and made some outstanding catches in the outfield.
Hernández had a stretch of 13 hits in four games, setting a record for the most hits in any four-game postseason stretch. According to Boston.com, he joined Reggie Jackson as the only player to have 29 total bases in a four-game stretch in the playoffs.
"I'm having a lot of fun," Hernández said. "It's a blast. It's October, and these games tend to be a lot of fun. A lot of adrenaline. A lot of electricity in the crowd. The fact that I'm playing well adds on to it a little bit."
"He has been incredible," Sox pitcher Chris Sale said. "He has been a guy we can lean on. And I think he enjoys that. I think he rolls around in that a little bit. And it's fun to see."
Kiké Hernández needs to break out the rally banana
Back in 2015 when Hernández was a member of the Los Angeles Dodgers, the rally banana was born. It wasn't planned. The banana thing just happened and it helped the Dodgers get out of an ugly offensive slump.
Although LA was 24–16 on May 22, 2015, they hadn't scored in 35 innings. Something needed to change. Hernandez looked around the dugout for something that could possibly provide a spark. He took a shot with a banana.
"I said, 'I'm on the bench, I've got to help my team somehow, we've got to come up with something,'" Hernández said, according to MLB.com. "So I look around, and the first thing I see is a banana, and I said, 'This banana is going to be a rally banana.'"
With the banana in hand, change was immediate as Andre Ethier drove in a run with a double. After the Padres tied the game, Joc Pederson smacked a game-winning home run. The Dodgers won four of the next five games.
"You can call it coincidence, or you could call it a rally banana," Hernández said.
When Hernandez got inured that season, the rally banana took an interesting twist. Sidelined with a hamstring injury, Hernandez became the banana. During an extra-inning affair against the rival San Francisco Giants on Aug. 31, 2015, Hernandez came out during the extra frames and was spotted wearing a banana costume.
The Dodgers outlasted the Giants 5-4 in 14 innings.
The Red Sox could use Hernández's rally banana in Game 6
Hernandez and the Sox knocked off the Tampa Bay Rays in the American League Divisional Series. The Rays owned the best record in the AL, but that didn't matter to the Sox, who went on to win the series in four games.
The Sox had their offense in high gear early in the series against the Astros in the ALCS. After a 5-4 loss in the series opener, Boston put up nine runs in Game 2, winning 9-5. The Sox smacked grand slams in each of the first two innings to take early control.
In Game 3, Boston continued its offensive onslaught with a 12-run outburst. Kyle Schwarber added another slam to Boston's collection as the Sox won 12-3 and held a 2-1 series lead.
Since then, Boston has dropped two straight and finds itself one game away from elimination as they head to Houston for Game 6 on Friday.
The Sox need to find a way to break out of their offensive skid, and there's no better way to start than bringing back the rally banana.