Kurt Warner Stocked Shelves at a Grocery Store After Missing the NFL Draft
When he didn't get drafted in the NFL, Kurt Warner worked at a grocery store.
Even if you don't know his backstory, Kurt Warner's NFL career in and of itself was remarkable. He appeared in three Super Bowls and won one. He turned around the fortunes of two moribund franchises, the St. Louis Rams and the Arizona Cardinals. But what truly stands out about Warner beyond his stellar results on the field is where he came from before he made the NFL. It's a story so unbelievable, it's actually being made into a Hollywood movie.
While many NFL players' journey to the league goes from high school to college to the pros, Kurt Warner took an unexpected detour to work at a grocery store when he wasn't drafted right out of college. Here's more on his amazing story from his pre-NFL days. 
Kurt Warner wasn't initially drafted by an NFL team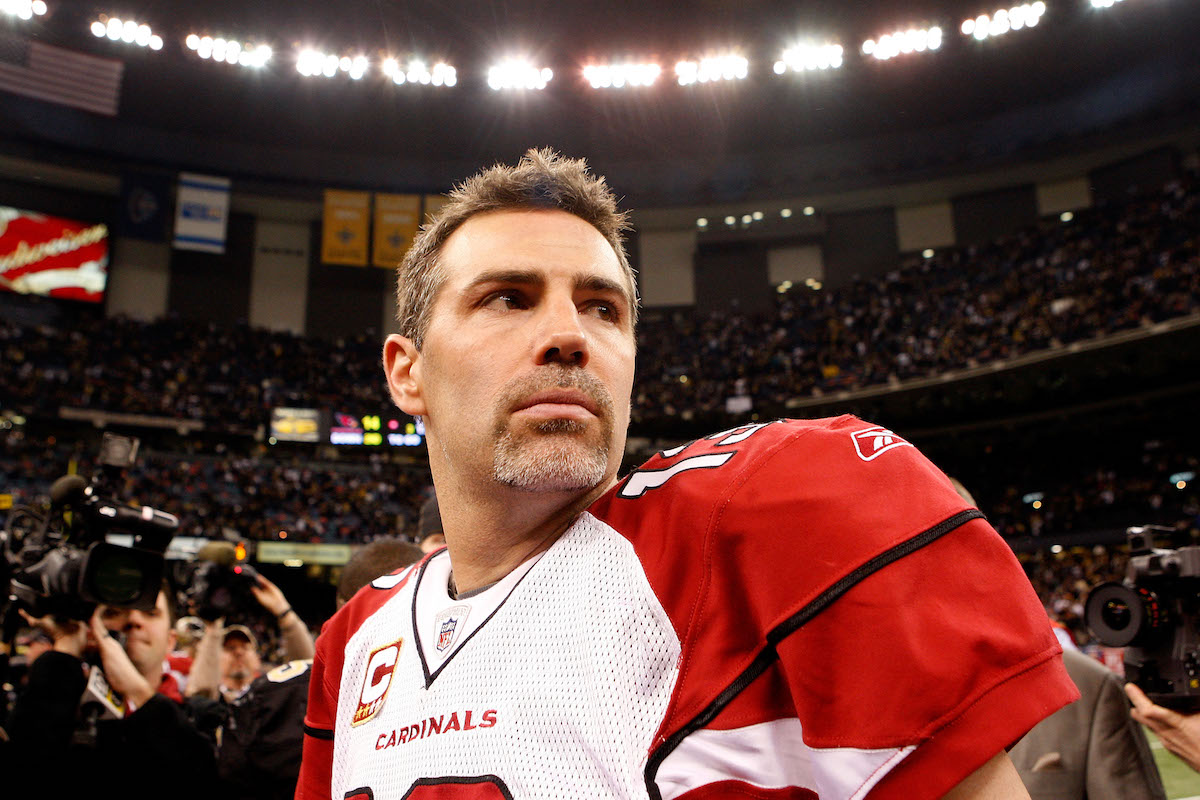 Warner played his college football for Northern Iowa. Despite having obvious talent, he wasn't drafted by an NFL team. Warner told NFL.com that his lack of initial success made him more relatable to most people. That's because he struggled to find a place in the world of professional football, whereas many NFL players find themselves drafted right away: 
"Not a lot of people can associate with that particular career arc. A lot more people can relate to mine, at least from the standpoint of it not always being easy and there are struggles that come into most of our lives and sometimes you have to fight through those things." 
There's no question that Warner's story is something most people can either relate to or understand — at least the part when he struggled. 
Kurt Warner went from college football to stocking grocery shelves
According to USA Today, Warner's incredible rags-to-riches story will be showcased in the new film American Underdog: The Kurt Warner Story. The movie stars Zachary Levi as Warner and will show his rise from grocery store clerk to NFL champion and Hall of Famer. 
After Warner went undrafted, he attempted to get a roster spot with the Green Bay Packers before the team cut him. With no other teams calling, he went home to Cedar Falls, Iowa, where he needed to make ends meet. To do so, he became a stock worker at his local Hy-Vee grocery store. He also helped his former team at the University of Northern Iowa by serving as a graduate assistant. 
What are the reactions to Kurt Warner's new biopic?
Warner has played a big role in promoting the new film by highlighting it on his Twitter account. The film premieres in December 2021, but some people on social media mocked the film for its production values and seemingly cheesy plotline and imagery. According to The Sporting News, one person asked if the trailer was an "SNL parody." Another take said. "The Kurt Warner movie looks like it was filmed inside a really good video game from 2015."
The film is based on Warner's autobiography, so it's clear he played a big role in its production. That doesn't necessarily mean it will be a quality film, though. It's likely to be accurate based on Warner's recollection, but it takes more than accuracy to make a great movie.
Regardless of how the film turns out, Warner's real-life story is quite unbelievable. Since working at that Iowa grocery store, Warner has done things few NFL quarterbacks have ever done — including winning a Super Bowl and getting a gold Hall of Fame jacket. Whether his movie is good or not, his story is one that NFL fans will never forget.