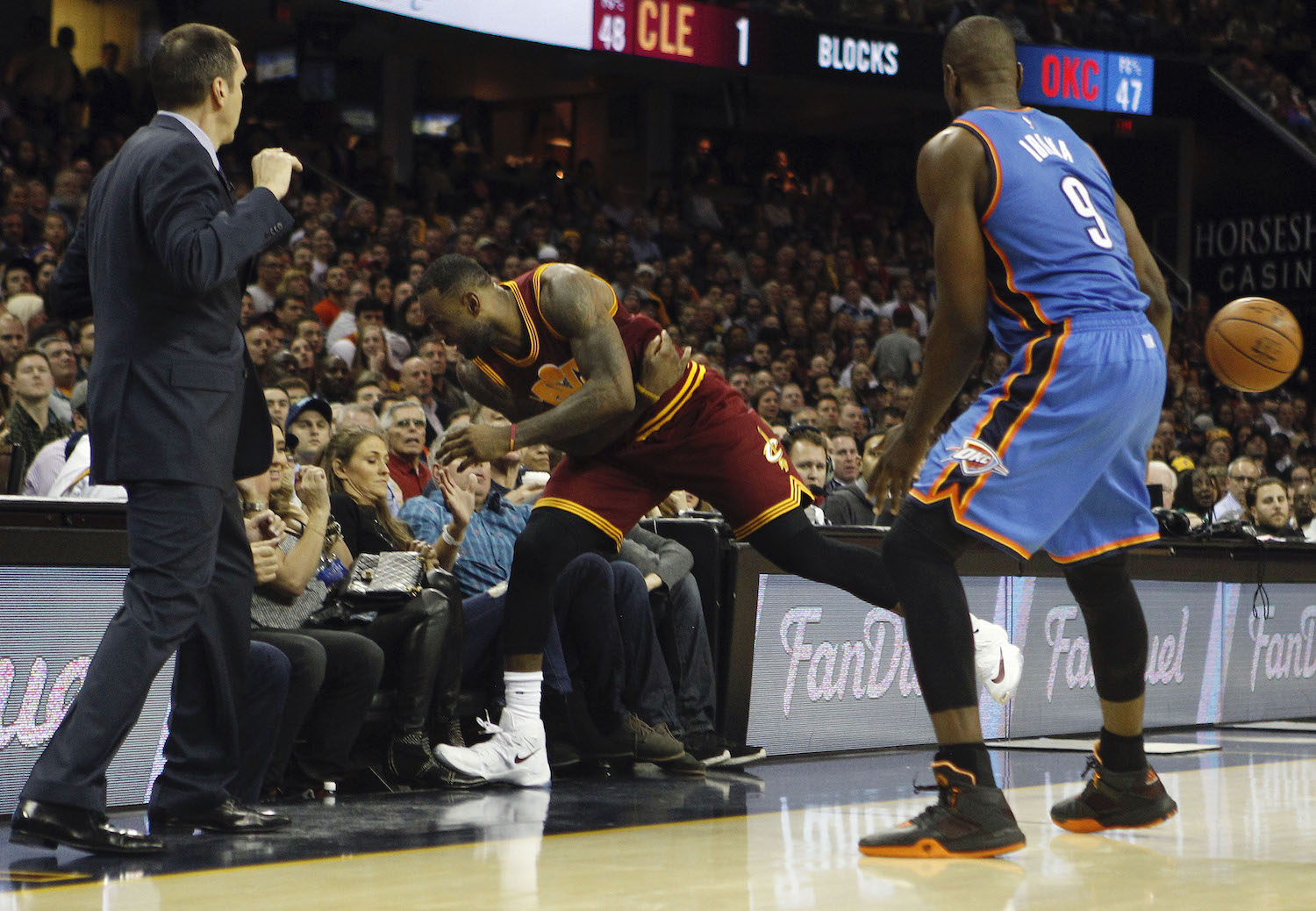 LeBron James Destroyed Jason Day's Wife in Front-Row Collision Months After He Last Won PGA Championship
Jason Day is looking to win his second PGA Championship. Months after he last won it in 2015, Day's wife had an encounter with LeBron James that sent her to the emergency room.
Five years ago PGA Tour veteran Jason Day captured his first and only major title at the PGA Championship at Whistling Straits. Four months later Day and his wife went out for a night of entertainment where they took in a Cleveland Cavaliers game featuring superstar LeBron James. The night ended in disaster when James plowed over Day's wife in a front-row collision that sent the couple rushing to a local hospital emergency room. 
Jason Day's great 2015 culminates with PGA Championship win
In 2015, Jason Day was on top of the world. Literally. Day achieved the No. 1 world ranking in September. It took years of hard work and months of sustained success to get there. 
It started in February with a win at the Farmers Insurance Open. He had a pair of top-10 finishes at the U.S. Open and Open Championship but his first major title remained elusive. He captured his second win of the year at the RBC Canadian Open. That was his warmup for the PGA Championship.
At the PGA, Jason Day put on a clinic at Whistling Straights firing rounds of 68, 67, 66, and 67. It was good enough for him to finish three shots clear of Jordan Spieth and claim his first major title. He also set a record becoming the first player to shoot 20-under par in a major. Day followed his PGA win with victories at The Barclays and BMW Championship, and ascended to the top ranking soon after.
Day and his wife's encounter with LeBron James
In December, with the golf season behind him, Jason Day and his wife Ellie went out for a night of entertainment without the kids. She had just given birth to their second child a month earlier. It was a date night that included taking in a game with LeBron James and the Cleveland Cavaliers. 
In a close contest against the Oklahoma City Thunder late in the fourth quarter, James deflected a pass on defense, and the ball headed out of bounds. The 250-pound James sprinted full-speed to grab the ball and bulldozed over the front row of seats, one spectator taking the brunt of the blow. It was Ellie Day.
In one motion, Day flew backward, James and his full weight followed, and landed directly on top of her. Her husband and other staff immediately rushed to her side. Day would later say his wife was concerned about her neck. Moments after play was stopped, James came over and talked to the Days. She told him she was okay.
After several minutes, medical personnel loaded her on a stretcher and took her to a nearby hospital where she was examined and diagnosed with a concussion. 
Jason Day takes grief for not protecting his wife
A couple of weeks after the incident, Jason Day spoke to the media before the start of the Hyundai Tournament of Champions. He was asked about his wife's condition and some of the criticism he received from people like Mike Golic for not protecting his wife from James. Day offered a simple explanation in his response. 
"All of a sudden, we see a ball come down and across and I go to kind of put my hand, because I, you know, thought it was going to go out-of-bounds and I was going to throw it back to someone. All of a sudden it comes flying from the side and no one knows what to do and he just jumps.
"It happened so quick, I'm going to do that? I'm not going to stop a 260-pound guy that's 6-8 running full speed. Ellie took it like a champ, though. Once I saw her, she was on the ground, she was kind of freaking out a little bit about her neck and once they started doing the test on her, she's moving her legs, hands, feet, arms, I knew everything was going to be okay."
The video shows there was absolutely no time for Jason Day or his wife to react. Fortunately, she was OK, but she had gained a whole new perspective on basketball and a new appreciation for those golf fans who stand along the fairway and fall victim to wayward tee shots. It's all just part of the game.