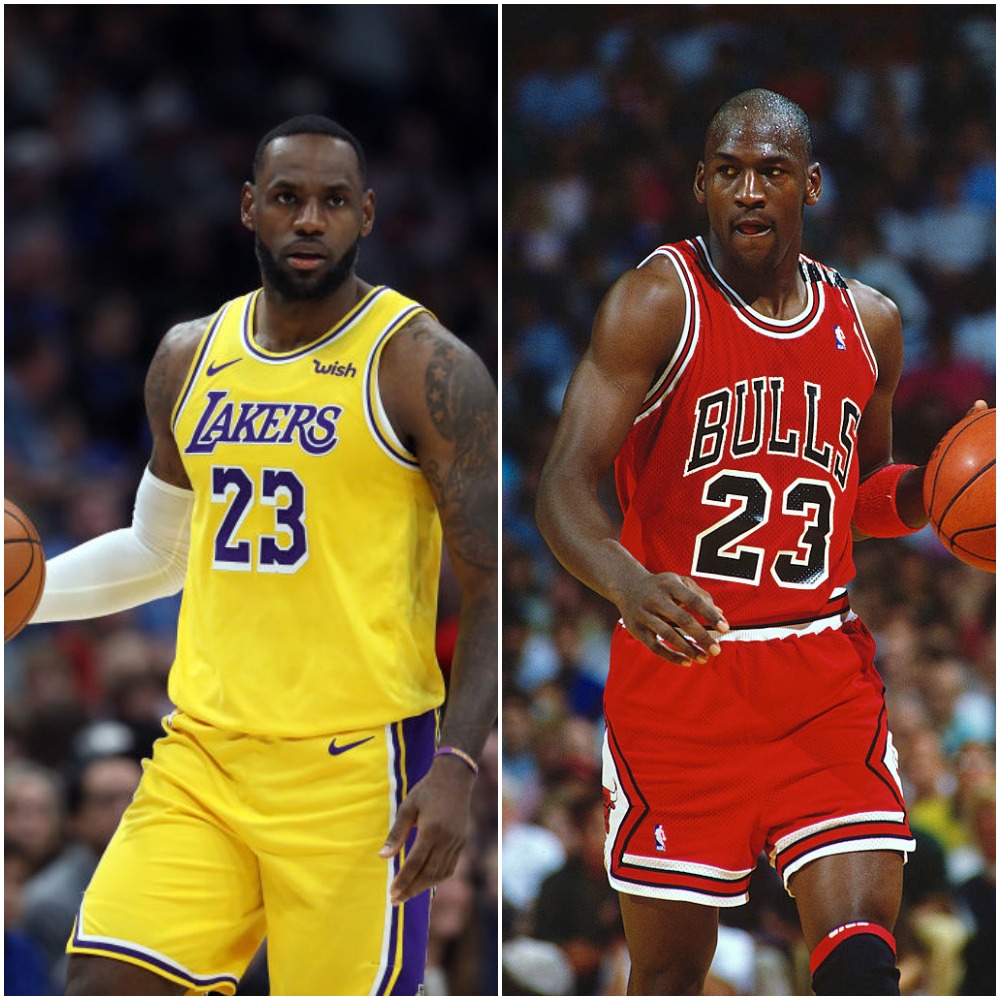 LeBron James Has Proven in Playoffs Why Michael Jordan Is the GOAT
LeBron James is one of the greatest NBA players of all-time but Michael Jordan's unbelievable numbers in the playoffs prove why he is the GOAT.
Michael Jordan vs. LeBron James. Who is the GOAT? It's been a popular topic of debate for years. Radio talks shows, television talk shows, and NBA fans without talk shows but with social media have weighed in on the subject. The winner often skews generationally. The younger crowd tends to lean toward James, while those in the older subset favor Jordan. 
There are a multitude of ways to try and identify who is the greatest of all time. For the purposes of this comparison, we have isolated it to one specific category—playoffs. During the regular season, it's one thing to go off and score 50 and lead your team to victory. It's a completely different thing when it's postseason crunch time, and the game and/or season is on the line. Who is the one player who consistently came through for his team with a huge performance when needed the most? The answer is pretty clear.
Michael Jordan in the regular season  
During his 15 seasons in the NBA, Michael Jordan's numbers are staggering. He's No. 5 on the all-time scoring list with 32,292 points. His career totals would be higher, but he missed four years of his career pursuing other opportunities like baseball.
One of the most remarkable statistics in Jordan's career is that he finished with an average of 30.12 points per game. That number is slightly higher than the great Wilt Chamberlain at 30.07. Jordan led the NBA in the most important offensive category an incredible 10 times, his highest average in the 1986-87 season a staggering 37.1 points per contest. 
For his efforts on both sides of the ball, Michael Jordan received numerous honors. Among them: 1984-85 Rookie of the Year, 11-time All-NBA, Defensive Player of the Year in 1987-88, 9-time All-Defensive Team, 14-time All-Star, 3-time All-Star MVP, and 5-time League MVP. 
LeBron James in the regular season
LeBron James is in his 17th NBA season. He moved past Jordan and Kobe Bryan in the last year to No. 3 on the all-time scoring list. He currently sits at 34,241 points, only behind Karl Malone and Kareem Abdul-Jabbar. 
James has a regular-season scoring average of 27.1 points per game. He led the league in that category once in the 2007-08 season at 30.0 points per game. 
Individually, James' awards are equally impressive and include: 2003-04 Rookie of the Year, 15-time All-NBA, 6-time All-Defensive Team, 16-time All-Star, 3-time All-Star MVP, and 4-time League MVP. 
Why the playoffs prove Michael Jordan is undeniably the GOAT
While regular season numbers are undoubtedly important, it's what happens in the postseason that determines championships. Similar to the regular season career numbers, LeBron James is the leader for overall career points in the playoffs and it's not even close. He currently sits at the top with 6,934 points. Michael Jordan is second all-time at 5,987 points, but he achieved that number in 61 fewer games. 
That's because when it came to the NBA playoffs, Michael Jordan shifted into an extra gear that most other players didn't possess, and those few that did, were unable to reach it on a consistent basis. In the postseason and clutch time, Jordan's points per game average increased to 33.4, more than three points per game better than the regular season. Second place all-time belongs to Allen Iverson at 29.7 points per contest. James is in the No. 5 spot at 28.8 points. 
In Jordan's 13 years of playoff appearances, he led the league 11 times in scoring. And he did it in highlight-reel style. In the top 10 highest-scoring playoff game performances in NBA history, Michael Jordan's name is found on that list an unbelievable five times. Jordan holds the all-time high with his 63-point effort in 1986. James has just one playoff game in the top 20, when he scored 51 in 2018 with the Cleveland Cavaliers.
There's no denying LeBron James is one of the top players in the history of the NBA. But when it comes to the one player who struck fear into the opponent during the postseason because he could carry a team on his back to victory, it was Michael Jordan. That's not an opinion. That's a fact. The numbers don't lie. 
Stats courtesy of Basketball Reference.