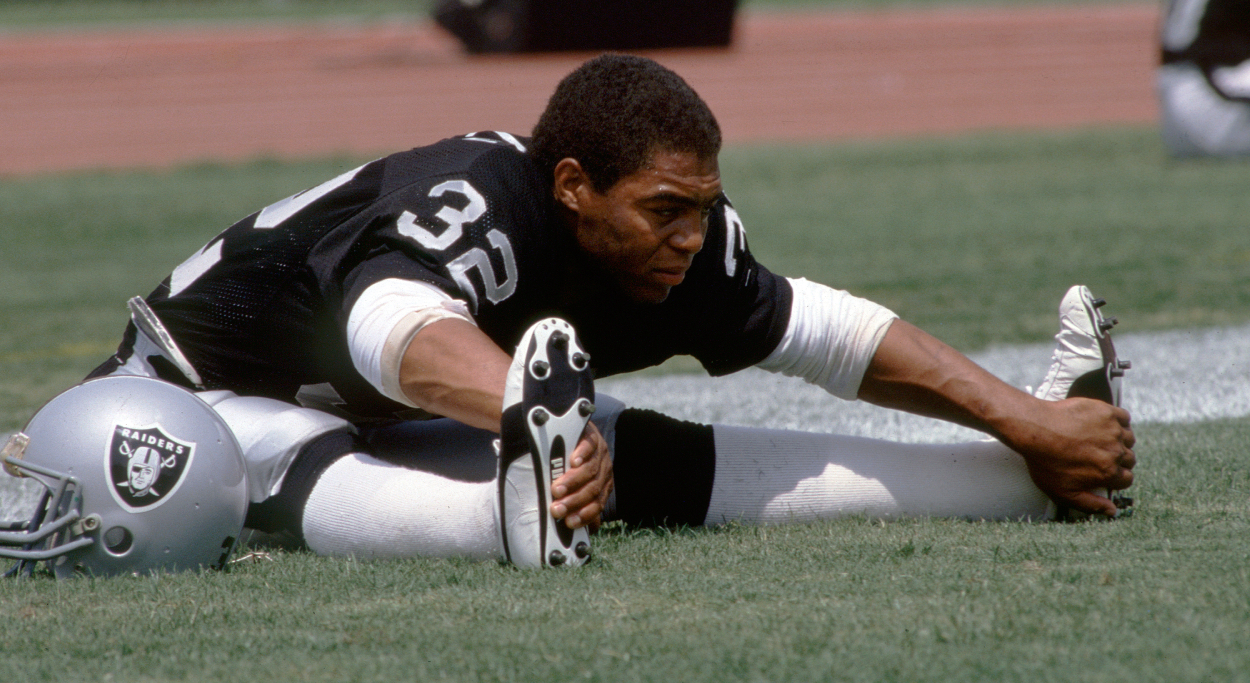 Marcus Allen's 8 Consecutive Intentional Fumbles in High School Paved the Way for His Hall of Fame Career
Marcus Allen fumbled eight straight times on purpose in high school, and it paved the way for his Hall of Fame NFL career.
Marcus Allen is a Heisman Trophy winner and owns an NFL MVP Award. He's a Super Bowl champion and a Hall of Fame running back. None of this would have been possible without a position change that took place in high school. The former Los Angeles Raiders star recently admitted he rebelled against the change, intentionally fumbling the football eight straight times before getting kicked off the team.
How good was Marcus Allen?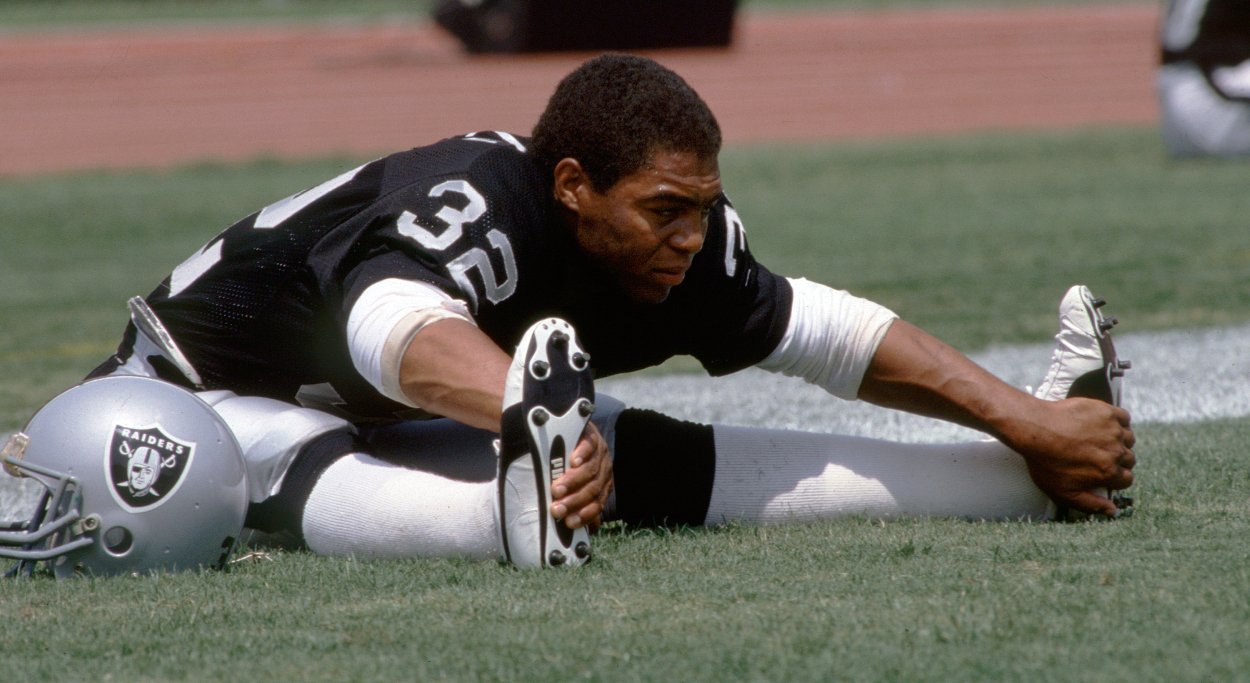 Allen played four years at USC, where he won the Heisman as a senior in 1981. He put together one heck of a season, rushing for 2,427 yards and 22 touchdowns. The Raiders selected Allen with the 10th overall pick in the 1982 NFL draft.
In his strike-shortened rookie season, Allen led the NFL with 11 rushing touchdowns and helped guide the Raiders to an 8-1 record. He also led the NFL in yards from scrimmage with 1,098 (697 rushing yards) and was tops in total touchdowns with 14. He made the first of his six Pro Bowls and was named First-Team All-Pro.
Allen spent 11 seasons of his 16-year NFL career with the Raiders before his relationship with then-team owner Al Davis soured, and he moved on to the Kansas City Chiefs. In his first year with the Chiefs, he rushed for a league-leading 12 touchdowns and made the Pro Bowl.
Allen's best season came in 1985 when he earned his MVP honor. He racked up a league-leading 1,759 rushing yards while leading the NFL in total yards from scrimmage with 2,314. He had 14 total touchdowns. For his career, Allen finished with 12,243 rushing yards and 123 touchdowns on the ground.
For Marcus Allen, eight intentional fumbles led to his success
At Abraham Lincoln High School in San Diego, California, Allen began primarily as a hard-hitting defensive back. He was the best athlete on the team, but that had its downfalls. Allen loved to hit people, but one day his coach told him he needed him to play quarterback. He wasn't thrilled.
"I was a defensive back," he recently said to Byron Scott on Scott's Off the Dribble podcast. "I loved hitting people. That was my first position. I was a cornerback at the age of 10. I called myself Lem Barney. That's the guy I admired and sort of patterned myself after as a young Pop Warner player. As I got older, I moved to safety and played linebacker.
"One day, the coach came to me, and this was at practice, and said, 'Listen Marcus, you're the best athlete on the team and we need you to play quarterback.' I didn't really want to because, again, I was just all about intimidating people, hitting people, showing my physicality, and stuff like that.
"So I reluctantly went under center, and I fumbled the ball eight times in a row on purpose. Yes, eight times in a row. The coach knew what I did and he said, 'Get off the field. Get out of here. You're off the team.' He kicked me out of practice and kicked me off the team."
Allen later realized his coach was doing him a favor
When Allen got home, he told his father what happened. His father told him that he had to settle things on his own with his coach.
"He said resolve it yourself," Allen told Scott. "From that point on, I started to learn to troubleshoot for myself. That was a huge lesson. So, I actually had to go back and apologize, and then I was reinstated to the team. I did play quarterback.
As fate would have it, I end up going to USC, getting recruited as a defensive back. But because I played quarterback and I was successful there, and I ran the ball, when all the running backs at USC were hurt, they needed someone to come and play running back. Guess who they asked? They asked me, and that was all because I played quarterback in high school, and I ran the ball, and I listened to the coach.
"Those are the things when you sort of reflect and look back. We have blind spots in life. We need people, whether it's good friends or a coach that points out something that we don't see in ourselves. I certainly didn't see that part in myself. That was because they saw me play quarterback and run the ball in high school."
So much for winning the turnover battle statistic. Eight straight fumbles taught Allen a valuable lesson and helped vault him into the Hall of Fame.