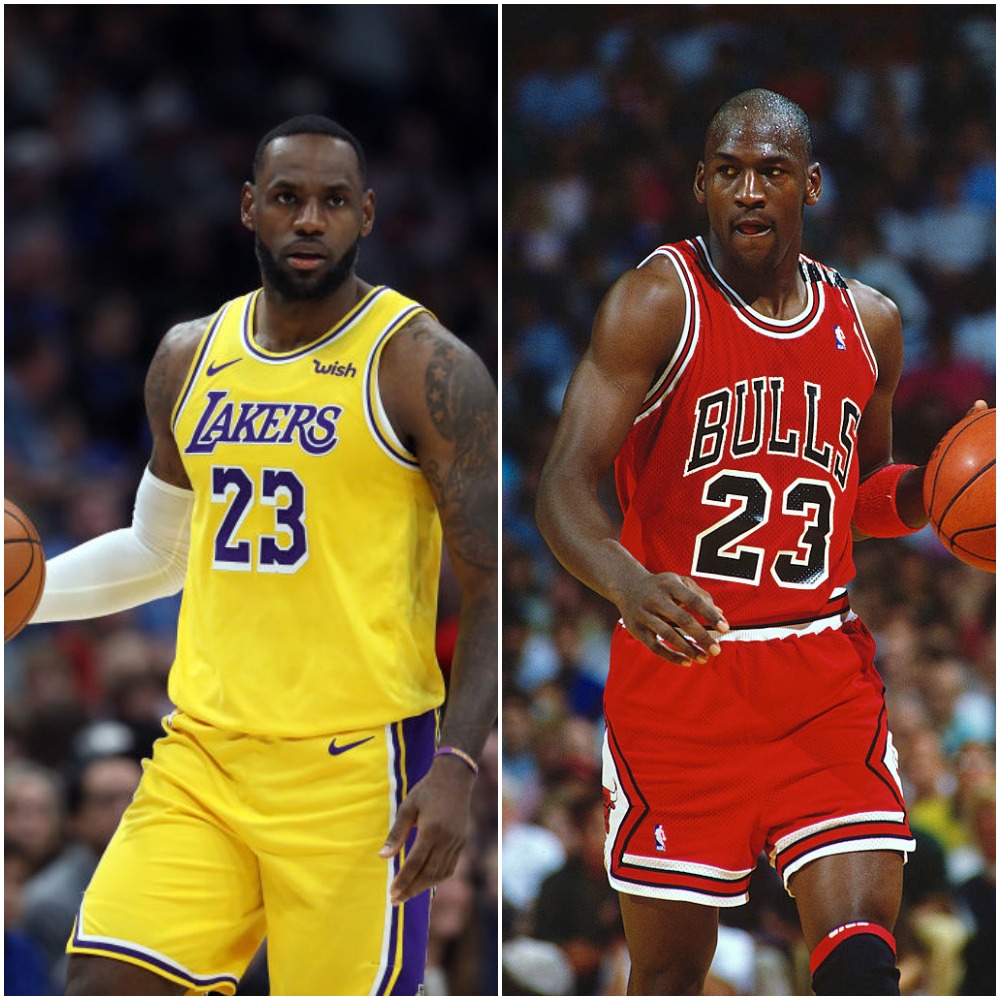 Michael Jordan-LeBron James Card Fetches Staggering Amount at Auction
Michael Jordan and LeBron James have both had record-setting careers. Now they are together on a record-setting NBA card, and the amount is staggering.
In the world of memorabilia collecting, certain individual player cards can sell for some pretty spectacular amounts. So what happens when you combine two of the biggest names in NBA history on to one card and include patches from their game-worn jerseys? You get the most money ever spent at auction for an NBA card, and the amount is staggering.
Michael Jordan's rookie card sells for record amount
Michael Jordan retired from the NBA 17 seasons ago, and he's still setting records years later. In 2019, an extremely rare card featuring the former Chicago Bulls star sold for $350,100 on eBay.
The card, considered to be the holy grail of Jordan cards, was from the 1997-98 Precious Metal Gems collection, and production included a total of 100 copies. Of the 100, the first 10 were the green version, like the card sold, and the remaining 90 were red. 
The amount of the sale broke a couple records. For starters, it was the most expensive card ever sold on eBay. It also was the most expensive Jordan card ever sold.
The next highest amount paid for a Jordan card happened in November 2018. The card sold for $94,630, and it included a shift in the card-collecting world as it was one of the first to feature game-used memorabilia, an on-card autograph, and a handwritten serial number.
The card was a rarity with just 23 produced, and it featured a small piece of the jersey Jordan wore during the 1992 NBA All-Star game. That type of card with attached memorabilia was a pre-cursor of things to come.
LeBron James rookie cards sell for top dollar
Much like Jordan, LeBron James rookie cards are some of the most prized in the collector's world. The most expensive James card is valued at $325,000. 
According to the website oldsportscards.com, the card was included in a set that buyers were paying $500 apiece when it was first released because it included other top-name players like Dwayne Wade, Chris Bosh, and Carmelo Anthony.
In 2016, an unknown bidder paid the next highest amount of $312,000 for a 2003-04 James card. The star signed the card and it contained the NBA logo taken off his jersey from a rookie year photo shoot.
At the time, the James card set the record for the highest price paid for a single signed card, surpassing a 1933 Babe Ruth-autographed card, which sold for $50,787.
Jordan-James card purchased for record-setting amount
Last month an anonymous buyer paid an unbelievable $900,000 at auction for a card featuring authentic patches from jerseys worn by LeBron James and Michael Jordan in NBA games. 
The card is registered as one of one, so there's no other card like it. There is, however, one oddity with the card. Jordan's jersey is a Washington Wizards game-worn jersey, not a Chicago Bulls jersey, even though the card features the Chicago Bulls logo. 
According to Ken Goldin, founder and CEO of Goldin Auctions, which sold the card, the sale amount is a new record for a basketball card. It surpasses the previous record of $501,900 spent on a 1969-1970 Topps card featuring Lew Alcindor that sold in 2016.

"We are proud to report that this sale nearly doubled that price and joins the famed 1952 Topps Mickey Mantle rookie card and classic T206 Honus Wagner card as the only trading cards to ever reach this level."

Ken Goldin
With names like Jordan and James combined commanding a price tag of $900,000 for a card, you can't help but wonder what it's going to take to top the million-dollar mark. One thing is certain, it will happen. It's just a matter of time.