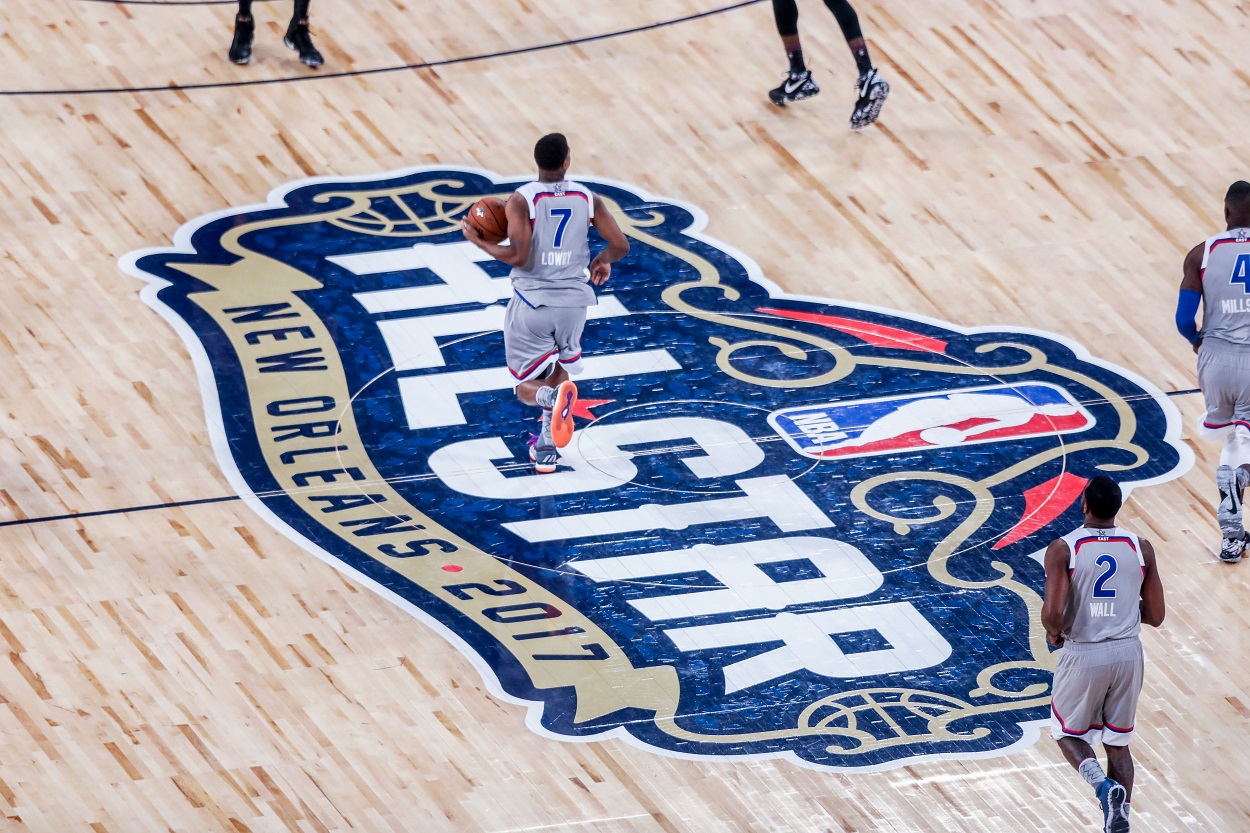 Who Scored the Most Points in a Single NBA All-Star Game?
A look at the top single-game scoring performances in NBA All-Star Game history.
First played in 1951, the NBA All-Star Game has no bearing on the standings or home-court advantage in the postseason or anything like that but simply serves as a showcase for the league's top players — well, an offensive showcase anyway as there usually isn't much defense being played.
Naturally, without much defense, we've seen quite a few high-scoring affairs over the years and certainly plenty of high-scoring individual performances from some of the game's all-time greats.
But it might surprise you to know that in the 70 years this game has been played, just seven players have reached the 40-point mark (Russell Westbrook did it twice), and three have hit 50 following Jayson Tatum's record-setting performance in the 2023 contest.
So let's take a quick look at the highest single-game scoring performances in NBA All-Star Game history.
Michael Jordan scored 40 points in the 1988 All-Star Game in his home stadium
Outside of winning an NBA championship — the Chicago Bulls weren't quite at that point yet — Michael Jordan dominated the 1987-1988 NBA season. He was named NBA MVP, Defensive Player of the Year, won a second straight scoring title by averaging 35 points per game, led the league in steals with 3.2 per game, and won an epic Slam Dunk Contest over Dominique Wilkins.
Jordan was also named NBA All-Star Game MVP that season after scoring 40 points on 17-for-23 shooting at Chicago Stadium to lead the East to a 138-133 victory. While MJ never reached the 40-point mark again, he did take home the All-Star Game trophy two more times (1996, 1998).
Paul George scored 41 in 2016 while setting a new three-point record
At the 2016 NBA All-Star Game at the Air Canada Centre in Toronto, Paul George, who was then still a member of the Indiana Pacers, scored 41 points for the Eastern Conference. While he fell just short of the single-game scoring record, which was 42 at that time, George set an All-Star Game record by knocking down a then-record nine three-pointers and setting the mark for three-point attempts with 19.
However, George's 41 points weren't good enough as the East dropped the game to the West, 196-173, which cost PG a shot at MVP, which went to Russell Westbrook. And speaking of Russ…
Russell Westbrook twice dropped 41 in the NBA All-Star Game
Now, you may see that heading and think Russell Westbrook won that 2016 NBA All-Star Game MVP trophy by matching Paul George's 41 points and leading his team to victory. But you'd be wrong. Westbrook scored only 31 points that day in Toronto but added eight rebounds, five assists, and five steals.
He did, however, score 41 points in 2015, which earned him MVP honors as he led the West to a 163-158 win — and he did that coming off the bench. Westbrook was also a reserve when he scored 41 in less than 20 minutes in New Orleans in 2017. But that performance crazily wasn't enough to earn him a third consecutive MVP trophy, as that honor went to Anthony Davis — and you'll see why in just a moment.
Wilt Chamberlain scored 42 points in 1962, which was actually less than his season average
The 1961-1962 NBA season was nothing short of spectacular for Hall of Fame center Wilt Chamberlain. He averaged 50.4 points per game for the then-Philadelphia Warriors, a record that will never be broken, and also pulled down 25.7 rebounds per night. That was also the year he had his 100-point game. Crazily, however, Wilt did not win NBA MVP that year, as that honor went to his longtime rival, Bill Russell.
Chamberlain did, however, win NBA All-Star Game MVP that year, although it came in a losing effort. He scored 42 points, shooting 17-for-23 from the floor and 8-for-16 from the foul line, and also grabbed 24 rebounds in the East's 150-130 loss. Did you notice both his point and rebound totals in the All-Star Game were actually less than his season averages? That's how dominant he was that year.
Stephen Curry drops 50 for Team LeBron in 2022
It's a bit hard to believe that Stephen Curry didn't win a single All-Star Game MVP in his first seven appearances in the game — you know, given the lack of defense and all combined with Curry's ability to score points quickly. But that all changed in 2022 when the two-time regular-season MVP took home the trophy for the first time after dropping 50 points for Team LeBron in a 163-160 victory.
Curry caught fire from behind the arc (what a shock, I know), draining 16 triples on 27 attempts, a few of which came from ridiculous distances. He became just the second man to score 50, and one more three would've gotten him the all-time single-game record. Too bad he missed that one from half-court.
Anthony Davis broke Wilt's NBA All-Star Game scoring record with a 52-point outburst in 2017
Wilt Chamberlain's single-game NBA All-Star Game scoring record stood for 55 years until Anthony Davis came along and became the first and still the only player to reach the 50-point mark.
Playing in front of what was then his home crowd in New Orleans in 2017, Davis hoisted up a record 39 shots but made 26 of them, obviously another record, on the way to 52 points in the West's 192-182 victory. So now you see why Russell Westbrook didn't win MVP that year.
Jayson Tatum set a new NBA All-Star Game scoring record with 55 points in 2023
Boston Celtics superstar Jayson Tatum became the all-time NBA All-Star Game single-game scoring leader in 2023 with a 55-point performance for Team Giannis in a 184-175 victory over Team LeBron.
A longtime fan of Kobe Bryant, Tatum nabbed the MVP trophy bearing his idol's name by bucketing 22 of 31 shots from the floor, including a record 10 three-pointers on 18 attempts. He also added 10 rebounds and six assists in a game that featured an entertaining battle against Celtics teammate Jaylen Brown.