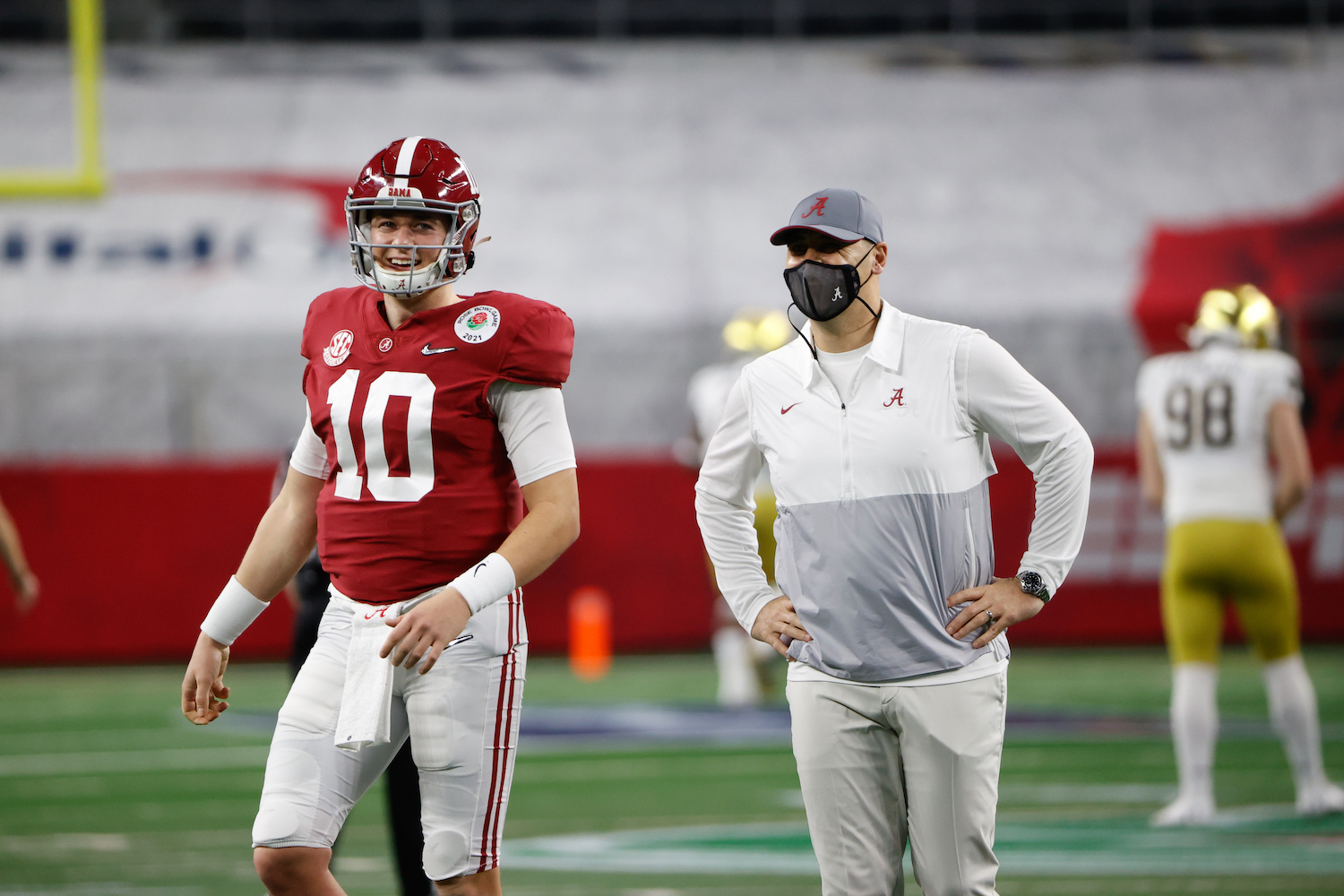 New Texas Longhorns Coach Steve Sarkisian Delivers Multiple Parting Shots to Nick Saban and Alabama
Now that new Texas Longhorns head coach Steve Sarkisian is in Austin, he's filling out his coaching staff and taking a few parting shots at Nick Saban and Alabama in the process.
Steve Sarkisian is getting his third shot at being a college football head coach, this time with the Texas Longhorns. Both Sarkisian and Longhorn fans are hoping the third time is indeed the charm. 
While Sarkisian made some poor choices in the past, he has rehabilitated his image and in the last two seasons with Nick Saban at Alabama, proved to be an offensive guru. Now in Austin assembling his own staff, Sarkisian is settling in and getting comfortable. So much so he has already taken multiple shots at Saban and his Crimson Tide coaching staff. 
Texas Longhorns fire Tom Herman
Tom Herman never lived up to the billing with the Texas Longhorns. After compiling a stellar 24-2 record at the University of Houston, the former Texas grad assistant never managed to find a high level of consistency in Austin.
In four seasons and 50 games, Herman's Longhorns tallied a lackluster 32-18 record with four bowl wins, but no Big 12 championships. The 2020 season was a microcosm of his tenure at Texas as the team flashed moments of excellence, only to be followed by bouts of mental meltdowns and mediocrity.  
His departure was welcomed by a large contingent of Longhorn nation who believed the team had reached its ceiling under Herman's leadership. The question always was — who would be his replacement?  
Texas hires Steve Sarkisian from Alabama
Texas Longhorns fans didn't have to wait long to find out Herman's replacement. Just hours after news broke that Herman was out, the Longhorns delivered more breaking news, announcing Alabama offensive coordinator Steve Sarkisian as the next head coach.
Sarkisian, who had previous stints as the head coach at the University of Washington and the University of Southern California, became the fourth Texas Longhorns head football coach in the last eight years. The 48-year-old said he passed up other opportunities to become a head coach because he was waiting for a job like the one at Texas.
"On Jan. 4, 2006, I was the USC quarterback coach when we played Texas in that famed national championship game," Sarkisian said in a statement. "There has always been something special about Longhorn football, its history and traditions – not just on that day – and I could never have imagined that 15 years later, I would join the Longhorns as their head coach. This is a unique and compelling opportunity to lead this storied program to the next level, competing once again amongst the best in college football."
Poaching Nick Saban's staff at Alabama 
Steve Sarkisian was named the Texas Longhorns head coach on January 2 but didn't take on the role in earnest until he finished up his playcalling responsibilities with Nick Saban and Alabama on January 11 when the Crimson Tide defeated Ohio State 52-24 in the national championship.  
Since that time, Sarkisian has been filling out his coaching staff and he's turned to some familiar faces. He's hired Alabama tight ends and special teams coach Jeff Banks, who is considered a top special teams coach and an elite recruiter. After three seasons at Alabama, Banks returns to Texas where he coached five seasons at Texas A&M before joining the Tide.
Banks will be joined by Alabama offensive line coach Kyle Flood and Alabama analyst A.J. Milwee. Flood, who has spent the past two seasons at Alabama and also worked with Steve Sarkisian for a couple of seasons with the Atlanta Falcons, will be the Texas Longhorns offensive coordinator. 
Milwee, who will be the quarterbacks coach for the Longhorns, spent seven seasons as Akron's offensive coordinator before joining Alabama. 
In the last two seasons, Steve Sarkisian studied under Nick Saban, the greatest coach in college football history. As he watched the master, he learned both his processes and his discipline. Sarkisian also learned Saban hired some quality coaches and wanted to bring several of them with him to Austin.   
Like Sportscasting on Facebook. Follow us on Twitter @sportscasting19.