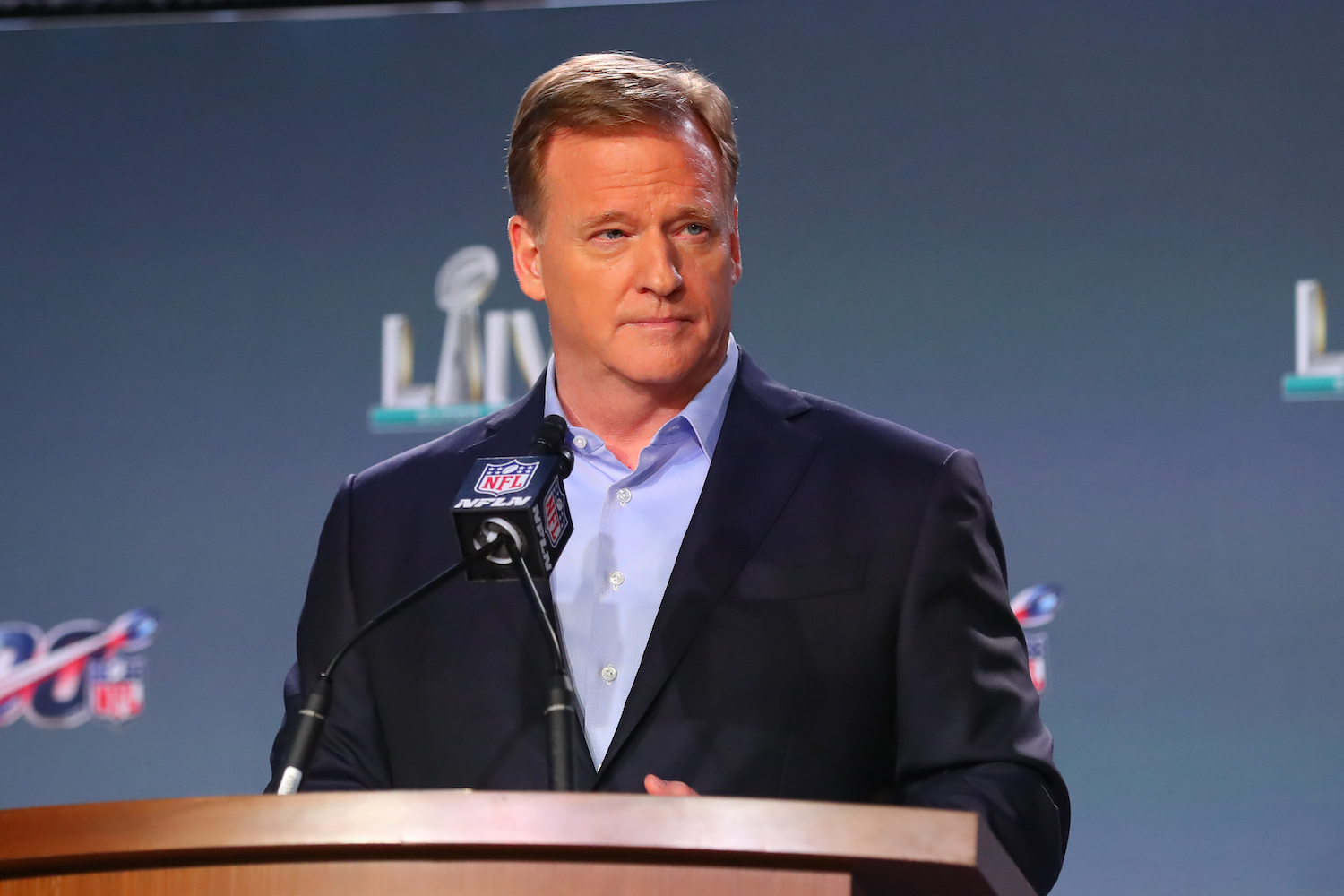 NFL Commissioner Roger Goodell Finally Apologizes to Colin Kaepernick in New Interview
In a new interview, NFL Commissioner Roger Goodell apologizes directly to Colin Kaepernick for not listening to him during 2016 kneeling protest.
When NFL Commissioner Roger Goodell recorded a video in early June acknowledging the league was wrong in its failure to listen to its players on the issue of racism, most viewed the message as a step in the right direction. However, it didn't go far enough. It remained inadequate due to a single omission. Nowhere in the language did Goodell mention Colin Kaepernick, much less apologize to him.
Since that video, Goodell has publicly encouraged NFL teams to sign the former 49ers quarterback but has never addressed the concerns of many as to why he did not apologize specifically to Kaepernick. Emmanuel Acho has finally gotten the answer in the latest episode of his YouTube Series Uncomfortable Conversations with a Black Man.  
Players coordinate powerful video
On June 4, just days after the death of George Floyd with demonstrations and protests spreading across the nation, several high-profile NFL players coordinated and recorded a video message. They simultaneously posted it across their different social media platforms. 
Among those participating included Saquon Barkley, Odell Beckham, Ezekiel Elliott, DeAndre Hopkins, Eric Kendricks, Jarvis Landry, Marshon Lattimore, Patrick Mahomes, Tyrann Mathieu, Patrick Peterson, Sterling Shepard, Michael Thomas, Deshaun Watson and Chase Young.
"It's been 10 days since George Floyd was brutally murdered," New Orleans Saints Thomas opens the video. 
"How many times do we need to ask you to listen to your players?" Mathieu questions.
"What will it take?" Hopkins asks.
"For one of us to be murdered by police brutality?" Landry finishes the line of questioning.
All the players then suggest they are George Floyd, Ahmaud Arbery, and the countless other unarmed black people killed at the hands of police. As the minute and a half video ends, the players provide a list of things they want to hear from the NFL. 
"We will not be silenced. We assert our right to peacefully protest. It shouldn't take this long to admit. So, on behalf of the National Football League, this is what we, the players, would like to hear you state. 'We, the National Football League, condemn racism and a systematic oppression of black people. We, the National Football League, admit wrong in silencing our players from peacefully protesting. We, the National Football League, believe black lives matter.'"
Roger Goodell responds in video admitting NFL was wrong
The video's intended recipient, NFL Commissioner Roger Goodell, heard the message loud and clear. Less than 24 hours later, Goodell took to social media as well and posted a response. His remarks almost repeated verbatim what the players had requested.
"We, the NFL, condemn racism and the systematic oppression of Black People. We, the NFL, admit we were wrong for not listening to NFL players earlier and encourage all to speak out and peacefully protest. We, the NFL, believe Black Lives Matter."
Roger Goodell's words were what the players wanted to hear. Progress. But for many, it fell short simply because Goodell said nothing of Colin Kaepernick, who most agree was deserving of an apology. In fact, just weeks after the commissioner's statement, a Harris Poll revealed that 61% of Americans thought Goodell owed the former quarterback an apology.
Roger Goodell apologizes to Colin Kaepernick
In the first part of a two-part interview with NFL Commissioner Roger Goodell on Emmanuel Acho's YouTube Series Uncomfortable Conversations with a Black Man, Acho explores a wide range of topics with the commissioner. He asked Goodell if he were to express his remorse and apologize to Kaepernick, what would he say to him.
"The first thing I'd say is I wish we had listened earlier, Kaep, to what you were kneeling about and what you were trying to bring attention to," Goodell bluntly admitted. Then, he offered up an interesting piece of information about meetings with Kaepernick that never happened.
"We had invited him in several times to have the conversation, to have the dialogue. I wish we would have had the benefit of that. We never did. You know, we would have benefitted from that. Absolutely."
Roger Goodell's remorseful tone felt sincere. It's another big step in the right direction but there's still more work to be done. How the commissioner handles the upcoming NFL season when it comes to the national anthem and kneeling will be revealing.