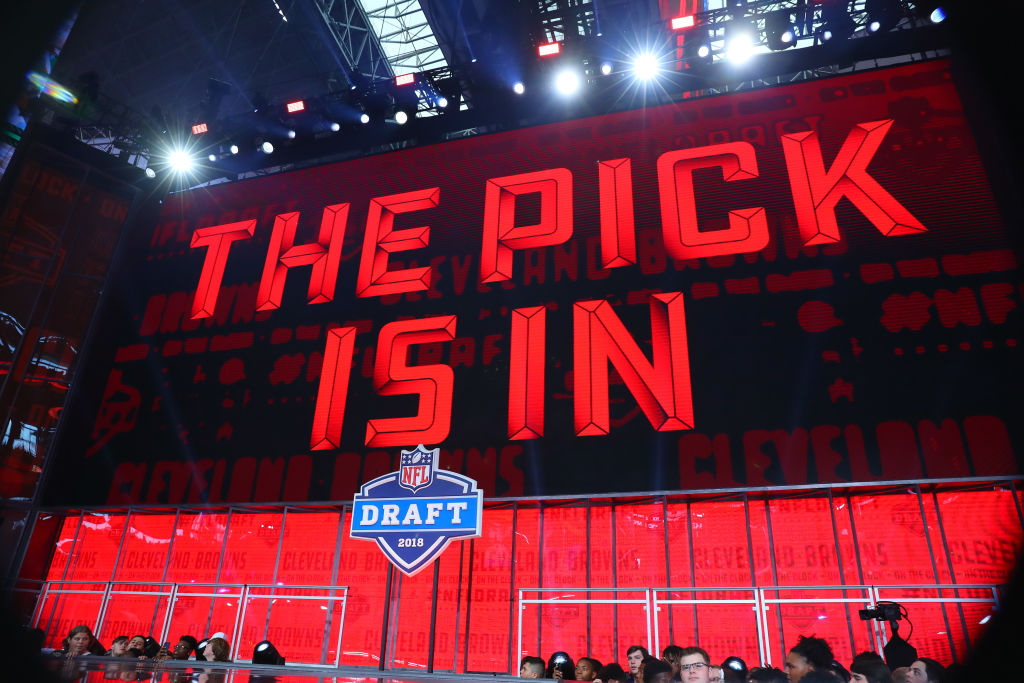 NFL Draft: Which Schools Have Produced the Most Pro Football Hall of Fame Players?
Ahead of the NFL Draft, here's a look at the 10 schools that have produced the most Pro Football Hall of Fame inductees.
With the NFL draft just hours away, college football players all over the country are waiting for that phone call that will change their lives forever. Some will obviously have to wait longer than others, just as the University of Michigan's Tom Brady did back in 2000 when he was taken in the sixth round by the New England Patriots with the 199th overall selection.
Over the years, some have known for certain that their phone call would come early, such as the University of Tennessee's Peyton Manning did in 1998. Manning knew he was going to be the first overall pick for months and he lived up to his expectations and will undoubtedly be a first-ballot Pro Football Hall of Fame selection.
Naturally, with so many college football programs around the U.S., there are bound to be players that are drafted into the NFL that people aren't overly familiar with. But people usually know the big-name players from big-name schools heading into the NFL draft and, more often than not, it's those big-name schools that produce the best players.
While not all of those players find success in the NFL, the likelihood of ending up in the Hall of Fame goes up quite a bit if they went to a big-name university, as you'll see in this list of the 10 schools that have produced the most Pro Football Hall of Fame players.
Illinois (6)
The University of Illinois has produced the 10th-most Pro Football Hall of Fame selections with six, including a number of old-school defensive players.
Dick Butkus
Harold "Red" Grange
George Halas
Bobby Mitchell
Ray Nitschke
Hugh Ray
Minnesota (7)
The University of Minnesota has produced seven Hall of Famers. However, two Golden Gophers, Tony Dungy and Bud Grant, were inducted as coaches.
Bobby Bell
Tony Dungy
Carl Eller
Bud Grant
Bronko Nagurski
Leo Nomellini
Charlie Sanders
Alabama, Syracuse (8)
With all of the talent that comes out of Tuscaloosa, it's honestly a little surprising to see that the University of Alabama has produced just eight Hall of Famers. But that doesn't mean it's not still a very solid list.
John Hannah
Don Hutson
Ozzie Newsome
Ken Stabler
Bart Starr
Dwight Stephenson
Derrick Thomas
Syracuse University also has eight Hall of Fame selections in Canton, one of which is former Raiders owner Al Davis. The school has been hoping to add another alum but Donovan McNabb is still waiting for that phone call.
Jim Brown
Larry Csonka
Al Davis
Marvin Harrison
Floyd Little
John Mackey
Art Monk
Jim Ringo
Pittsburgh, Miami (9)
The University of Pittsburgh, better known as Pitt, has nine former players in the Pro Football Hall of Fame, including "Da Coach" himself, Mike Ditka, and arguably the best quarterback to never win a Super Bowl, Dan Marino.
Jimbo Covert
Mike Ditka
Chris Doleman
Tony Dorsett
Russ Grimm
Rickey Jackson
Dan Marino
Curtis Martin
Joe Schmidt
In turn, the University of Miami (FL) also has nine inductees, including some of the biggest names in the NFL in the past 30 years.
Ted Hendricks
Michael Irvin
Edgerrin James
Jim Kelly
Cortez Kennedy
Ray Lewis
Jim Otto
Ed Reed
Warren Sapp
Michigan, Ohio State (10)
It just makes sense that Michigan and Ohio State would have the same number of Hall of Fame inductees, doesn't it? They have one of the best rivalries in college football (maybe not lately as the Buckeyes have dominated the Wolverines) history and both schools have released a number of great players to the NFL. Here's the 10 Michigan Wolverines in the Pro Football Hall of Fame.
George Allen
Dan Dierdorf
Len Ford
Benny Friedman
Bill Hewitt
Elroy Hirsch
Steve Hutchinson
Tom Mack
Ralph Wilson, Jr.
And here are the Ohio State Buckeyes.
Cris Carter
Sid Gilman
Lou Groza
Dante Lavelli
Dick LeBeau
Orlando Pace
Jim Parker
Ed Sabol
Paul Warfield
Bill Willis
Notre Dame, USC (13)
Another set of longtime rivals are tied in the top spot as Notre Dame and USC each have 13 inductees in the Pro Football Hall of Fame. First up, the Fighting Irish.
Jerome Bettis
Tim Brown
Nick Buoniconti
Dave Casper
George Connor
Edward DeBartolo, Jr.
Paul Hornung
Earl Lambeau
John McNally
Wayne Millner
Alan Page
George Trafton
Here are the 13 USC Trojans.
Marcus Allen
Morris "Red" Badgro
Frank Gifford
Ronnie Lott
Bruce Matthews
Ron Mix
Anthony Munoz
Troy Polamalu
Junior Seau
O.J. Simpson
Lynn Swann
Willie Wood
Ron Yary