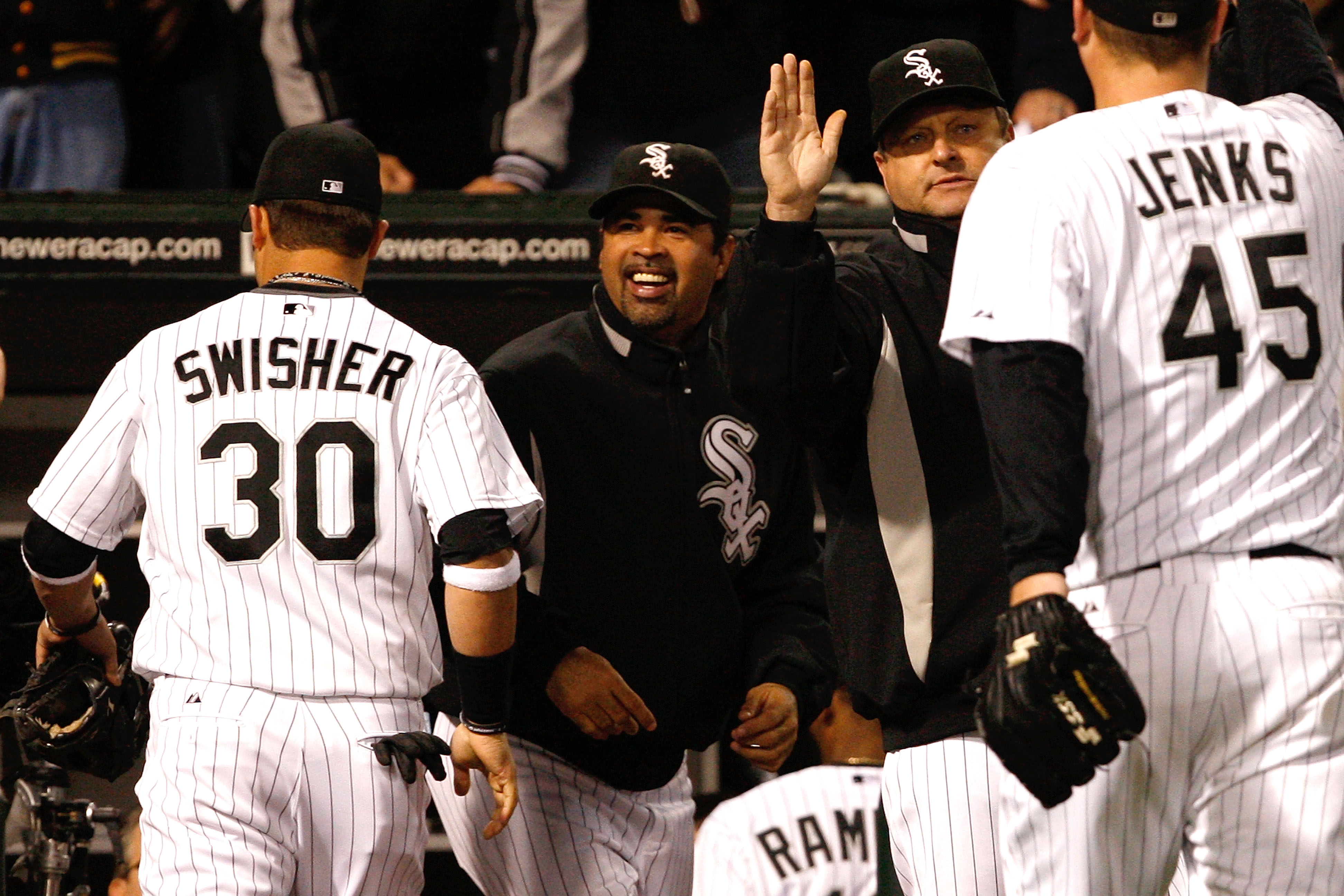 Nick Swisher Isn't the Only Player Ozzie Guillen Had a Problem With
Former Major League Baseball player Nick Swisher isn't the only Chicago White Sox player Ozzie Guillen had a problem with.
Former Chicago White Sox manager Ozzie Guillen was always firey as both a player and manager. He appears to be the same way off the baseball field. On Wednesday, Guillen lashed out at former Major League Baseball player Nick Swisher, saying he "hated (him) with my heart." Looking back at his managerial days with the White Sox, Swisher was not the only player Guillen had a problem with.
Ozzie Guillen's baseball career
Ozzie Guillen played 16 years of Major League Baseball, 13 of them with the Chicago White Sox. He made his debut as a shortstop on April 9, 1985, against the Milwaukee Brewers. Guillen was known mostly for his defense, but he put together a pretty solid offensive career, compiling 1,764 hits and a .264 batting average.
Guillen was named the American League Rookie of the Year in 1985 when he hit .273 in 150 games. He was a three-time MLB All-Star and was a Gold Glove winner in 1990. After 13 seasons with the White Sox, Guillen had short stints with the Baltimore Orioles, Atlanta Braves, and Tampa Bay Devil Rays.
In 2004, Guillen became the manager of the Chicago White Sox and led them to the World Series title in 2005. The White Sox had winning seasons in Guillen's first three seasons and four out of the first five. He managed the White Sox through the 2011 season. He finished with a career managerial record of 678-617 in Chicago. In 2012, he managed the Miami Marlins and went 69-93 in his only season.
Guillen said he hates Nick Swisher
During Wednesday's NBA broadcast of the Chicago White Sox game, Guillen was an in-studio guest. He was asked if he disliked Nick Swisher or the recently retired Carlos Gomez more. The always-outspoken Guillen didn't seem to hesitate before answering.
"I hate Nick Swisher with my heart," Guillen said. "I never talked to him, I was managing him, but I don't like the way his attitude was all fake. And I don't like fake people." Guillen managed Swisher for one season in 2008. "It was one year too long," Guillen said.
If it means anything, Guillen believes Swisher, a fan favorite, doesn't like him either. "I think he hates me back," Guillen said. "There's nothing wrong with that."
Guillen also had a big feud with another White Sox player
Ozzie Guillen made it perfectly clear he was not a fan of Nick Swisher. During their time together, Guillen apparently wasn't a fan of White Sox relief pitcher Bobby Jenks either. It's unclear when the whole Guillen vs. Jenks beef began but it could've started during the 2005 World Series against the Houston Astros.
When Guillen, then the manager for the Sox, went out to the mound to call for Jenks, the closer, Guillen pointed to the bullpen. Instead of tapping his right arm, signaling for a right-hander, he used his arms to signal for "the fat guy." Jenks was 6-foot-4, 275 pounds. The two have often feuded. When Jenks left Chicago to play for the Boston Red Sox, he said, "I'm looking forward to playing for a manager who knows how to run a bullpen," according to Bleacher Report.
Of course, Guillen fired back. "I respect his wife. I respect his kids. I'm not even mad. I wish I was mad about it because I will rip his throat (out)." Guillen said in 2011, according to NBC Sports. "We don't miss him. You ask 30 guys in there. By the way, I was asking for his phone number to talk him to about it, and nobody had his phone number. None of his (former) teammates had his phone number. That you can tell what happened."