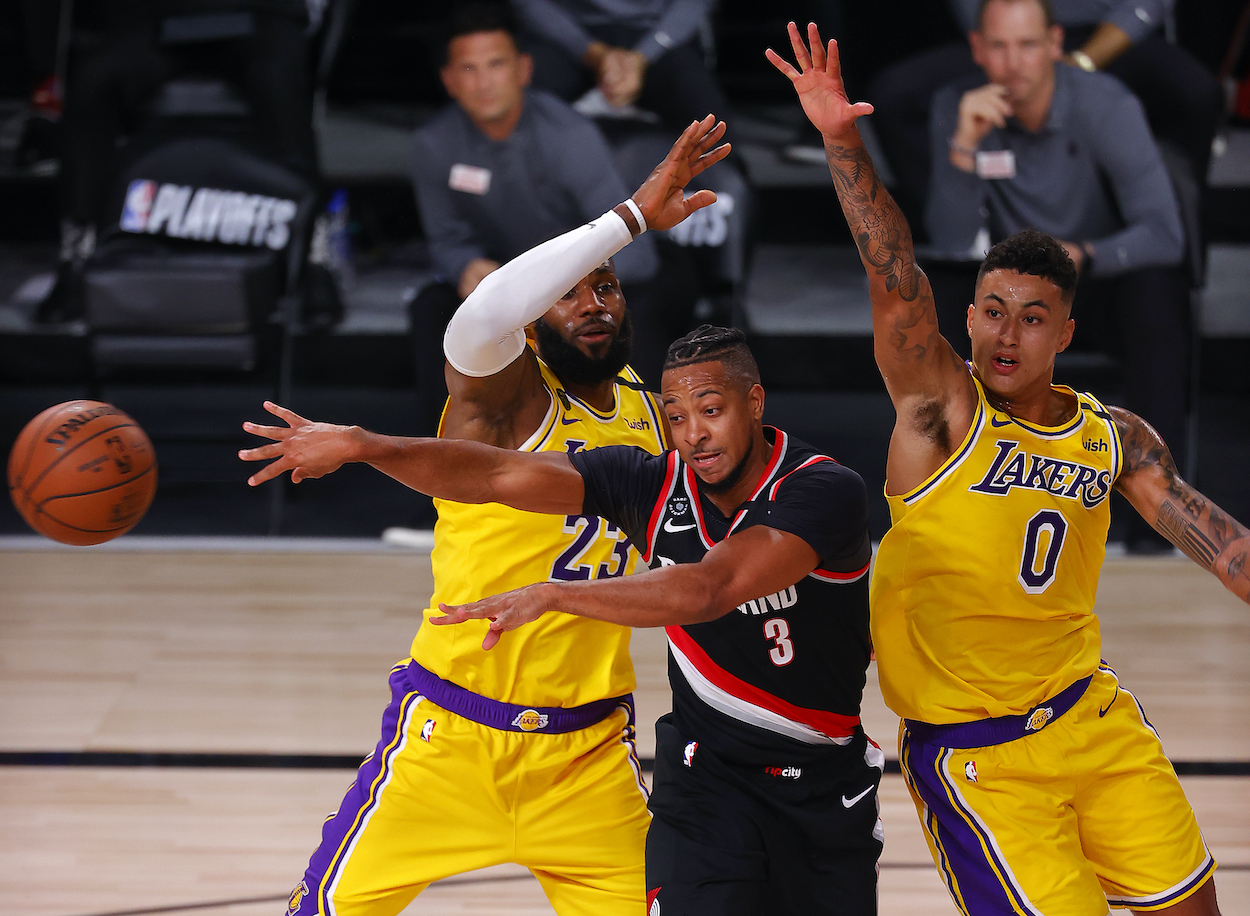 Reggie Miller Says He Would Trade These 2 Lakers for CJ McCollum
NBA legend Reggie Miller thinks the LA Lakers should target CJ McCollum instead of pursuing Damian Lillard because he'd be a better fit with LeBron James and Anthony Davis. If Miller was running the Lakers, he would trade Kyle Kuzma and Dennis Schroder for McCollum and make sure to keep Talen Horton-Tucker and Alex Caruso.
Reggie Miller is best known for his time as the leader of the Indiana Pacers in the 90s and early 2000s. These days though, the former UCLA Bruin is an analyst for TNT. In this role, he joined Dan Patrick to discuss, among other things, the state of the Los Angeles Lakers. He talked about why they should trade for Portland Trail Blazers star CJ McCollum, as opposed to Damian Lillard who is the subject of many Lakers trade rumors these days.
The Los Angeles Lakers have few options to improve the team in 2021-22
The LA Lakers didn't successfully defend their 2020 NBA title in the 2020-21 season. After an injury-filled year when LeBron James and Anthony Davis missed a combined 63 regular-season games, the team could only muster a 42-30 record. This got the team the No. 7 seed in the Western Conference. After a dramatic Play-In Tournament win over the Golden State Warriors, the Lakers fell to the (eventual NBA champs?) Phoenix Suns 4-2.
Now, the Lakers enter the 2021 offseason with few resources available to improve the team next season. They do own the No. 22 pick in the 2021 NBA draft. After that, though, the New Orleans Pelicans own the outright or swap rights to the franchise's next three first-round picks. This is a result of the Anthony Davis trade.
The Lakers are already $9 million over the salary cap, with just seven players currently under contract for next season. This makes it near-impossible to sign a big-name free agent like Kawhi Leonard, Chris Paul, or Mike Conley if they become available.
The only realistic options for the Lakers to significantly improve are via trade or sign-and-trade.
Reggie Miller shares which Lakers he would keep and which he would trade for CJ McCollum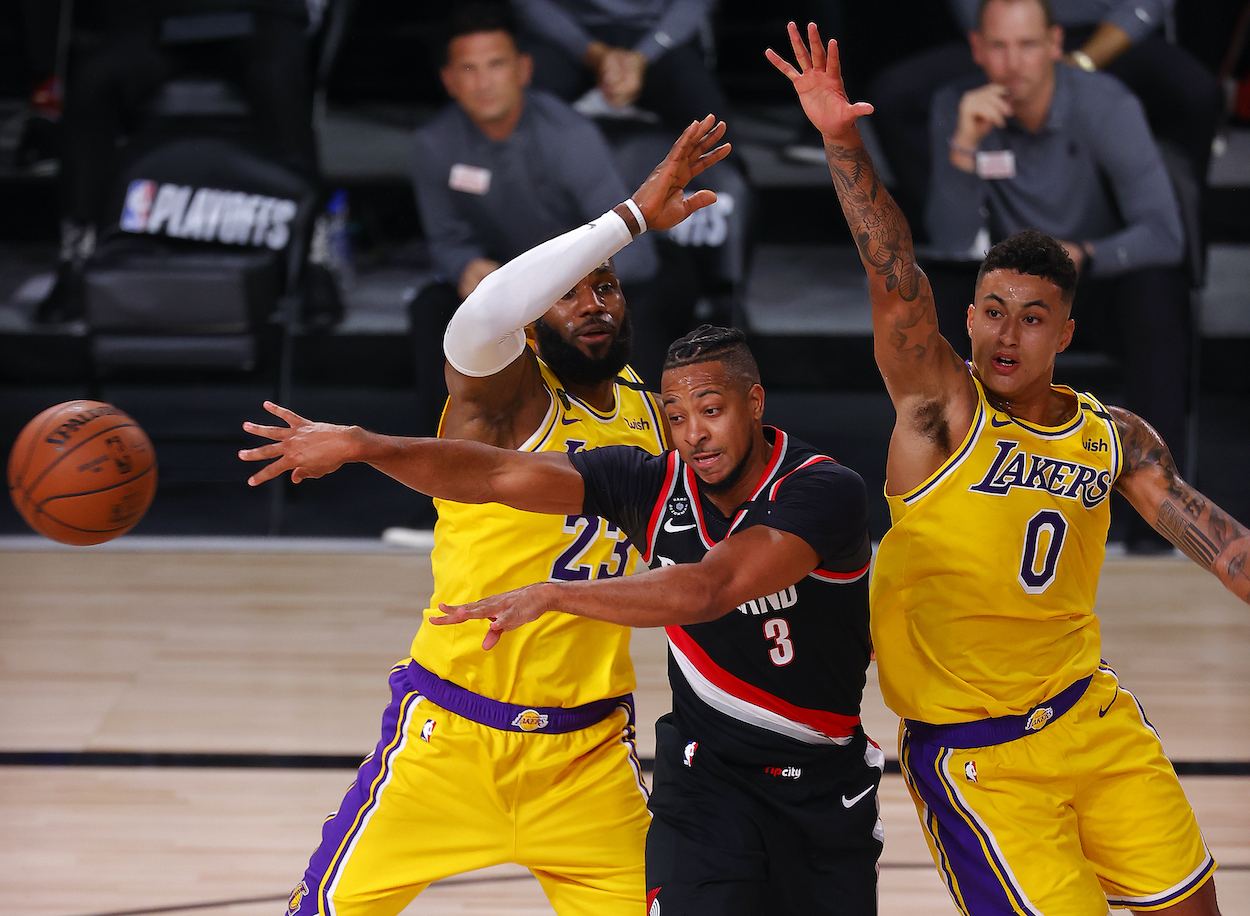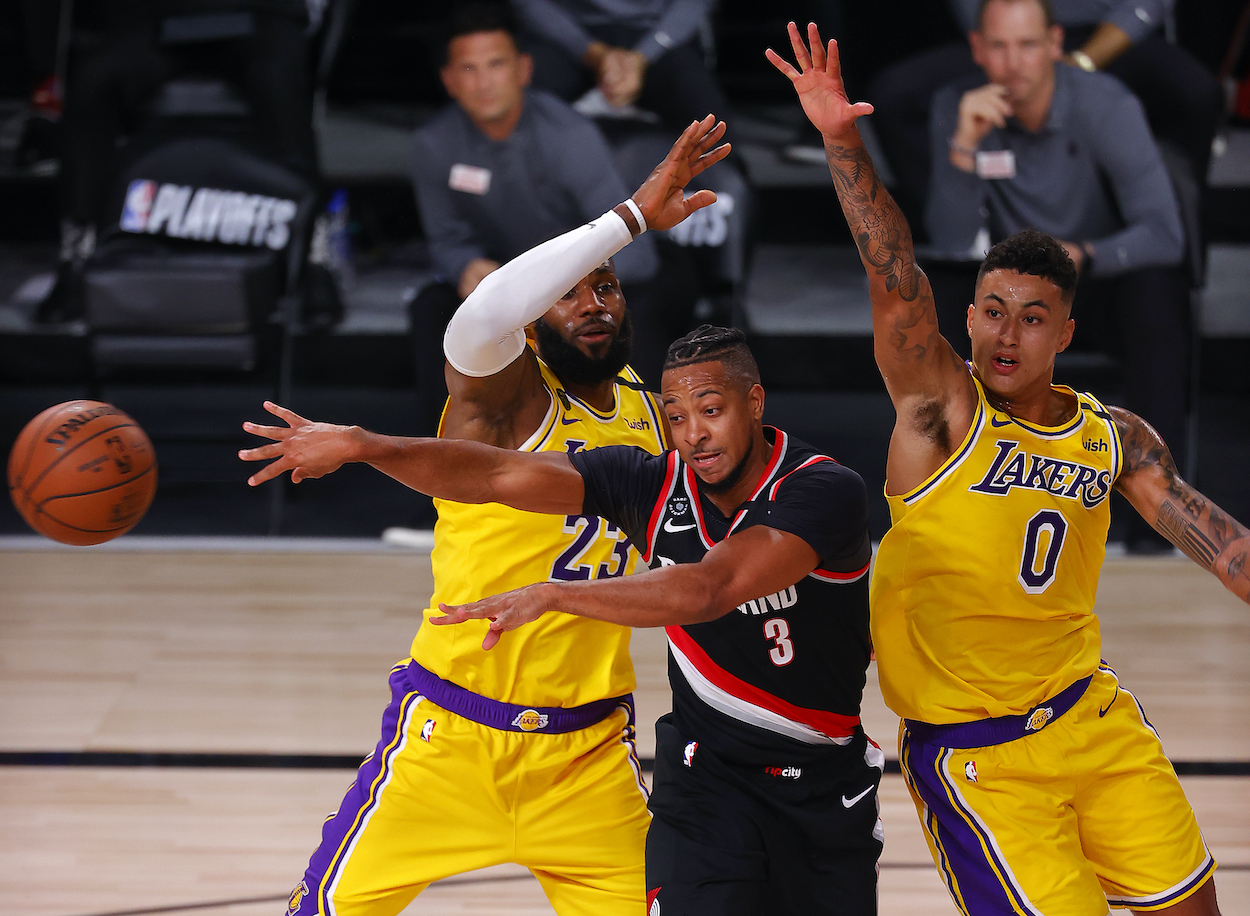 On The Dan Patrick Show, the host shot down Lillard to the Lakers trade rumors saying, "I always say, but who's Portland getting in return?" Patrick followed up by asking Miller, "Would you trade Anthony Davis for Damian Lillard if you were the Lakers?  
"No, no, no, absolutely not," Miller quickly answered. "As much as I love Damian Lillard, Lillard has to have the ball in his hands to be successful."
He hypothesized that with James needing the ball so much, the two wouldn't play well together and that Davis is a much better compliment to LeBron. He did, however, suggest which Blazers player would fit well in LA:
You know who would be better on that team? CJ McCollum would be great on the Lakers with LeBron… I would get rid of [Dennis] Schroder. And I would possibly think about getting rid of Kyle Kuzma. I would, I would keep Talen Horton-Tucker, I like him. I would break [Alex] Caruso out of jail in Texas, get him back. And yeah, I would get rid of Schroder and Kuzma for CJ McCollum, I would, I think he would be perfect for the Lakers.
McCollum will make $30.8 million in 2021-22. Kuzma will make $13 million, so if they executed a sign-and-trade with Schroder, who is reportedly looking for $20 million-plus a year, the Lakers could make it work with some additional salary cap filler coming back from Portland.
What would McCollum add to LeBron James and company?
McCollum could be a great fit with the Lakers, but there is one glaring issue that might make LA want to stay away.
The former Lehigh star has played with a ball-dominant player in Lillard for his entire career and still averaged 18.9 points per game in his career and 21.9 since becoming a full-time starter in his third season. As a great off-ball player, good secondary ball-handler, and an almost 40% career 3-point shooter, McCollum does everything offensively that the Lakers need.
The 6-foot-3, shoot-first guard does have two major flaws, however. One is not a problem for the Lakers, while the other is a massive concern.
The problem the Lakers can gloss over is his defense. He is an average NBA defender at best, and he isn't going to shut down the other team's top guard on a nightly basis by any means. With Davis and James protecting the rim, though, that isn't a huge issue.
The main problem is his injury history. He has played 80 games or more three times in his career but has missed significant spells with injury as well. With an aging James and a fragile Davis, the Lakers will have to think long and hard before taking on another possible injury risk.
That said, McCollum is an excellent fit in other areas and is probably just about the best caliber of player the Lakers can hope for this offseason. If Miller's suggested trade is available, the franchise should definitely go for it.
All stats courtesy of Basketball Reference and contract figures courtesy of spotrac