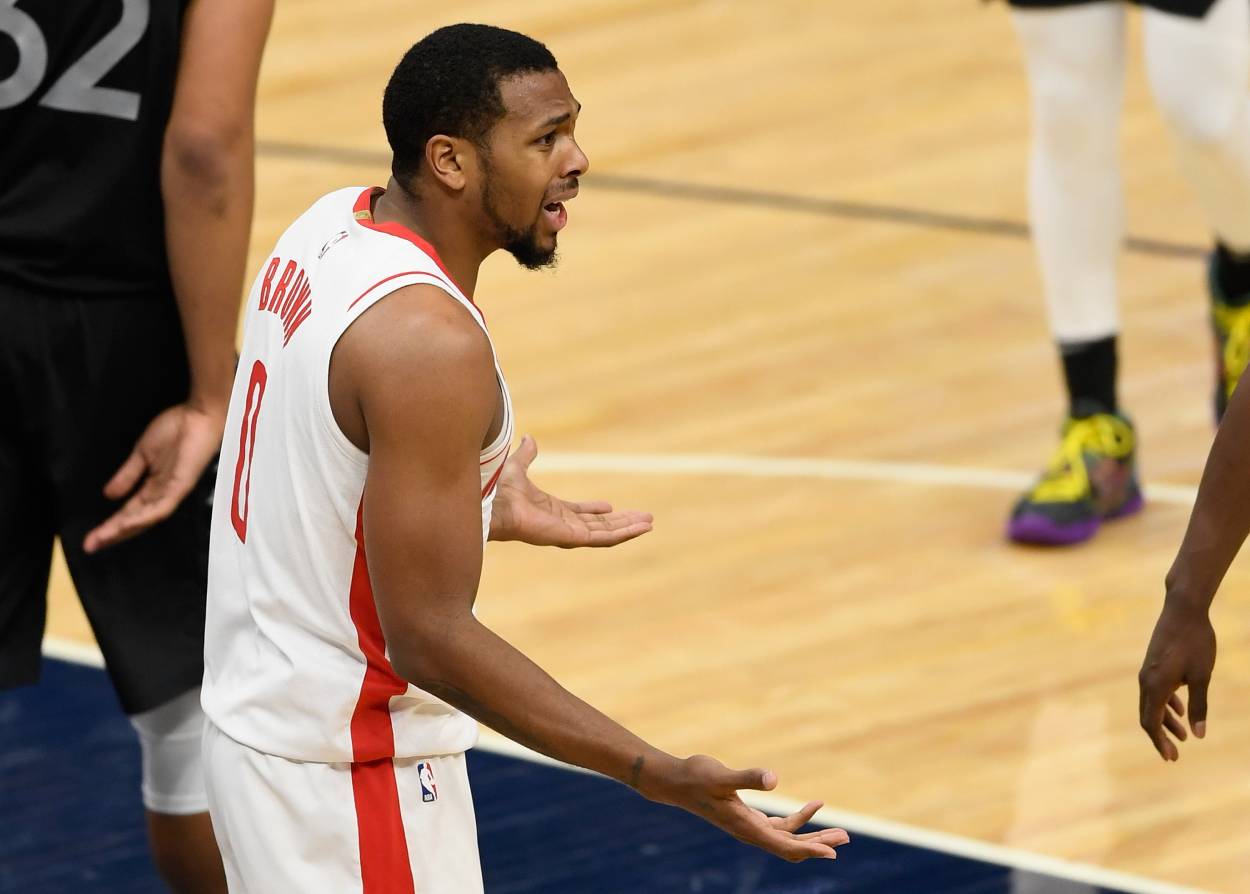 Rockets Feared for Sterling Brown's Life After Vicious Attack and 'Jacked-Up' Face
Houston Rockets teammates feared for Sterling Brown's life after he was viciously assaulted.
Houston Rockets guard Sterling Brown was viciously attacked early Monday morning outside a Miami strip club. Members of the Rockets and those close to Brown feared for his life after unknown assailants assaulted Brown. Brown suffered facial lacerations but is expected to fully recover.
Sterling Brown was assaulted in Miami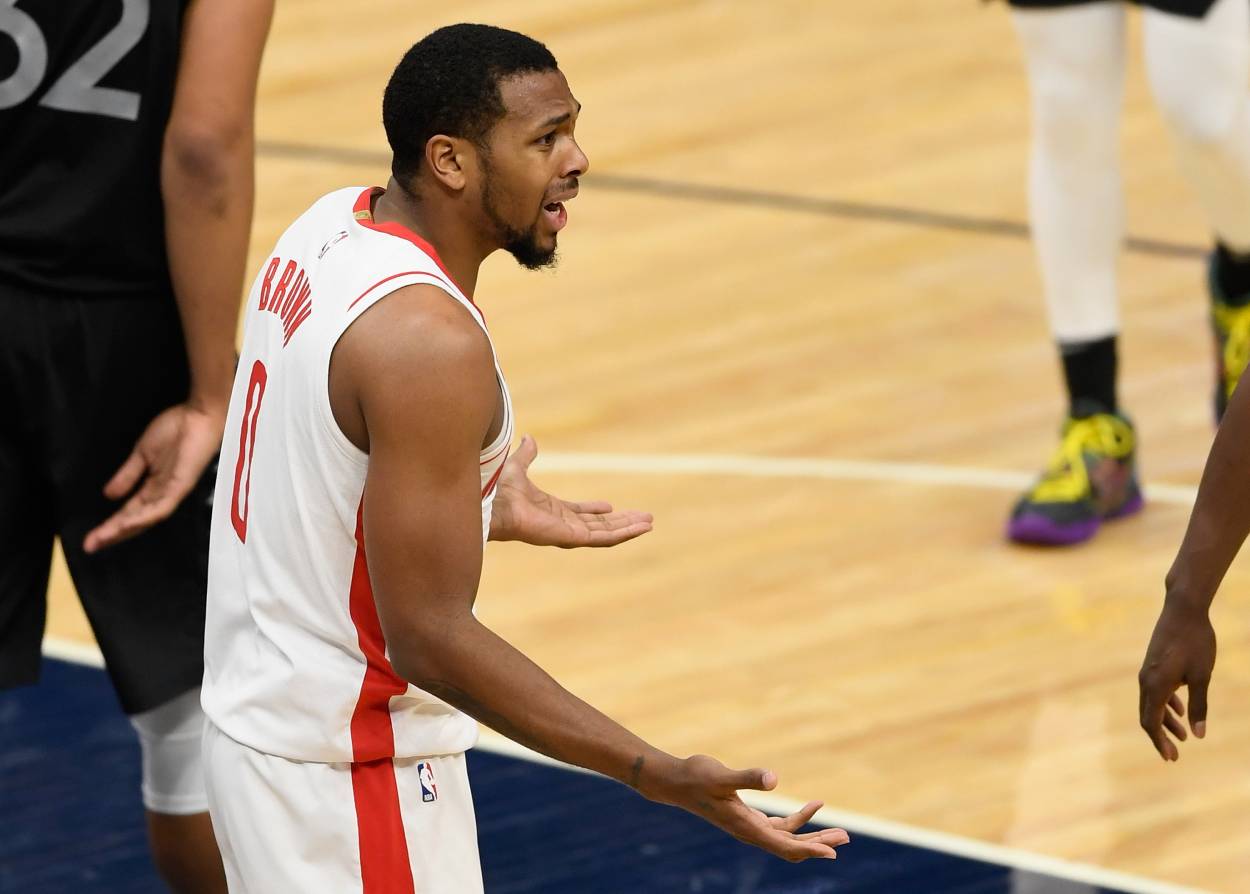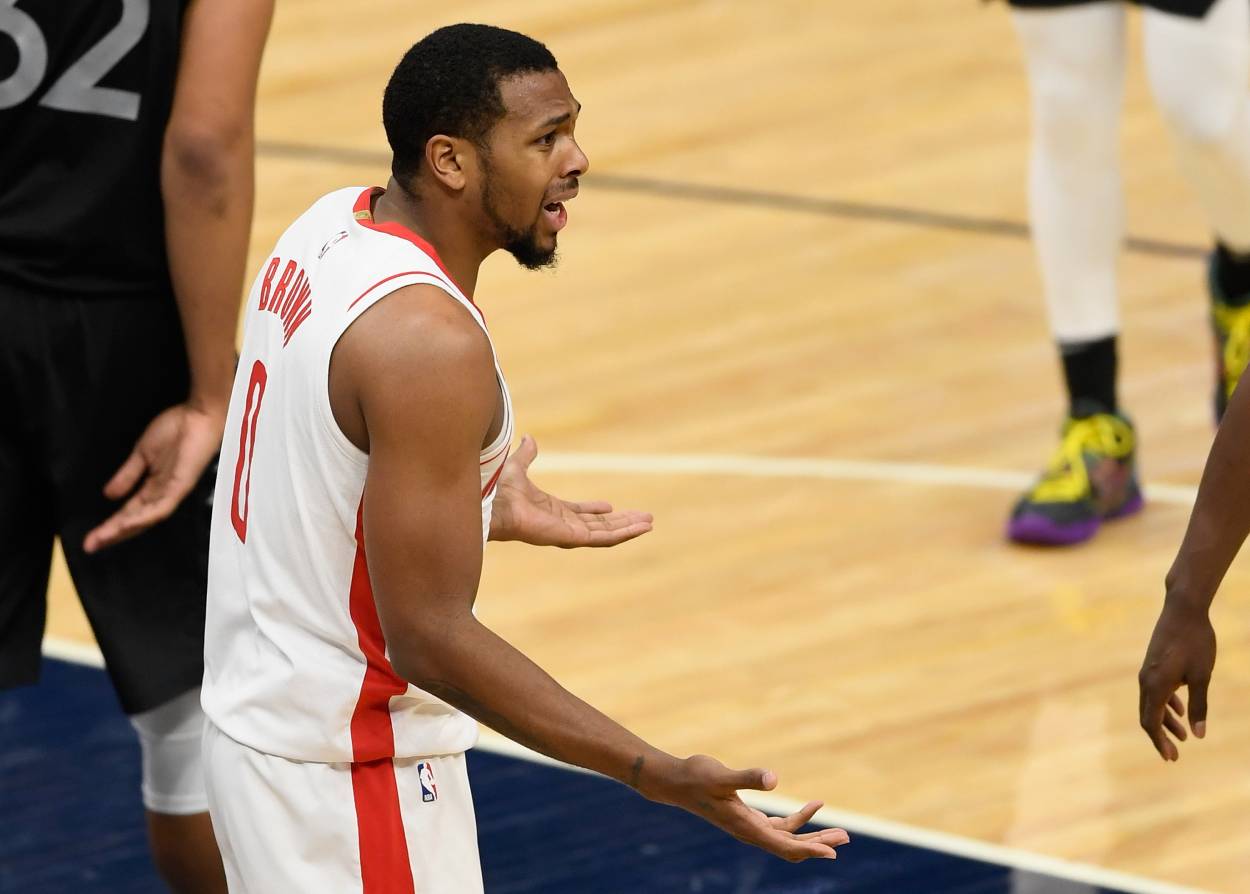 According to The Athletic, which obtained the incident report filed by the Miami-Dade Police Department, Sterling Brown and some Houston Rockets teammates were leaving the Booby Trap On The River, a strip club in Miami in the very early hours Monday morning. An anonymous caller reached out to police after a fight broke out in the club's parking lot.
One source told The Athletic that Brown had a heated exchange with three or more individuals after getting into the wrong van. According to the source, Brown was jumped and hit in the head with a bottle, leaving blood everywhere. Brown's young teammate, Kevin Porter Jr., jumped in to help Brown and suffered minor injuries.
When police arrived, Brown was there with another unidentified male, who also suffered multiple lacerations. The incident report stated, "Upon attempting to assist both males and gather information as to what occurred, both males became belligerent and refused to cooperate. Several attempts were made to gather information (from Brown), who kept insisting he did not want to provide his information, he only wanted rescue to take him to the hospital." Jackson Memorial Hospital admitted Brown after 7 a.m.
Many feared for Sterling Brown's life
As word of Sterling Brown's hospitalization spread throughout the Houston Rockets organization, many players and coaches suspected he was in critical condition, according to The Athletic. "If he hadn't been as physically strong and tough, he might not have made it out of the situation," one source told The Athletic. "He could have died."
Brown needed multiple stitching jobs to his face and underwent multiple tests. The hospital discharged him Monday afternoon. The Athletic reported Brown was still in a great deal of pain after being released from the hospital. "His face is jacked up," one source said.
The Rockets have said they have been fully cooperative with the investigation. Before their game with the Heat on Monday, the Rockets issued a statement on the incident.  "Last night, Sterling Brown was the victim of an assault," the statement read in part. "He had no prior knowledge of or interaction with the assailants. He suffered facial lacerations but will make a full recovery. Sterling is not playing tonight because of his prior knee injury."
Brown had a previous incident with Milwaukee police
Sterling Brown signed with the Houston Rockets in the offseason. He had previously played with the Milwaukee Bucks. During his time with the Bucks, Brown was involved in an incident with some Milwaukee police officers. Brown illegally parked his car across several parking spaces and police confronted him.
Brown sued the city, accusing the officers of using excessive force during an arrest. The Milwaukee Police Department released the body-camera video of the arrest and later apologized to Brown. Last year, Brown agreed to settle his lawsuit with the city.
According to The Athletic, the settlement agreement was reached last November. The agreement was updated in March and is awaiting city approval.