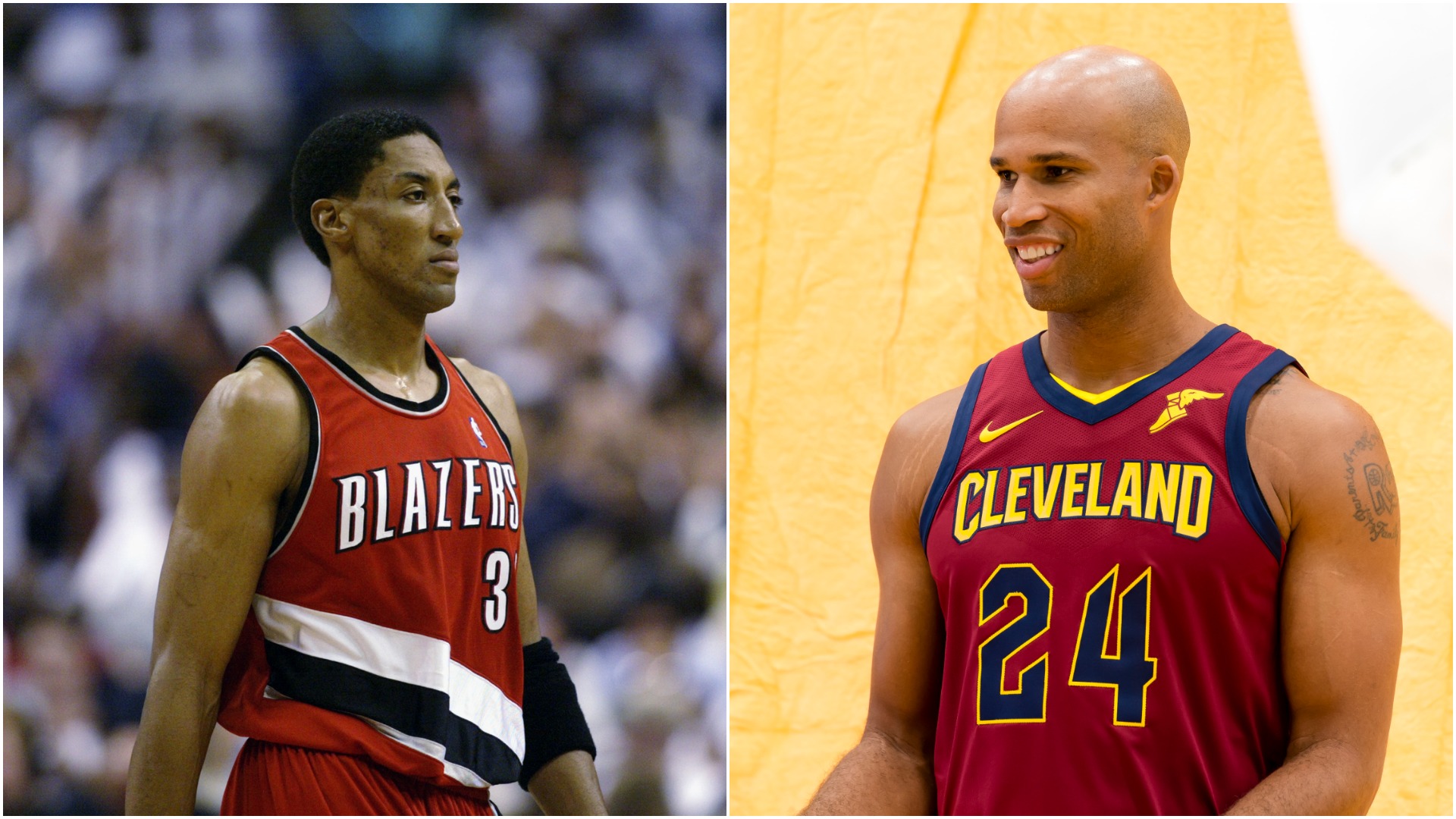 Scottie Pippen Posterizes Richard Jefferson on Twitter
Richard Jefferson tweeted Giannis Antetokounmpo is like Scottie Pippen and needs a Michael Jordan to win it all. Pippen posterized Jefferson in his response.
Scottie Pippen is one of the top 50 greatest NBA players of all time. His greatness, however, was always overshadowed by his teammate, and the one many consider to be the greatest player of all time, Michael Jordan. 
In the NBA playoffs, with the No. 1 seeded Milwaukee Bucks down 2-0 in their second-round series against the Miami Heat, former NBA player Richard Jefferson made an observation and shared it on Twitter where he compared Giannis Antetokounmpo to Pippen. He suggested the Bucks star needs a Jordan-like player to help win it all. Scottie Pippen has responded.
Giannis Antetokuonmpo on pace for second MVP season
This season Giannis Antetokounmpo has put up even better numbers during the regular season than he did last year when he won league MVP. After opening the season with a triple-double against former MVP James Harden and the Houston Rockets, where he scored 30 points, grabbed 13 rebounds, and dished out 11 assists, Antetokounmpo has been dominant. 
Heading into the playoffs, he was averaging 29.5 points per game and 13.7 rebounds. Like last season, he led the Bucks to a No. 1 seed in the Eastern Conference. After a 4-1 series win over the Orlando Magic in the first round, in which Antetokounmpo averaged 30.6 points per game, the Bucks advanced to face the No. 5-seeded Miami Heat. 
In the opening game, Antetokounmpo took just 12 shots and finished with 18 points. Milwaukee lost convincingly, 115-104. In Game 2, Antetokounmpo performed much better scoring 29, but the Bucks fell short 116-114, and more significantly, fell behind in the series 0-2. 
Richard Jefferson compares Antetokounmpo to Scottie Pippen; Pippen responds 
Falling behind in the second-round series as the No. 1 seed, the Bucks were understandably on the receiving end of some criticism. Among the critics was 16-year NBA veteran and basketball analyst Richard Jefferson.
"Giannis might be a Pippen…. there I said it! He needs his Jordan," Jefferson posted on Twitter.
Jefferson's tweet received a lot of feedback. But none of it was more interesting than the stinging rebuke issued from Scottie Pippen himself.
"I'm not Giannis—I don't have back-to-back league MVPs (he will in a matter of days)—and he's not me," Pippen answered. "The question is… who were you as a player?"
Richard Jefferson vs. Scottie Pippen — by the numbers
Richard Jefferson played for 16 seasons. He averaged 12.6 points per game and never appeared in an NBA All-Star Game. He did win one NBA title in the 2015-16 NBA season with LeBron James and the Cleveland Cavaliers.
By contrast, Pippen's career is well-documented, including his six NBA titles. He finished his 17-year career with a 16.1 points per game average. He also was a seven-time All-Star and 10-time All-Defensive Team member. He was inducted into the Naismith Memorial Basketball Hall of Fame in 2010.  
After Pippen's less-than-flattering portrayal in the 10-part ESPN docuseries, "The Last Dance," many thought he was treated unfairly. He remained quiet about it. That, however, was Michael Jordan delivering the criticism. Pippen has clearly shown he's not going to allow others to critique him or his game. Will Jefferson respond if Giannis Antetokounmpo has another poor game? Only time will tell. 
All stats courtesy of Basketball Reference.