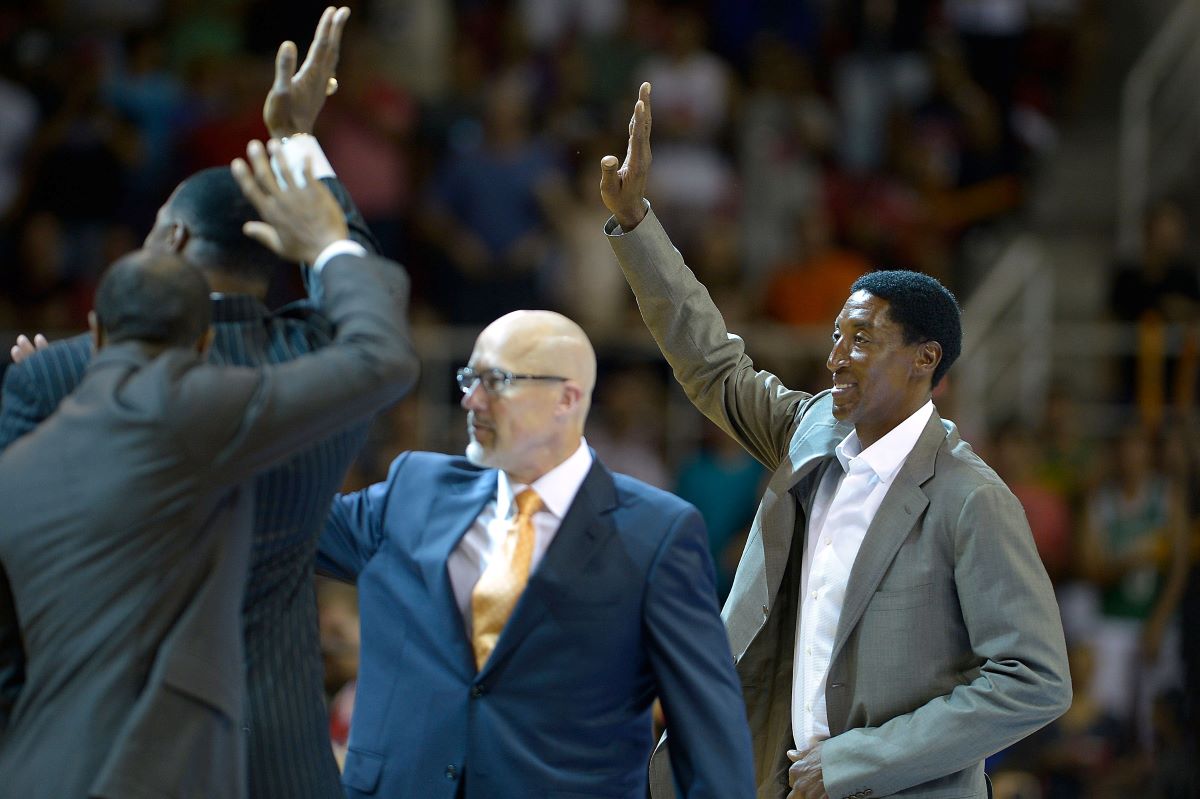 Scottie Pippen Had No Sympathy for a Crying John Paxson Who Called Him to Apologize for How He Treated Him When He Was the Bulls' Vice President: 'Why He Was Crying, I Couldn't Be Sure, and Honestly, I Didn't Care'
Chicago Bulls legend Scottie Pippen had no interest in patching things up with John Paxson.
Scottie Pippen and John Paxson won three championships together on the Chicago Bulls in the '90s. By all accounts, they got along as teammates.
However, Pippen and Paxson's relationship became sour when the latter was the Bulls' general manager and vice president of basketball operations. In the summer of 2003, Pippen turned down an offer from the Memphis Grizzlies to sign a two-year contract with the Bulls to be a mentor and work with head coach Bill Cartwright. Paxson not only fired Cartwright after 14 games, but he also played a role in Pippen being treated poorly in 2010 and 2014.
Scottie Pippen on John Paxson: "Paxson and I hadn't gotten along in years"
GQ released an excerpt from Pippen's upcoming memoir, Unguarded. In his book, the six-time champion talks about how Paxson and the Bulls used him as a mascot and exploited his name when he was put on the payroll.
"In 2010, when I was finally put on the Bulls' payroll, I was nothing more than a mascot, trotted out a few times every year for appearances," Pippen wrote. "I signed autographs and met with season-ticket holders, hired for mainly one purpose, to serve as a link to the glory days. At last, in early 2014, it appeared I would play a more meaningful role. The Bulls sent me to about a dozen college games to do some scouting … After filing the scouting reports, I waited to hear back from Paxson and other members of the organization. What would they want me to do next? I didn't hear a word."
According to Pippen, Paxson found out he was upset with him and reached out via text. While the Hall of Famer was glad to hear Paxson admit a wrong he had known forever, he had no sympathy for his former teammate, who cried over the phone.
Scottie Pippen: I didn't care that John Paxson cried
Pippen says Paxson called him a day after the apology text to talk things out. The sharpshooter began to cry, but Pippen didn't care.
"He began to cry. Not knowing how to respond, I waited for him to stop," Pippen said. "Why he was crying, I couldn't be sure, and honestly, I didn't care. Before long, our chat was, mercifully, over."
It's worth mentioning that Paxson was one of the people in ESPN's The Last Dance docuseries who criticized Pippen for sitting out the final play of Game 3 of the 1994 Eastern Conference semifinals against the New York Knicks after Phil Jackson drew up the game-winning play for Toni Kukoc. Although the guard tried to make amends with Pippen, it appears the former All-NBA swingman isn't interested in catching up.
The Bulls no longer employ Pippen. The second-best player in franchise history was let go in 2020, and he didn't mind the move.
Pip: "I like to associate myself with winning"
Pippen revealed on the Thuzio Live & Unfiltered podcast in 2020 that he was kind of happy he no longer worked for the Bulls, who haven't made the playoffs since 2017.
"It probably is a good thing, right?" Pippen said. "I like to associate myself with winning."
According to Pippen, the Bulls asked him before the 2019-20 season to make various commitments throughout the year that would interfere with his role as an analyst on ESPN's The Jump. When the NBA legend was told he wouldn't be getting an increase in salary, things fell apart.
Pippen no longer has a relationship with the Bulls, Paxson, or Michael Jordan. It's undoubtedly been strange to see him burn so many bridges, but he has his reasons.