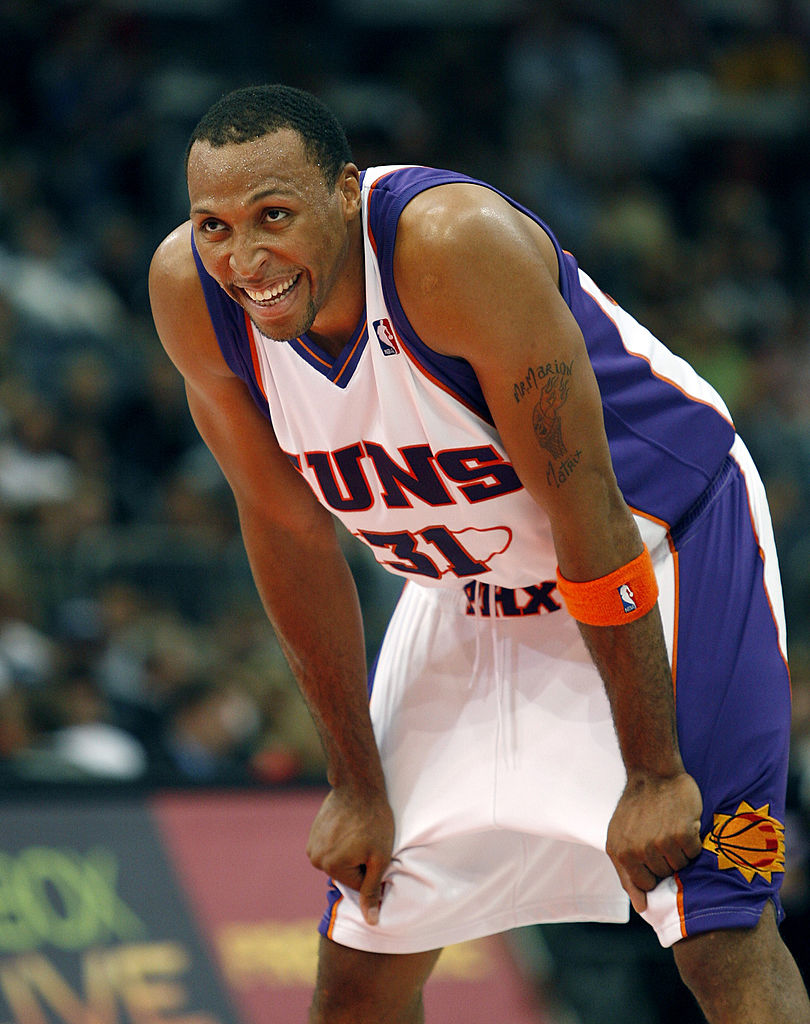 Shawn Marion, Bill Cartwright Head List of NBA Players Who Succeeded Despite Poor Shooting Form
Bill Cartwright, Shawn Marion, and Jamaal Wilkes are just some players who were successful in the NBA despite poor shooting mechanics.
The NBA has proven you don't have to be pretty to be successful. We're not talking good looks or beautiful smiles. We're talking strictly shooting form.
Like the sweet swings of Ken Griffey Jr. and Will Clark in Major League Baseball, the NBA has its pretty shooters. Guys like Steph Curry, Ray Allen, Kobe Bryant, and Kyle Korver all were successful shooters in the NBA and they looked good while doing it. Here are some players who were also very successful in the NBA, but could've used a little assistance with their poor shooting form.
Bill Cartwright finished his career with nearly 13,000 points
Simply put, Bill Cartwright's shot was ugly. It was almost as if his arms couldn't bend his arms when he lifted the ball over his head, but despite the unorthodox style, Cartwright went on to score 12,713 points and win three NBA titles.

Drafted third overall in 1979 out of San Francisco, Cartwright won his three championships as a key member of the Michael Jordan-lead Chicago Bulls team as a 7-foot-1 center. Cartwright began his NBA career with the New York Knicks, dominating in his first two seasons, averaging 21 points per season and playing all 82 games in both years.

Cartwright finished his career with the now-defunct Seattle SuperSonics, playing 29 games for them during the 1994-1995 season. Even with his uncommon shooting looks, the big man shot better than 52 percent from the floor in his career that lasted 15 seasons. 

Shawn Marion was a four-time all-star in the NBA
Like Bill Cartwright, Shawn Marion had himself a lengthy career in professional basketball without looking good while in the act of shooting. At 6-foot-7, Marion was one of the more versatile and athletic players in the NBA, playing multiple positions and being able to defend players much bigger and smaller than himself.

Unlike Cartwright, Marion didn't release the ball above his head. Marion, who played 16 NBA seasons and amassed 17,700 career points, looked like he was shot-putting the ball when he released it. Despite the awkward release, his credentials speak for themselves. Along with being a four-time all-star in the NBA, Marion shot better than 48 percent from the floor, 81 percent from the free-throw line, and hit 791 3-pointers. 

Marion's weird shooting style, combined with his tremendous success on the court, has even sparked some laughs off the court. Basketball impersonator and verified Twitter star @BdotAdot5 has put together colorful skit on Marion's shooting. It may be slighted exaggerated, but you get the point.

Jamaal Wilkes was a three-time all-star and four-time NBA champion
The toughest thing about Jamaal Wilkes' jump shot is trying to describe it.  Wilkes, the NBA's Rookie of the Year back in 1975 when he was a member of the Golden State Warriors, seemed to bring the ball up and make a circle behind his head before launching it toward the hoop.

It seems like a lot of work for a jump shot, but Wilkes proved the hard work paid off as he was a three-time all-star and four-time NBA champion in 12 seasons. Wilkes averaged 17.7 points per game and connected on 50 percent of his shots from the floor. He finished his career with 14,644 points.

Wilkes was drafted 11th overall by the Warriors out of UCLA in 1974. He was elected to the NBA Hall of Fame in 2012.

Wilkes, Cartwright, and Marion certainly aren't the only players with success in the NBA despite picture-perfect shooting form. Lonzo Ball, Joakim Noah, Reggie Miller, and Michael Adams also come to mind when it comes to players having basketball success without those textbook mechanics, proving results are more important than how you got there.