Do Sports and Politics Mix?
After the most recent terrorist attacks in Paris and San Bernardino, athletes around the world paid tribute and voiced their opinions.
In the wake of the recent terrorist attacks in France and San Bernardino, California, athletes around the world have paid tribute to the victims of these tragedies. Whether they expressed it verbally in interviews or wrote a sentiment on their shoes, many athletes showed their support. Increasingly, athletes have spoken out in regard to current events and politics, either paying tribute in some way after a tragedy, endorsing a political candidate, or just offering their opinions on world issues.
Almost every professional athlete has Twitter, so it's easier for fans, political figures, and celebrities to interact. If athletes choose, they have 140 characters to write about current events. However, athlete's tweets are usually broadcasted more and held to a higher standard than the average Joe. "There is a widespread public perception that athletes are 'jocks,' therefore they know little outside their respective sports," says Jim Carroll, former Louisville Courier reporter and well-respected political journalist. "It may be unfair and inaccurate, but I think if you asked a lot of people, a majority would say an athlete's opinion on public affairs doesn't count for much and is unlikely to persuade others."
Regardless of whether or not athletes are "in the know" with politics, it should not necessarily stop them from speaking out. "Athletes have the same first amendment rights as anyone else who wishes to speak about political issues or for/against candidates," says Peter Ubertaccio, director of the Martin Institute and political science professor at Stonehill College. "I don't mind my favorite athletes commenting as long as it's cogent and informed. And I don't need to agree with them, either." Athletes have the same right as everyone to free speech, so they naturally can discuss any political issue openly in any platform they choose. But what about when they endorse specific candidates?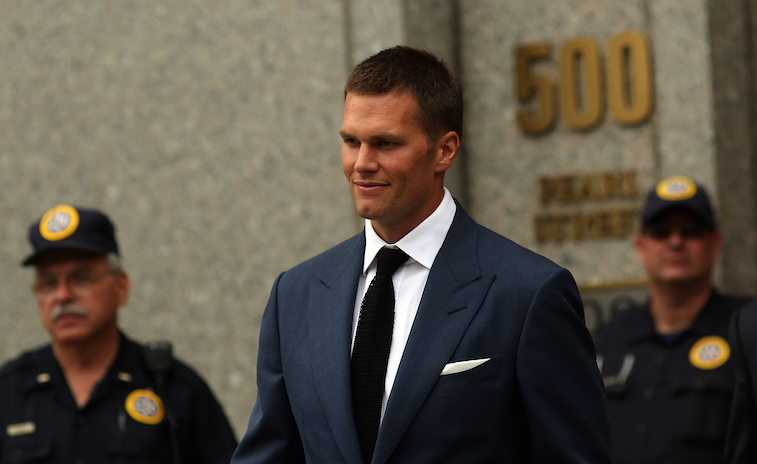 This past September, Super Bowl-winning quarterback Tom Brady made political headlines when it was reported that he endorsed the highly outspoken Republican candidate, Donald Trump. In an interview during one of the mid-week media days, Brady was asked about a "Make America Great Again" hat spotted at the bottom of his locker. Brady said that it was a "nice keepsake" and that it would be great if Trump won the election.
When asked if Trump has a shot at winning the general election, Brady said, "I hope so. That would be great. There'd be a putting green on the White House lawn. I know that." This endorsement by Brady would be outstanding for Trump's campaign, no? "Voters aren't typically more or less inclined to vote for a candidate because the candidate has an athlete on their side," says Ubertaccio. "Athletes don't move voters. Neither do celebrities. A candidate with many well-known celebrity endorsements still needs an old fashioned get-out-the-vote operation in order to be successful."
Carroll points out that Brady did not exactly pick a candidate's side. "Brady didn't really endorse Trump, as he was quick to point out when the issue came up," says Carroll. "Brady knows enough about life outside the locker room to know that Trump is a controversial figure, so he doesn't want to be too closely linked to him. For Trump, of course, Brady is a glamorous sports name, but the quarterback carries his own baggage outside New England."
Carroll points to multiple crossovers between athletes and politics, arguing that it works in both directions. Besides the fact that athletes often donate to campaigns, athletes do not carry any political baggage. "Politicians like to bask in the glow of popular figures that usually don't have any political negatives. Athletes like to get to know potentially powerful figures," says Carroll.
In addition to speaking about political issues and endorsing candidates, athletes are increasingly showing support toward communities that have been struck by tragedy. This past month, a vast majority of athletes across all the major sports paid tribute to the victims of the Paris terrorist attacks. New York Knicks forward Kevin Seraphin shaved Paris into his hair as a sign of support. Cubs pitcher Neil Ramirez tweeted a picture of his shoes, writing "#PrayForParis" on the side of the shoe. Many other athletes tweeted in support of the victims, but the Paris attacks were not the only events that athletes have shown support for.
"Think back to how the late Roberto Clemente died in a plane crash on his way to delivering relief to earthquake victims in Nicaragua," says Carroll. Another notable athlete, Shane Vereen, was given a Sandy Hook bracelet in wake of the Sandy Hook Elementary School shooting, and never took it off. After their Super Bowl victory last year, a picture went viral of Vereen celebrating and high-fiving fans with the bracelet still on his wrist.
New England Patriots wide receiver Danny Amendola tweeted after the Boston bombing that he would donate $100 for every pass he caught the following year and $200 for every pass he dropped to the marathon relief fund. These are just a few examples of athletes' many acts of support toward victims of tragedy and terrorism. "Certainly when a prominent sports figure takes time to acknowledge a global tragedy, his or her image as a caring citizen is enhanced," says Carroll.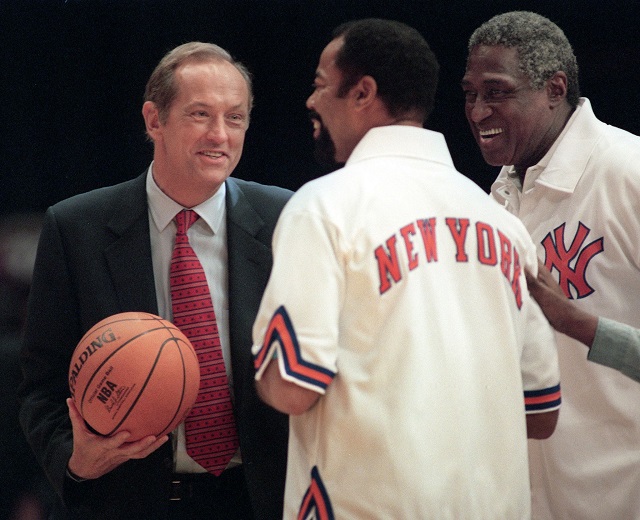 Then, there are a few athletes who have made the leap into politics on an administrative level. Bill Bradley, a Hall of Fame basketball player for the New York Knicks, was a U.S. Senator for New Jersey. Jack Kemp, a journeyman quarterback in the NFL from 1957-1959, left his football career behind to work in the political world. The Buffalo native represented his city in the U.S. House of Representatives and became a great conservative thinker of his generation.
Of course, some athletes who made the political switch have not made a positive impact in the public's view. Carroll points to Jim Bunning as an example of an athlete who was completely out of his league (pun-intended) in politics. "Bunning never softened as a member of Kentucky's U.S. House delegation and later as one of the state's senators," says Carroll, who interviewed Bunning on a variety of occasions during his time in office. Carroll noted that Bunning frequently blew up at reporters and colleagues, which never benefited him in the public eye.
Whether they're involved in politics or show their support toward victims of tragedy, athletes have a big platform to display their thoughts and beliefs publicly. However, despite their large followings, athletes have little impact when it comes to endorsing a candidate or campaign. They do, however have a major impact on supporting victims of tragedy. And if they feel so inclined, they can switch to a career in politics, and serve the United States. As long as you're not a former right-handed pitcher for the Philadelphia Phillies, you should be in the clear.