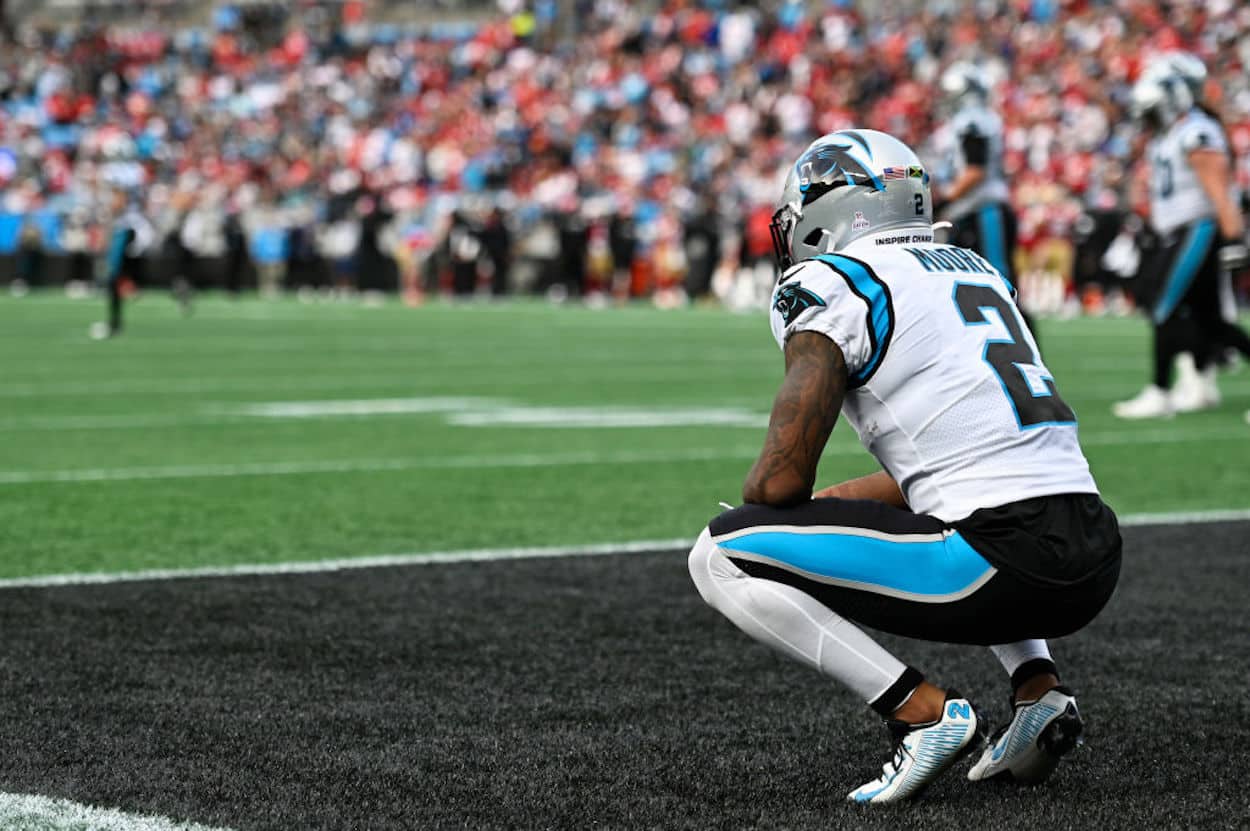 The Robbie Anderson Trade Looks Like a Game-Changer for DJ Moore and the Panthers' Offense
After shipping Robbie Anderson out of town, the Carolina Panthers' offense is going to look a bit different. But will this change be for the better?
The Carolina Panthers made the first move of what could potentially be a fire sale for them in the coming weeks.
Following a 24-10 loss to the Los Angeles Rams, the Panthers traded wide receiver Robbie Anderson to the Arizona Cardinals for a 2024 sixth-round pick and a 2025 seventh-round pick, according to Adam Schefter.
The trade benefits both parties. The Cardinals add a receiver into the mix after losing one to an injury this weekend. Marquise Brown suffered a fracture in his foot which, at first, was believed to be season-ending but will ultimately only force him to miss six weeks. In the meantime, Anderson will play a big role in the offense with the best quarterback he's ever played with in his career.
As for the Panthers, it will relieve a player that has wanted out of Carolina for quite some time.
A Panthers-Anderson divorce was inevitable
When the Panthers fired Matt Rhule last week, one of the first names to come up that was expected to be traded soon was Robbie Anderson. He was brought in the same year Rhule arrived in Carolina due to their ties together at Temple. So with Rhule no longer with the team, the decision to move on from the 29-year-old receiver wasn't surprising, but the abruptness of it was.
Anderson got into multiple confrontations with wide receiver coach Joe Dailey during the Rams game on Sunday before interim head coach Steve Wilks removed him from the sideline in the fourth quarter. He saw zero targets in 23 snaps prior to exiting and was shipped off the following afternoon.
Anderson has been in trade talks for a while now, dating back to the offseason. Even when Baker Mayfield was first rumored to be joining the Panthers, the receiver took to Instagram (h/t Panthers Wire) to express his displeasure with the idea. He later said it was out of defense for quarterback Sam Darnold, but the writing was already on the wall.
Throughout his time in Carolina, Anderson caught 161 passes for 1,821 yards and nine touchdowns. Now with him gone, the Panthers will transfer the volume he was getting to a handful of developing receivers in another lost season.
DJ Moore should be more involved in the offense moving forward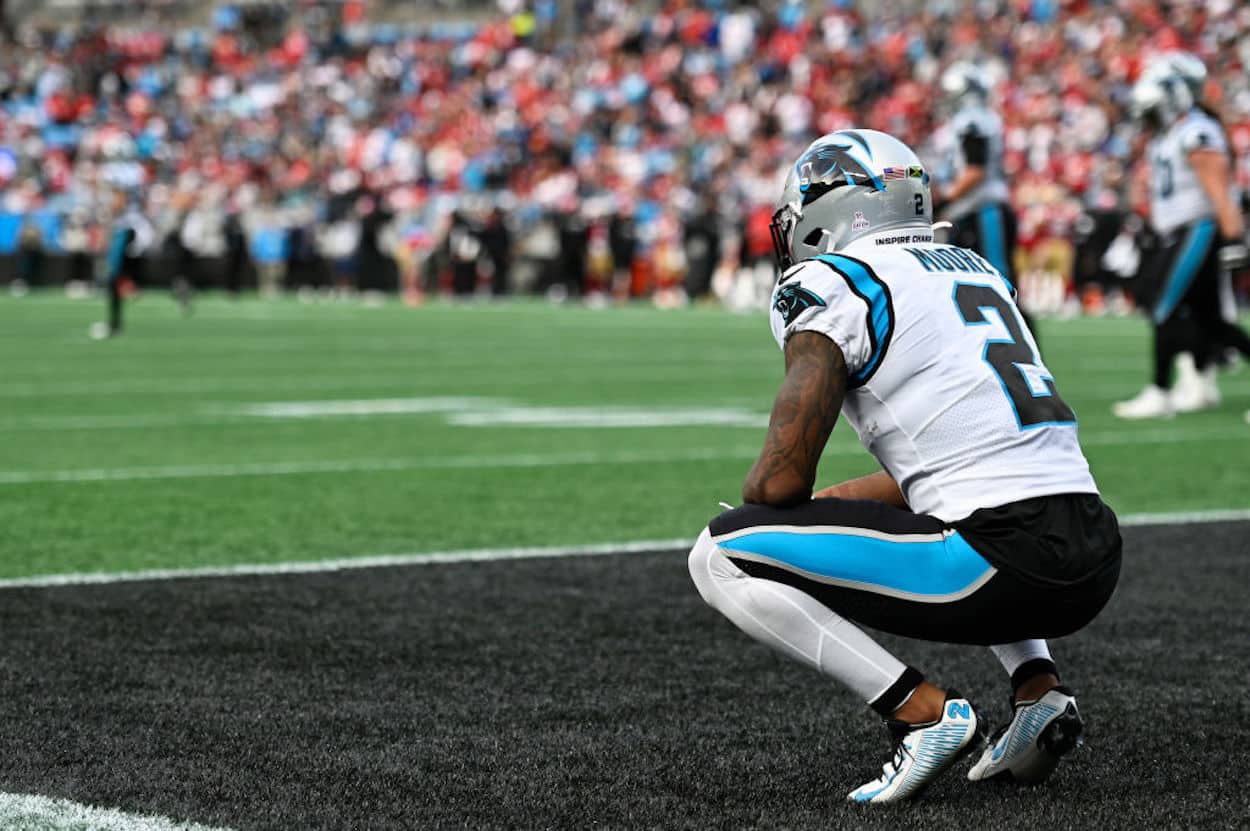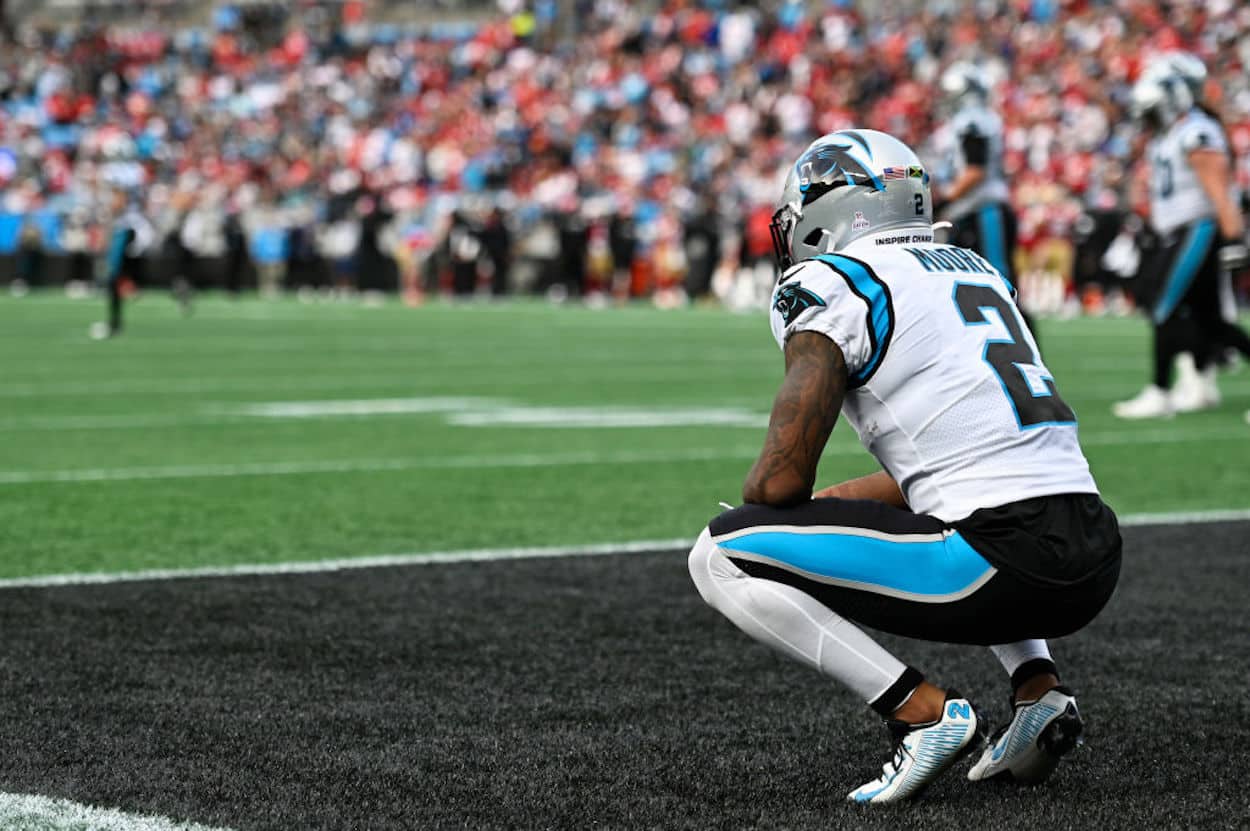 DJ Moore is a special talent. He's widely regarded as one of the more underrated receivers in the league, yet his 2022 season isn't defending his case. 
He leads the Panthers in targets (44) but only has 20 receptions for 204 yards, the third-most yards on the team. Right now, that is on pace for 57 receptions for a career-low 578 receiving yards. He's yet to go for over 60 yards in a single game this season, and against the Rams, he caught just three passes on seven targets for a pedestrian seven yards.
Part of it can be attributed to the poor quarterback play, but Moore has topped 1,000 yards in three consecutive years despite playing with three different quarterbacks. The 2019 season was Kyle Allen, 2020 was Teddy Bridgewater, and 2021 was Sam Darnold, all of whom are now backups in the league. So it's mildly surprising that he can't do the same with Baker Mayfield, who was brought in to be the Panthers' savior but hasn't been that even in the slightest.
It could also be the scheme. The Panthers have had two offensive geniuses calling plays the past three seasons in Norv Turner and Joe Brady, but decided to hire Ben McAdoo to be the offensive coordinator this offseason.
McAdoo helped improve the New York Giants' offense in the same position. But that was over seven years ago, and the same level of success hasn't carried over to Carolina. The Panthers are bottom-five in total offense (260.0, 32nd), passing offense (169.7, 29th), and scoring offense (17.2, 28th), indicating this could be a one-and-done tenure for him. 
Regardless, Moore signed a three-year, $61.9 million contract extension this offseason. He should be heading toward his fourth consecutive 1,000-yard season but is way off the mark through six games. If the Panthers want to at least look competitive on offense for the rest of the season, Moore needs to be more involved.
The Panthers will need a new No. 2 receiver will need to step up
Anderson led all Panthers receivers in receiving yards with 206 this season. Now, the top two passing threats on the team are DJ Moore and Christian McCaffrey, but not every pass will go their way and will require other wideouts to step up.
The rest of the receiver room after DJ Moore looks like this: Shi Smith, Terrace Marshall Jr., Laviska Shenault, and Rashard Higgins Jr.
Smith and Higgins flashed in the preseason, but neither has been super impactful so far this season. Higgins has only been active for three games, while Smith has eight receptions for 105 yards but also three drops.
Marshall, Carolina's second-round pick out of LSU in 2021, has been a healthy scratch multiple times this season but has played 46 snaps the past two games. Shenault, meanwhile, was traded to the Panthers in August and had a 67-yard touchdown against the New Orleans Saints but suffered a hamstring injury against the Cardinals in Week 4 that has kept him sidelined for the past two games.
Currently, McCaffrey leads the Panthers in receptions (33) and receiving yards (277). While the All-Pro running back has proven he's more than capable of going for over 1,000 yards as a runner and a receiver, he's 26 years old, he's been banged up the past two years, and his production isn't sustainable.
The losses are piling up, and it's clearly affecting the players. Moore and McCaffrey almost seem disinterested in some of their latest interviews. While they're on the team, they will continue to play the best they can but with the impending trade deadline, who knows for how long that will last.
Have thoughts on this topic? Keep the conversation rolling in our comments section below.