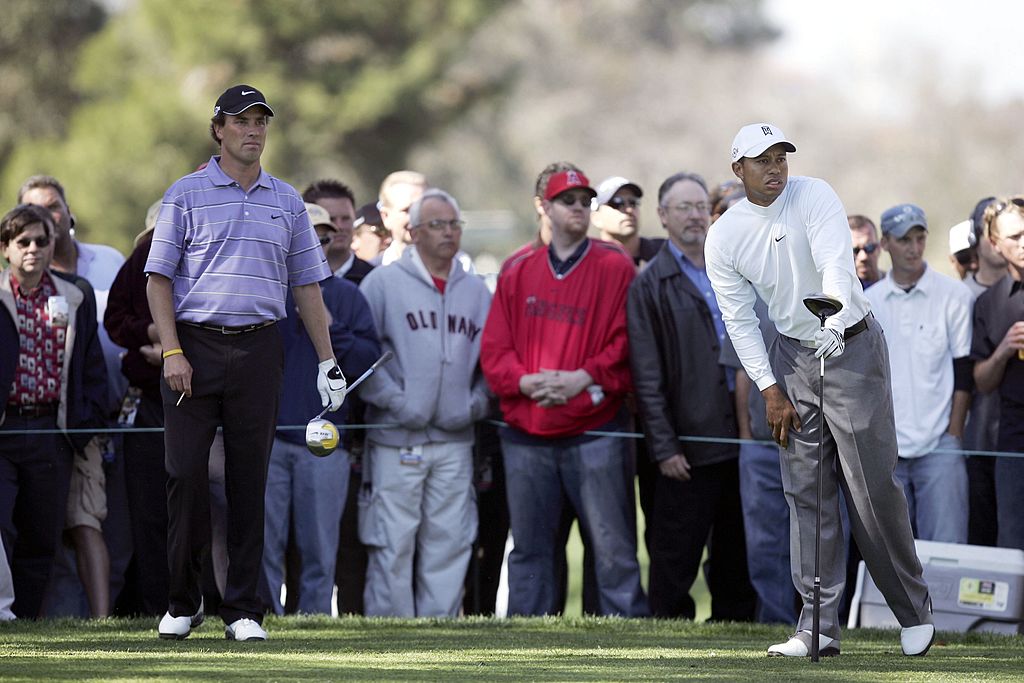 The Time Tiger Woods Torched Stephen Ames for Trash-Talking Him
A look back at the time that Stephen Ames trash-talked Tiger Woods and got absolutely owned at the WGC-Match Play event in 2006.
With golf on hiatus at the moment due to the COVID-19 outbreak, some of the biggest events on the calendar have either been canceled or postponed, including the WGC-Match Play event, which would have taken place this past week in Austin, Texas. So it's only natural to think back on arguably the best moment in the event's history, the time Tiger Woods thrashed Stephen Ames for trash-talking him ahead of their first-round match in 2006.
Stephen Ames trash-talks Tiger Woods
Coming into the WGC-Match Play event at La Costa in February 2006, Tiger Woods was the top-ranked player in the world and had the number one seed in the Bobby Jones bracket. His first-round opponent was 16th-seeded Stephen Ames, who had just one PGA Tour victory to his credit at that point, the 2004 Western Open. Tiger already had two victories in 2006 alone, earning wins at the Buick Invitational and Dubai Desert Classic in consecutive weeks. However, in his final start before the Match Play event, Woods had to withdraw from the Nissan Open due to the flu so nobody quite knew what to expect.
Stephen Ames knew he was the underdog heading into the match with Woods, as anyone in the world would have been at that time. But when asked about the matchup, Ames showed confidence, saying that "anything can happen." Sure, that's true. Match play is a completely different animal. But then he took it one step further, adding "especially where he's hitting it." Ummm….what? Sure, Tiger was having a little bit of trouble with the driver at that point in time but the guy had still won the last two events in which he teed it up. And this is the guy you want to trash-talk? But that actually wasn't the first time that Stephen Ames had badmouthed Tiger. In 2000, when Tiger was in the midst of the greatest year in golf history, Ames wasn't fond of Woods' attitude.
"He doesn't look like he has enough respect for other players. Tiger's coming across as bigger than the game.

"He's a spoiled 24-year-old. If I was in his position I'd be more considerate. If I was beating the spit out of [other players], I wouldn't have to beat them in that way too. He made $11 million [in 1999], endorsed more than $50 million – what's he got to be unhappy about?"

Stephen Ames on Tiger Woods
You think Tiger forgot about that?
'9 and 8'
Just about every person in the world expected Tiger Woods to beat Stephen Ames. But I'm not sure anyone could foresee how bad it would really be.
Tiger birdied the first hole to take a 1-up lead and he was off to the races. Woods actually birdied the first six holes to take a commanding lead and didn't let up, winning every single hole on the front nine to take a 9-up lead. EVERY. SINGLE. HOLE. That just doesn't happen, unless you're Tiger Woods. Stephen Ames parred the 10th hole and a birdie would've given Tiger the biggest margin of victory that one can achieve in a match-play setting.
But he missed his birdie put and settled for the matching par, giving him a 9&8 victory, still to this day the biggest win in WGC-Match Play history. Woods hit all 10 greens in regulation and needed just 14 putts to dispose of Ames. Just another one of those classic Tiger moments.
When asked in the post-match press conference whether or not he was aware of the comments made by Ames, Woods said he was. When asked if they motivated him, he just smirked and said "9 and 8." Now that's really classic Tiger.
While Tiger was defeated later in the tournament, he would go on to win seven more events in 2006. Ames, to his credit, didn't stay on the canvas for long after Woods knocked him out. He came back the next month to notch the biggest win of his career at The Players Championship.
Tiger was actually upset about the result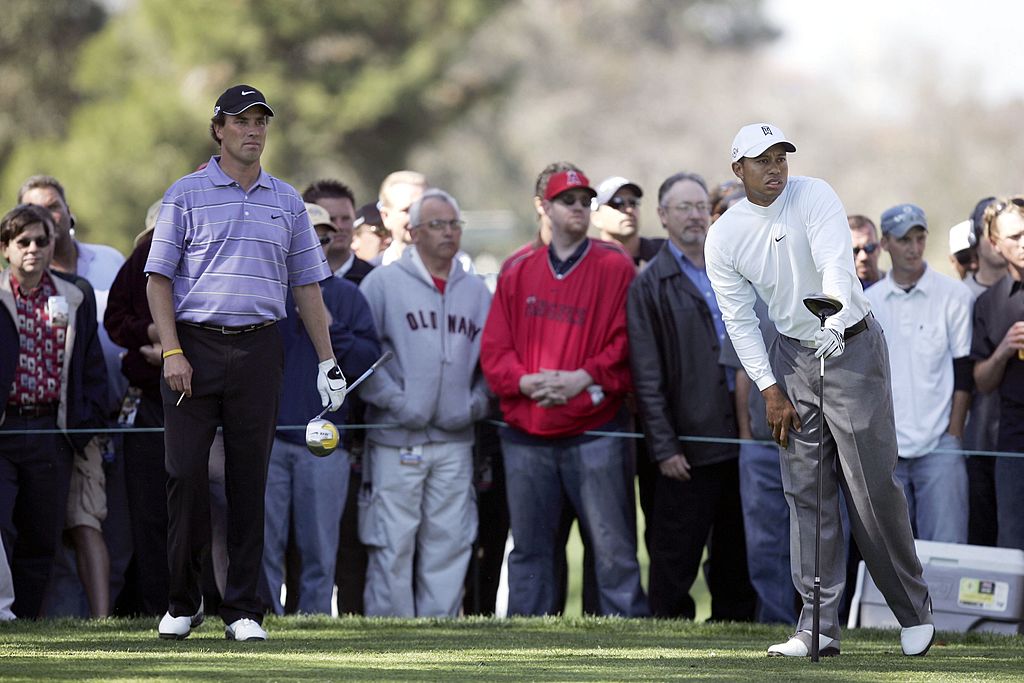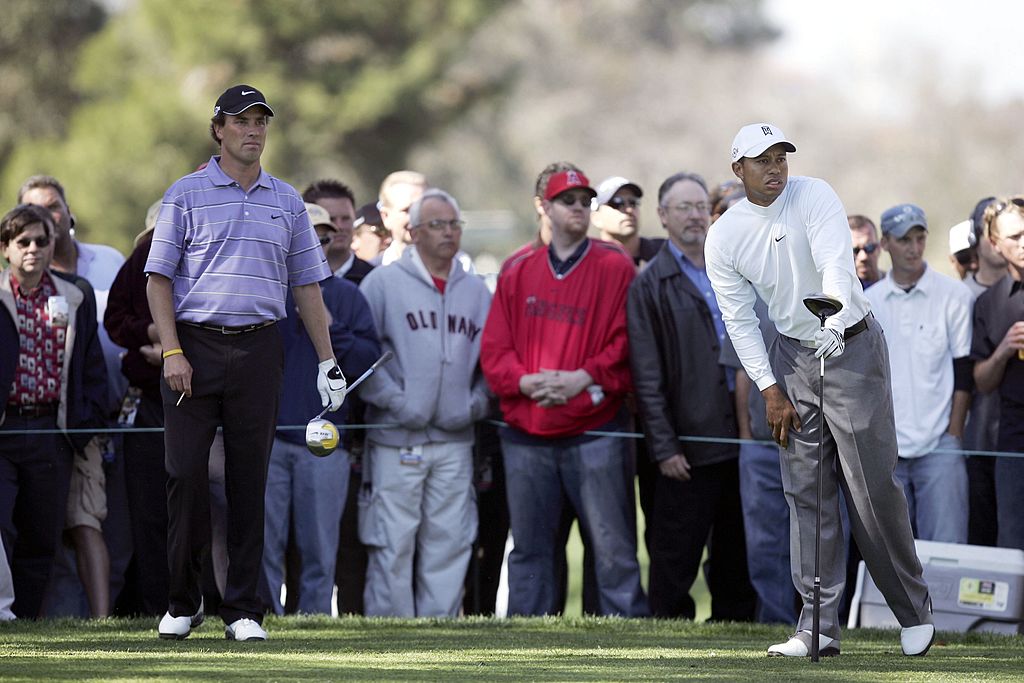 In 2017, Tiger Woods did a podcast interview with famed UConn women's basketball coach Geno Auriemma and the match with Ames was brought up. When Geno couldn't remember the margin of victory, Woods quickly said "9 and 8" as he clearly remembered the day. However, as it turns out, Tiger wasn't happy about the result. He certainly wasn't upset about embarrassing Ames, he just wished it had been worse.
"I just think he didn't all quite respect the way that I can play the game of golf. So I had to show him that I can still play.

"You have no idea how ticked I was that I missed that putt on the 10th hole to beat him 10 and 8."

Tiger Woods
Tiger Woods doesn't forget and it's likely Stephen Ames never will either.