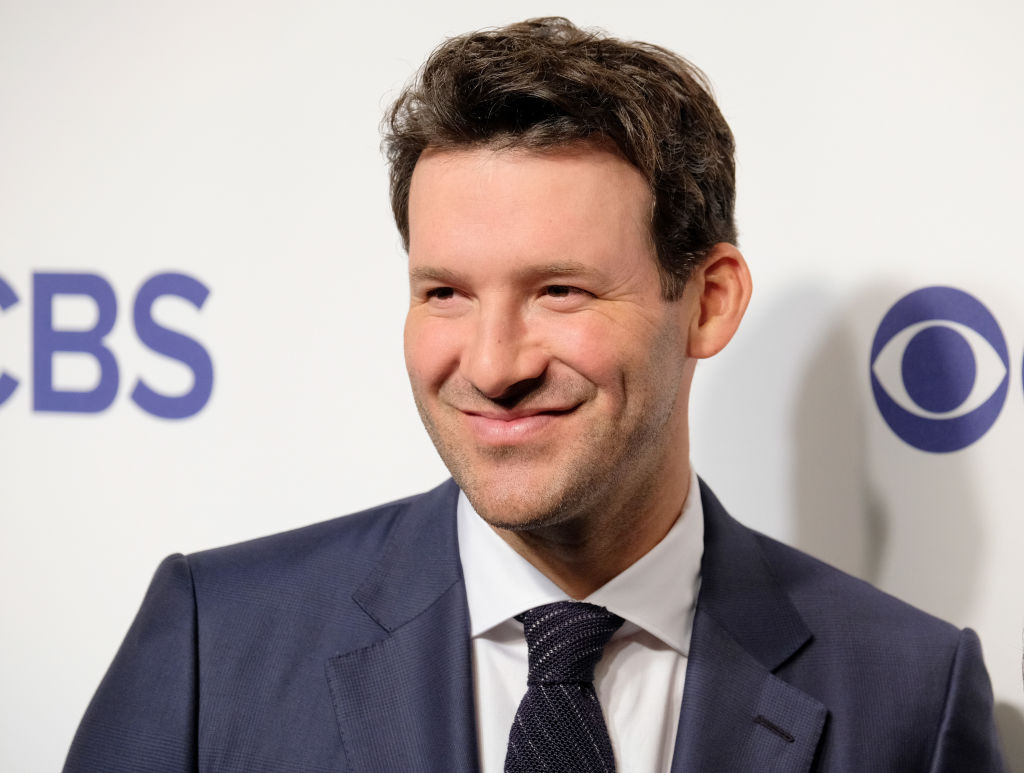 Tony Romo to Interview Three Up-And-Coming NFL Quarterbacks in Special Airing May 24
CBS will air a special on May 24 that features lead NFL analyst Tony Romo interviewing three young NFL quarterbacks and covering a variety of topics.
In late February, Tony Romo and CBS reached a contract agreement that pays the former Dallas Cowboys quarterback $17 million a year for the next 10 years to analyze NFL games for the network. With such a big price tag, CBS is getting its money's worth putting Romo to work now, months before the start of training camp, by airing a 30-minute special on May 24 that features Romo interviewing three young up-and-coming NFL quarterbacks.
Tony Romo makes smooth transition from field to the booth
When CBS Sports hired Romo as its lead game analyst back in 2017, many questioned the network's decision to place the former Cowboys signal-caller on the No. 1 broadcast team with Jim Nantz considering Romo had no previous experience. Since that first broadcast, the critics have gone silent, and Romo has consistently received praise for his game commentary.
CBS executives understood when they hired Romo he was bringing his 14 years worth of experience in Dallas with him to the booth. Partnered with Nantz, Romo offers a fresh perspective reading defensive formations and predicting offensive plays on the fly. 
In addition to his expertise, Tony Romo brings excitement and a genuine enthusiasm to each broadcast. While Romo has proven to be a natural, Jim Nantz is a pro's pro and has to be given some credit for Romo's smooth transition upstairs. The chemistry between the two is evident, as Nantz regularly sets up Romo to provide his unique perspective just at the right time. 
If CBS gets its way, the two will continue to pair up in NFL coverage for at least the next decade, and possibly longer if the network's contract with the NFL is renewed.
Romo and Daniel Jones connect
The New York Giants head into the 2020 season with a very different look that starts at the top with the hiring of new head coach Joe Judge. Interestingly, the Giants offense will have a distinct influence from their NFC East rivals with the hiring of former Cowboys coach Jason Garrett as the offensive coordinator.
With the Giants installing the offense Garrett implemented for years in Dallas, the former Cowboys coach has already connected his second-year quarterback in New York, Daniel Jones, with his former play-caller in Dallas. This week Jones revealed he and Romo had spoken and plan to have additional conversations this offseason.
"I spoke with Tony briefly," Jones told Yahoo! Sports. "We didn't get into the system a whole lot. I look forward to talking to some of those guys and hearing their perspective on it."
CBS airs new Tony Romo special on May 24
CBS has announced it will be airing a new 30-minute special on Sunday, May 24 called "In the Huddle With Tony Romo" that will be hosted by lead reporter Tracy Wolfson and will feature Romo interviewing three of the NFL's young and promising signal-callers. Not surprisingly, one of the featured quarterbacks Romo will interview is Jones.
Romo will also sit down with Jones' cross-town counterpart, Sam Darnold of the New York Jets, as well as the upstate representative, Josh Allen of the Buffalo Bills. The Memorial Day Weekend special will feature Romo and the young quarterbacks discussing a variety of topics. Among the subjects: the X's and O's of the position, the difficulties working in a virtual setting this current offseaon, what the transition is like from first-year to second-year quarterback, and second to third, as well as offering a behind-the-scenes glimpse at their off-the-field lives. 
If the show is a success, CBS should plan for a second installment that would include Romo heading to Kansas City for an interview with Super Bowl champion Patrick Mahomes, to Baltimore and a chat with the 2019 NFL MVP Lamar Jackson, and save the most intriguing for last, a sit-down in Dallas with Dak Prescott, Romo's replacement in Big D. That would make for some must-see television.