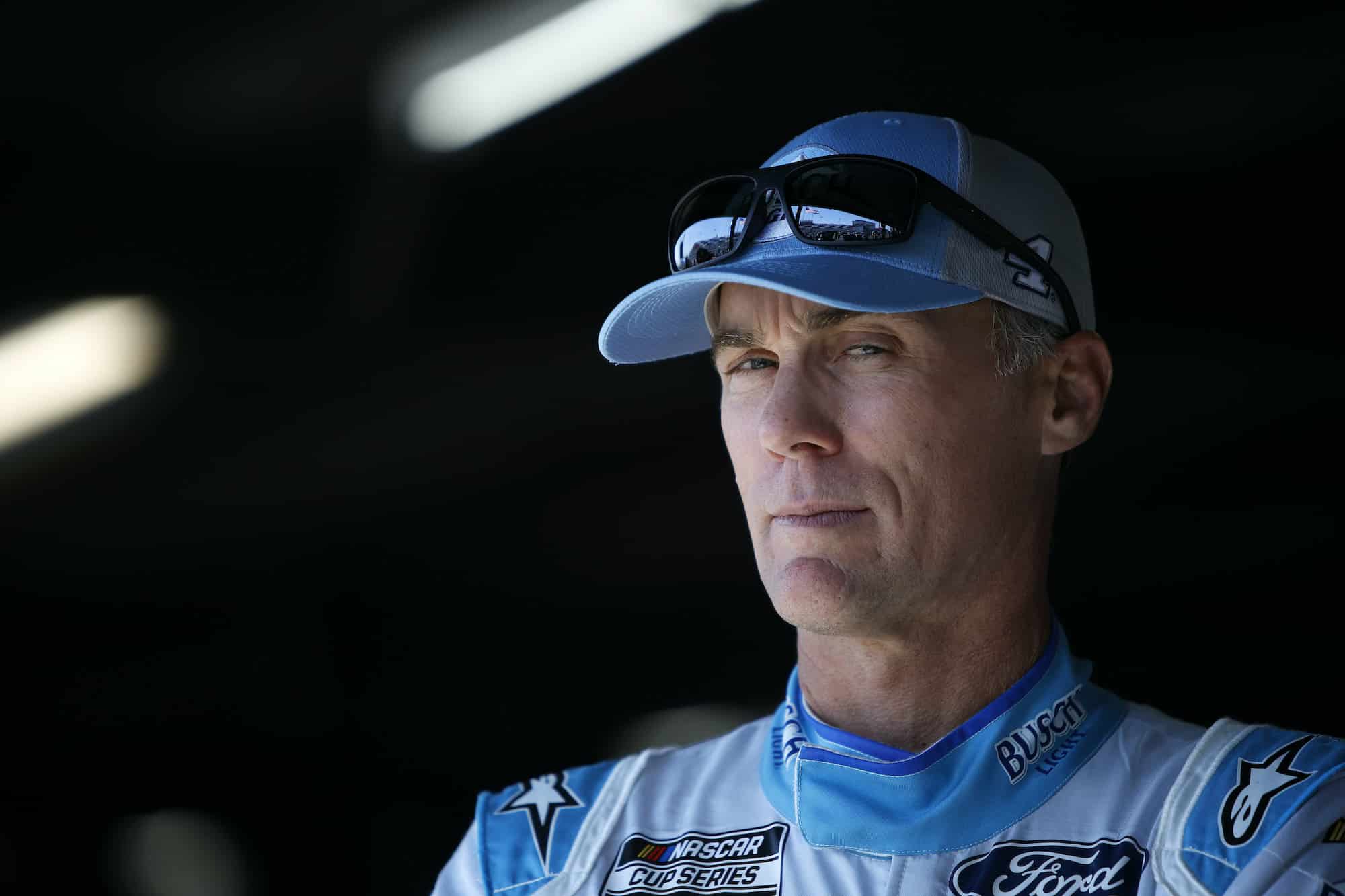 Frustrated Tony Stewart Takes Shot at Kevin Harvick Pit Crew During Middle of Broadcast and Driver Piles on After Race
Tony Stewart and Kevin Harvick didn't sugarcoat how they felt about the No. 4 pit crew after its embarrassingly long stop late in the race at Sonoma.
Tony Stewart looked on from the Fox broadcast booth on Sunday as Kevin Harvick worked his way through the field into position for a possible win at Sonoma, a track where he's had success in the past, including a win in 2017. However, the final pit stop turned disastrous and any hopes of victory vanished. 
The team owner helplessly watched and didn't even try to hide his frustration, firing a shot at the pit crew for its effort during the middle of the broadcast. The three-time Cup Series champion's remarks were just the warmup for what the driver had to say about the embarrassing mistake after the race. 
Kevin Harvick in contention at Sonoma until disastrous late pit stop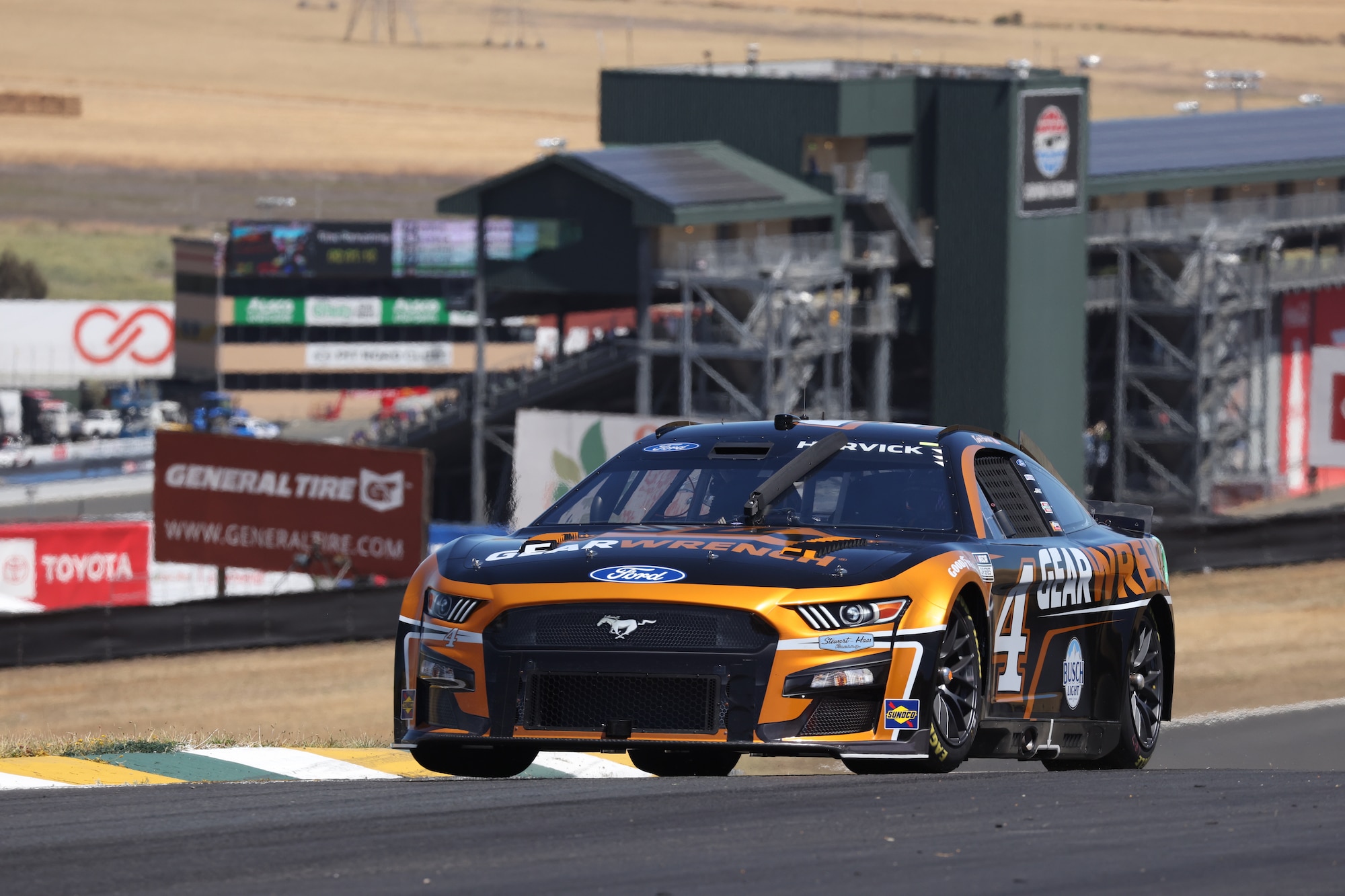 Kevin Harvick hasn't won in his last 58 Cup Series races, dating back to the fall race at Bristol in 2020. This season he's had a couple of opportunities to break the streak, finding himself in contention late, but, for whatever reason, something has prevented it from happening. 
With 29 laps to go at Sonoma, Harvick was running third, a few seconds behind Daniel Suarez, but on the rear bumper of second-place Chris Buescher when the teams headed to pit road for the final stop of the day. If there was an opportunity for the SHR car to move up a position, it was during the stop because he pitted in the stall directly behind the No. 17. The cameras focused on the two cars, realizing how much was on the line.
Unfortunately, it wasn't even a competition. The RFK Racing car had a normal stop, finished in just over 12 seconds, spun the tires out of his box, and darted down pit road. Harvick sat there. 
Frustrated Tony Stewart takes shot at pit crew during broadcast
The No. 4 pit crew did everything correct on the right side and was even with the No. 17 car with both teams moving to the left sides of the car. That's when disaster struck in what turned out to be a 21-plus second stop for Harvick's team. The SHR owner couldn't hide his frustration.
"And a problem," Mike Joy said, as Harvick's pit crew appeared to be jacking up the left side a second time as Buescher pulled away out of the picture.
"Aaah," Stewart let out a long sigh, expressing his frustration. 
"For Rodney Childers' crew," Joy continued. "They had to jack it back up. And that was costly."
"Probably that was the final pit stop, which would be the money stop," Larry McReynolds noted. 
"Or the lack of money stop in this scenario," Stewart added, as Harvick began driving down pit road. "That hurts."
Harvick understandably upset with team's repeated mistakes
While it was all happening, Harvick expressed his displeasure with the situation over the team radio. 
"I swear to God, we look like the biggest f****** bunch of wankers every single week on pit road," the 2014 Cup Series champion said. "We had a chance to win and we just blew it." 
The driver's frustration unsurprisingly carried over into the postrace interview. 
"Our Gear Wrench Ford Mustang was good all weekend, but we just have a catastrophic failure at least once, maybe twice a weekend," an agitated Harvick told Fox's Vince Welch. "We can't figure that out. But we got back as far as we could. Guess it is what it is." 
The 46-year-old continued a few minutes later when talking with reporters.
"We had a decent finish but didn't finish where we should have," he said. "We just took away all of our chances. We should have been second at worst but we keep screwing up every week."
Harvick is currently on the outside looking in for the playoff picture. But the postseason isn't his concern heading into the off week. Fixing problems on the pit crew will be a main priority. And you can bet his boss will have something to say about it just like he did on Sunday at Sonoma.
Like Sportscasting on Facebook. Follow us on Twitter @sportscasting19 and subscribe to our YouTube channel.