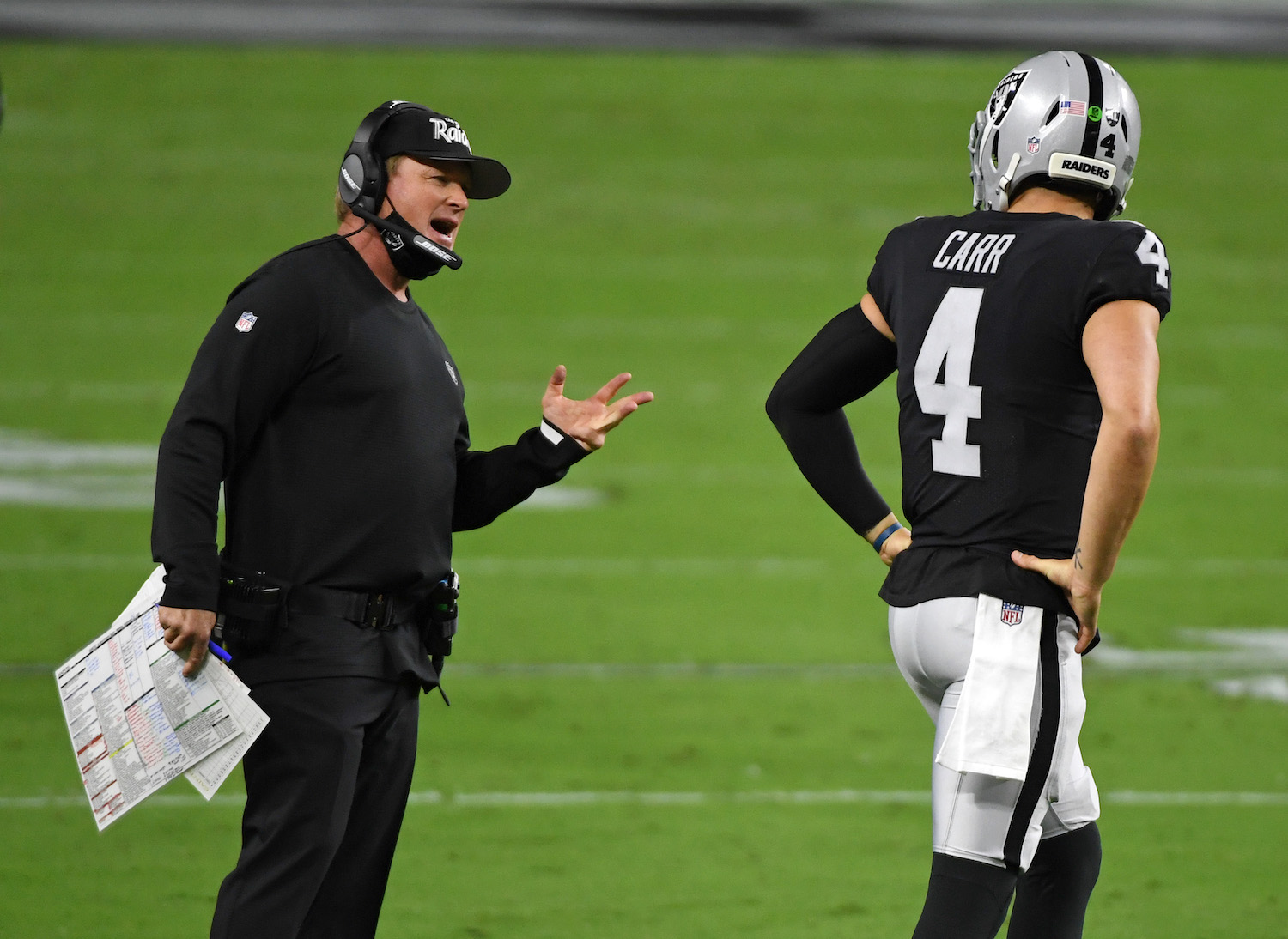 Troy Aikman Blasts NFL Headquarters for Hypocrisy in Its 'Ridiculous' Sideline Mask Policy
Hall of Fame quarterback Troy Aikman blasted the NFL for its "ridiculous" pandemic policy requiring coaches to wear a mask on the sidelines.
Months ago, there was much speculation on whether or not the 2020 NFL season would even happen. The prevailing thought was if the league did somehow manage to pull it off, it would be dramatically different. Now, just two weeks in, and it's as bizarre as expected.
For Hall of Fame quarterback and Fox NFL analyst Troy Aikman, he can accept the various COVID-19 protocols, resulting in games played in empty stadiums and everyone involved getting tested innumerable times. What Aikman refuses to accept is the NFL's hypocrisy on its mask policy.
NFL implements various pandemic policies
The 2020 NFL season is officially underway in the middle of a worldwide pandemic. As a result, the league has instituted a wide array of COVID-19-specific protocols in an effort to keep those involved in the game as safe as possible. While the NFL has good intentions, some of those policies have been called into question and met with resistance.
The most notable protocol receiving considerable pushback from players is the league's ban on the post-game interaction and jersey swap. The league initially announced post-game interactions would be limited to players from opposing teams standing at least six feet apart and there would be no jersey swap. San Francisco defensive star Richard Sherman offered his feedback. 
"This is a perfect example of NFL thinking in a nutshell," Sherman wrote on Twitter. "Players can go engage in a full-contact game and do it safely. However, it is deemed unsafe for them to exchange jerseys after said game."
The NFL adjusted its post-game policy before the start of the season allowing players to greet one another. Jersey swaps, however, are still forbidden. 
Coaches fined for violations of NFL mask policy
Another new rule announced before the season was that all personnel on the sidelines would be required to wear masks at all times, coaches included. After a grace period following Week 1 in which the league sent out a memo to teams reminding coaches to wear a mask or shield on the sidelines, the NFL laid down the law after Week 2.
The NFL fined five coaches violating the policy, including Denver's Vic Fangio, Seattle's Pete Carroll, San Francisco's Kyle Shanahan, Las Vegas' Jon Gruden, and New Orleans' Sean Payton. Each team was fined $250,000, and each coach personally took a $100,000 hit. 
"I've had the virus. I'm doing my best," Gruden said in a conference call. "I'm very sensitive about it, but I'm calling plays. I just want to communicate in these situations, and if I get fined, I'll have to pay the fine, but I'm very sensitive about that, and I apologize." 
Gruden's admission of being infected was news, but Payton's experience with COVID-19 back in March was well documented.
Troy Aikman rips NFL for 'ridiculous' mask policy
Former Dallas Cowboys quarterback and current Fox analyst Troy Aikman addressed the coaches' fines during an appearance on The Musers on 96.7 FM/1310 AM The Ticket. And he didn't hold back.
"These coaches that have been fined for [not wearing] the mask. I don't get that at all. These coaches are tested just like the players (on a daily basis), and players don't wear masks…It's all an optics thing from the league. And that's where I kind of draw a line. 
"It's not just in sports. We've seen it where, this is okay if you don't wear a mask, but in this you have to wear a mask. Everything has been politicized and I just hate to see that the league has jumped into this and they're fining coaches and teams, primarily because of how it looks on TV. I just think it's ridiculous."
Aikman didn't stop there. He directly called out NFL headquarters. 
"It sounds like they (coaches) take it down to call a play, and then they put it back up… a lot of decisions get made in New York from people who have no boots on the ground. They have no concept of what a sideline [is like], how it operates, and yet are trying to make these mandates. It's a tough position to be in, and again, they are all tested."
Troy Aikman, Richard Sherman, and all NFL fans can see the league's hypocrisy on several of its COVID-19 policies. Most recognize the league, like the rest of the world, is in uncharted waters and developing rules as the situation evolves. In hindsight, it's understandable if the NFL was initially overzealous with its protocols in an effort to protect its on-field product and the brand. Most agree, now it's time for the league to make a course correction and take off the masks.  
Like Sportscasting on Facebook. Follow us on Twitter @sportscasting19.