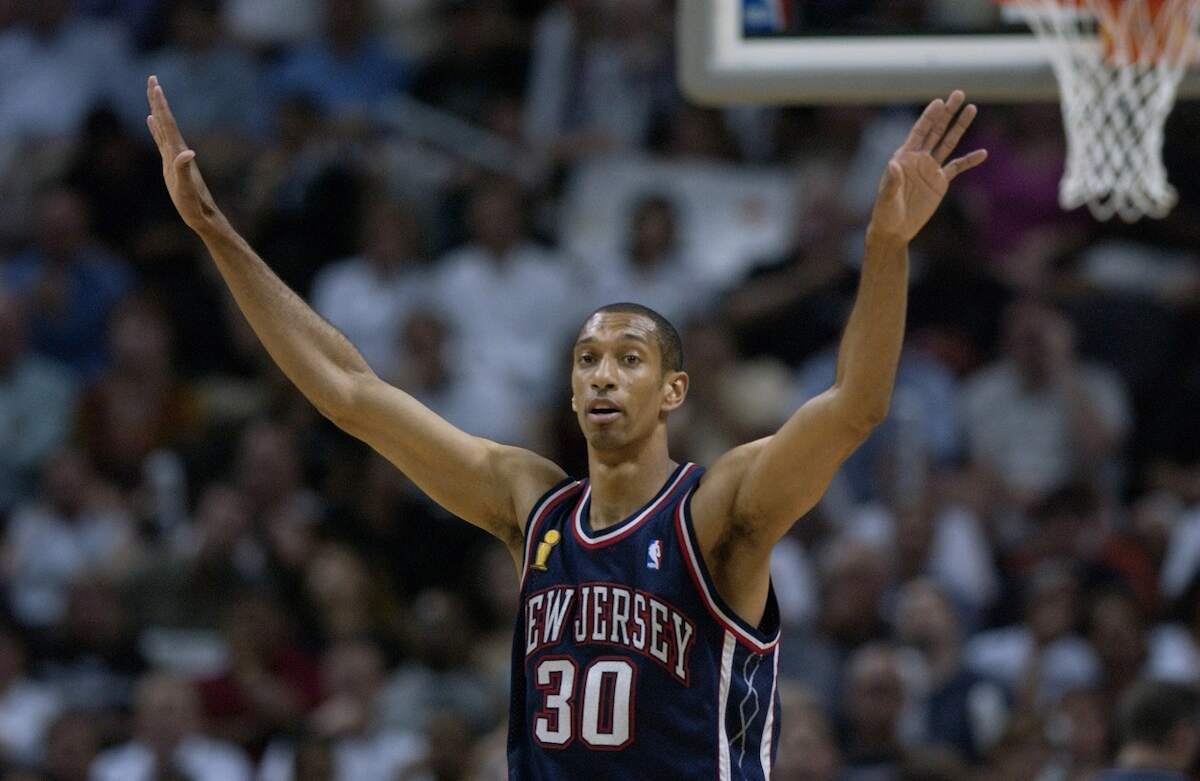 What Happened to Former Nets Star Kerry Kittles?
A look at the career of former New Jersey Nets star Kerry Kittles and where the Villanova alum is today.
The 1996 NBA Draft is often considered one of the best in league history. The class included future MVPs and all-time greats such as Allen Iverson, Ray Allen, Steve Nash, and, of course, Kobe Bryant. The then-New Jersey Nets chose Kerry Kittles with the eighth overall pick in that famed '96 draft.
While the four-year starter from Villanova may not have had the success of the players mentioned above, the two-time All-American had a solid NBA career that was unfortunately hindered — and ultimately shortened — by injuries.
So where is Kerry Kittles today?
Kerry Kittles was a two-time All-American at Villanova
Considered one of the top prospects to ever come out of New Orleans, Kerry Kittles, who was named Louisiana Mr. Basketball in 1992. He accepted a scholarship to Villanova and made an immediate impact on both ends of the floor for the Wildcats.
As a freshman in 1992-93, Kittles started 17 of 27 games and averaged 10.9 points, 3.5 rebounds, and 1.7 steals, although Villanova went just 8-19.
As a full-time starter as a sophomore, Kittles helped turn the team around. He led the Wildcats to a 20-12 record and an NIT title while averaging 19.7 points, 6.5 rebounds, 3.4 assists, and 2.7 steals. This earned him the first of three consecutive First-Team All-Big East selections.
In 1994-95, he was named a consensus Second-Team All-American after averaging 21.4 points, 6.1 rebounds, 3.5 assists, and 2.2 steals. He led the team to its first NCAA Tournament appearance in four years. As a senior, Kittles again led the Wildcats to the NCAA tourney and was named a First-Team All-American. He averaged 20.4 points, 7.1 rebounds, 3.5 assists, and 2.4 steals.
To this day, Kittles remains Villanova's all-time leader in points (2,243) and steals (277).
Kittles had a solid NBA career, mostly with the Nets, but it was cut short due to injuries
Taken with the eighth pick of the famed 1996 NBA Draft by the New Jersey Nets, Kerry Kittles started 57 of 82 games as a rookie and was named to the NBA All-Rookie Second Team after averaging 16.4 points, 3.9 rebounds, and 1.9 steals per game. He also made 158 3-pointers that season. It wasn't just a Nets rookie record but an NBA rookie record. This record has since been broken, but Kittles still ranks eighth.
He upped his scoring to 17.2 points per game in 1997-98. However, right around this time, knee injuries hindered his career. He underwent four surgeries in five years and missed the 2000-01 season.
But Kittles returned strong and started every game for the Nets in 2001-02. The team made its first-ever appearance in the NBA Finals, where Shaq and Kobe's Lakers swept them. Kittles again helped the Nets to the Finals the following season. But New Jersey lost to the Spurs in six games.
He played one more season for the Nets but was then dealt to the Clippers in a salary purge ahead of the 2004-2005 season. While he seemed a great fit in LA, Kittles played just 11 games that season and then missed the entire 2005-2006 campaign, which led to his retirement.
In total, Kerry Kittles played 507 regular-season NBA games, averaging 14.1 points and 1.6 steals, and another 54 in the postseason. This is tied for the fourth-most in Nets history, where he averaged 12.3 points and 1.6 steals. He still ranks third on the franchise's all-time list for 3-pointers made with 687 and third in steals with 803.
Where is Kerry Kittles today?
Not long after retiring from the NBA, Kerry Kittles, who is a father to four daughters and one son, returned to Villanova and earned his MBA, which later served him well as he embarked on a career in finance.
He also served in the NBA league office in the Corporate Crossover Program, which helps educate players (both current and former) on the necessary steps to pursue a career after basketball and is also a member of Villanova's Board of Trustees.
Kittles caught the coaching bug in 2016 and joined the coaching staff at Princeton, a role in which he served two seasons. From 2020-21, he stayed connected to the game by co-hosting a Brooklyn Nets podcast called Fullcourt on Flatbush.
Stats courtesy of Basketball Reference