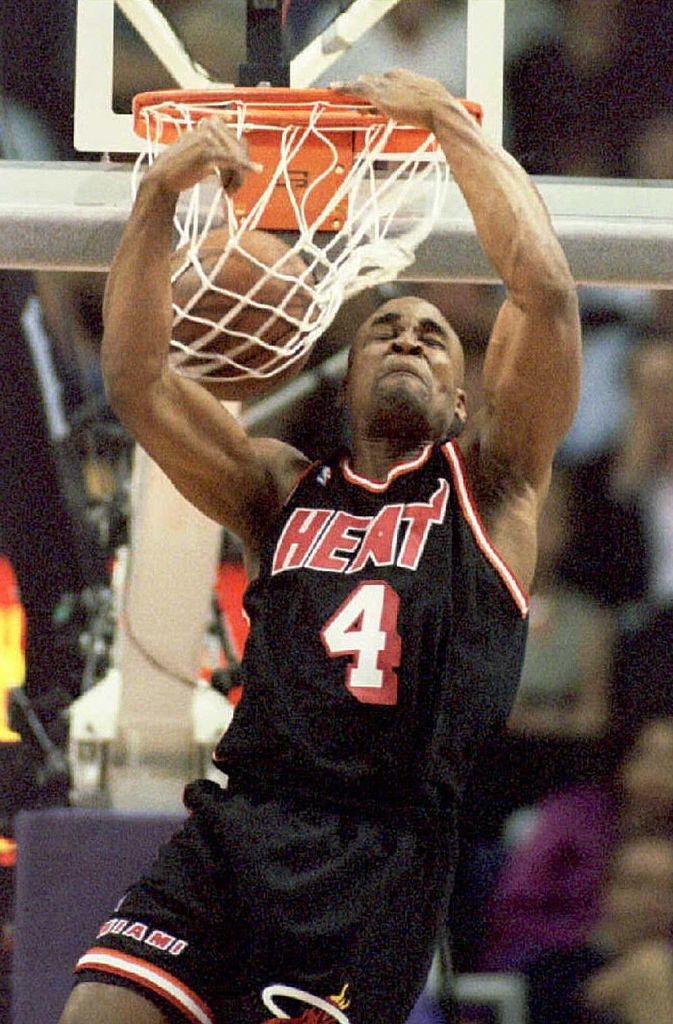 What Happened to 'Baby Jordan' Harold Miner?
A look back at the career and post-basketball disappearance of former NBA star Harold Miner, who was once called 'Baby Jordan.'
It's not easy being compared to Michael Jordan. Just ask a number of NBA players that were saddled as "the next Jordan" coming up through the ranks. It's nearly impossible to live up to. Now try having the nickname "Baby Jordan", the moniker given to Harold Miner in high school. Now that's pressure.
Harold Miner was an extremely talented player at Inglewood (CA) High School, averaging 27.5 points in his final two years. Showcasing amazing athleticism, a big vertical, and a bald head, Miner was called "Baby Jordan" due to his dunking abilities, a nickname that would later haunt him. With multiple scholarship offers on the table, Miner chose to stay close to home, signing on with the USC Trojans in 1989.
Wearing No. 23 (hmmm…know anyone else with that number?), Harold Miner was an immediate star with the Trojans, averaging 20.6 points per game his freshman year on the way to his first of three First Team All-Pac-10 selections. He upped his scoring average to 23.5 his sophomore year and again his junior year to 26.3, earning First Team All-American honors. Miner was also named the Pac-10 Player of the Year in 1992. To this day, Harold Miner still owns the USC scoring record with 2,048 career points. He declared for the NBA draft and seemed destined for stardom, stardom that never really came.
Harold Miner's career highlight was the Slam Dunk Contest
The 1992 NBA draft was stacked at the top with Shaquille O'Neal, Alonzo Mourning, and Christian Laettner being taken with the first three picks. Despite his collegiate success, Miner slipped down in the draft but was looked at as somewhat of a steal when the Miami Heat took him with the 12th overall selection.
The pick seemed a little odd as the Heat had taken shooting guard Steve Smith from Michigan State the previous year but Miner played decently coming off the bench his rookie season, averaging 10.3 points per game in just under 19 minutes a night.
His biggest highlight of the season came during the NBA All-Star festivities in Utah, when he won the Slam Dunk Contest, defeating Clarence Weatherspoon and defending champion Cedric Ceballos in the finals. The "Baby Jordan" nickname caught on around this time and it was thought by some that the attention received on that weekend would get Miner a little more playing time. It did, but not by much.
Miner actually did start some games in 1993-1994 and averaged a few more minutes per game but he still averaged just over 10 points per game. The following season, he won the Slam Dunk Contest again but his minutes diminished and he averaged only 7.3 points per game and was traded to the Cleveland Cavaliers.
Miner retires after just four years in the NBA
Before he played one game for Cleveland, the Cavs attempted to trade Harold Miner to the Toronto Raptors for Victor Alexander ahead of the 1995-1996 season. However, Alexander failed his physical and the trade was rescinded. Obviously not excited about having Miner on the roster, the Cavs released Miner after he played just 19 games for them. In what turned out to be his final NBA game on February 20, 1996, Miner played five scoreless minutes in a lopsided loss to none other than Michael Jordan and the Chicago Bulls.
Harold Miner finally did make his way to the Toronto Raptors the following season but was cut during the preseason. Instead of attempting to sign on with another team or play overseas, Miner retired from the game of basketball completely, citing knee injuries that had plagued him for years, and then completely disappeared.
What's Harold Miner been up to?
For nearly 15 years, the world wondered what had happened to Harold Miner. Rumors swirled around the internet that he had joined the witness protection program or was working at a fast-food restaurant in Los Angeles or was a cop with the LAPD. In truth, he was just living a simple life. He had gotten married, had two children, and was living in Las Vegas. He had wisely invested the $20 million he'd made during his NBA career and wanted his privacy. He declined to do interviews and really didn't appear that much in public.
In 2011, Harold Miner surprised everyone when he showed up to the Pac-10 tournament and was inducted into the conference's Hall of Honor. In early 2012, his No. 23 jersey was retired by USC and he was in attendance for that as well, finally receiving the recognition he deserved for a fantastic collegiate career. He finally agreed to an interview after a long time away from the game but still doesn't understand why people were interested in where he was.
"I'm really kind of dumbfounded as to why people would be interested in reading a story about me. I haven't done anything significant on a national scale since my junior year at SC. It's a trip, actually.

"I probably never got used to being in the spotlight. I'd say it's always been uncomfortable for me, not natural for me."

Harold Miner
His coach at USC, George Raveling, says that the "Baby Jordan" nickname is the thing that hurt his former player's career the most.
"You don't see much of him, and I often wonder if it's because he feels like he was a failure because he didn't make it in the league when everybody thought he was going to be a star. I always felt the worst thing to happen to Harold was the 'Baby Jordan' tag."

George Raveling on Harold Miner
It would've been interesting to see where his career had gone had the injuries not happened. He was never going to be Michael Jordan but it would've been nice to see him just be a healthy Harold Miner.