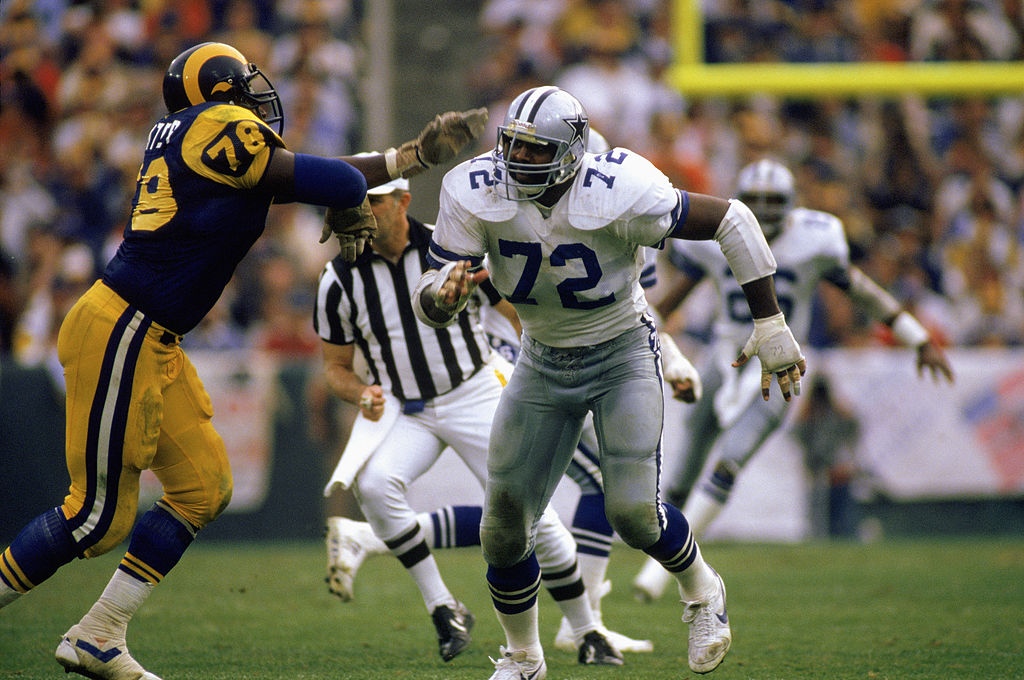 Where Is Ed 'Too Tall' Jones Today?
Ed "Too Tall" Jones was a big part of the Dallas Cowboys defense during their Super Bowl years in the 1970s. Where is he today?
Ed "Too Tall" Jones is one of the most recognizable Dallas Cowboys players in the club's storied history for his size, his name, and his performance on the field. He's also remembered for his sudden retirement in 1979 to take up boxing before returning to football a year later. He retired for good in 1990 after playing one season for Jimmy Johnson. Where is Ed "Too Tall" Jones today?
Ed "Too Tall" Jones arrives in Dallas and makes immediate impact
The Dallas Cowboys selected Ed "Too Tall" Jones with the first overall pick in the 1974 NFL draft out of Tennessee State. For Jones, it was a dream come true to get a chance to play for the team he had cheered for since his youth. 
Working alongside Cowboy greats like Bob Lilly, Jethro Pugh, and Larry Cole, Jones blended in well and his game blossomed. By his second season, head coach Tom Landry named Jones the starter at left defensive end. Jones and the Cowboys had a successful season that year narrowly losing to the Pittsburgh Steelers 21-17 in Super Bowl X.
For the next three seasons, Ed "Too Tall" Jones was a mainstay starting every game on the left side of the Cowboys defensive line wreaking havoc on the opposing team's offensive line and quarterbacks. His success coincided with the team's overall success during that period as the team made a pair of Super Bowl appearances, including a 27-10 victory over the Denver Broncos in Super Bowl XII.
After the Cowboys made their third Super Bowl appearance in five seasons losing to the Pittsburgh Steelers in Super Bowl XIII, Jones shocked the sports world when he announced his retirement to pursue a career in boxing. 
Jones suddenly retires to pursue his first love
While his decision stunned everyone around him, for Jones, it was something he had been considering for several years. Boxing had always been his favorite sport since his father introduced him to the sport at a young age.
"Every day after school, I'd come home, get my homework done, and ride my bike six miles into the city, tape my hands, and spar. I was the happiest kid on the block," Jones said in an interview on dallascowboys.com.
His love for boxing never waned. In fact, during the height of his success with the Cowboys, he always dreamed of pursuing a career in the ring and knew if he didn't pursue that opportunity when he did, he would regret it for the rest of his life.
"It was something I had to do. I knew if I hadn't done it then that I would be one of those guys who realized when he's 40 that he never had experienced it and had to live with it the rest of his life. I didn't want to do that."
For that one year, Jones had a successful career as a boxer going 6-0 with five knockouts. Because of his celebrity, all of his matches were televised nationally on CBS. However, just as surprising as his decision was to give up football a year earlier and pursue boxing, Jones did the exact opposite in 1980 when he announced he was giving up the sweet science for a return to the Cowboys. 
Jones returns and performs better for the Cowboys
Despite the year off from football, when he returned, Jones performed at a higher level than he had previously. Boxing had made him a better football player.
"He was in better condition. Clearer mind. He had more of an intent of being a football player," head coach Tom Landry said. 
With boxing behind him, he could solely focus on football, and that's what he did. From 1981-83 Jones made three consecutive Pro Bowl appearances and was selected to the All-Pro team in 1981. He stayed around long enough to see Landry get fired and replaced by Jimmy Johnson. He played for a season under Johnson but following the unexpected death of his mother, Ed "Too Tall" Jones retired from football for good following the 1989 season.
Where is Ed "Too Tall" Jones today?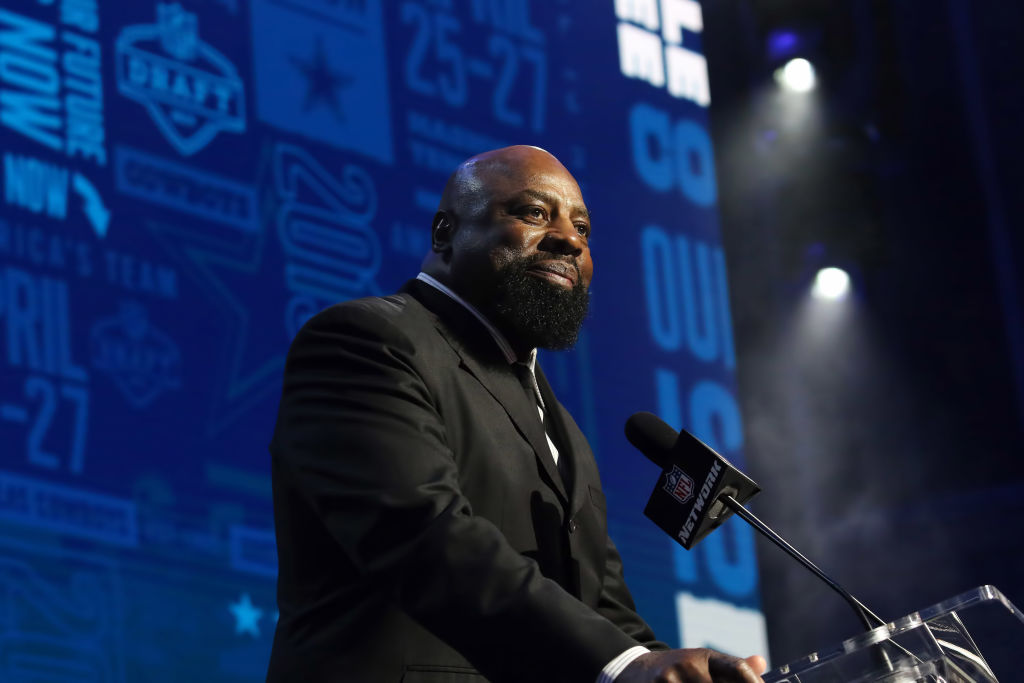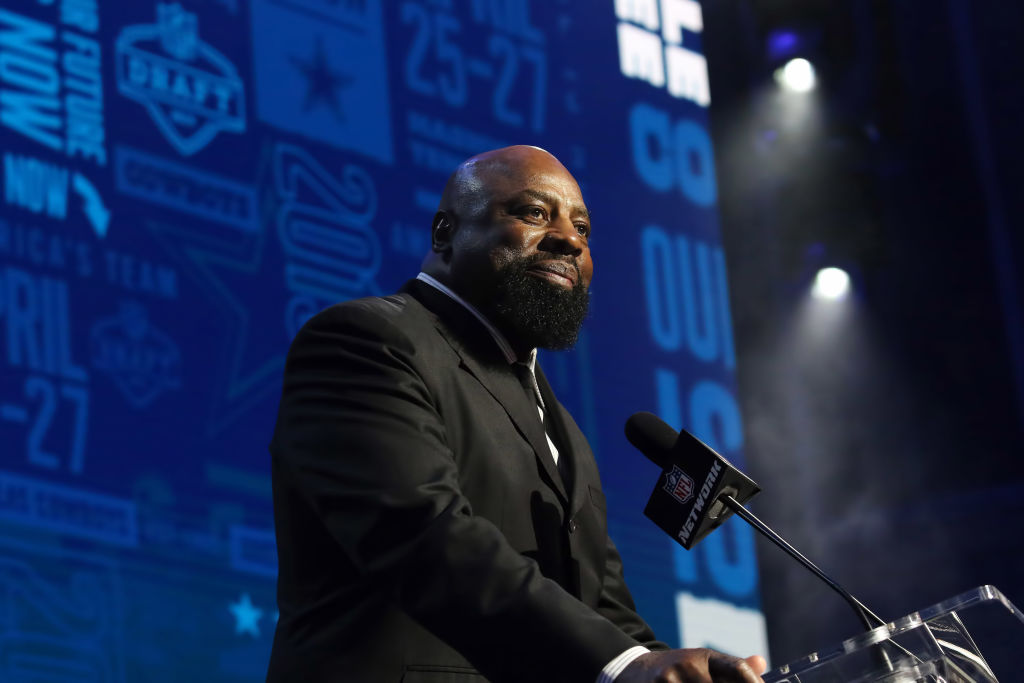 Jones finished his career with the Cowboys recording 106 sacks, including 13 in 1985. At the time of his retirement, he was tied with Bill Bates and Mark Tuinei for longest careers in Dallas at 15 seasons. Jason Witten broke that record last season.
Today, Jones lives in Dallas where he owns a real estate company as well as an event coordination company that produces concerts, motivational speaking engagements, and conferences. A year ago, Jones was in Nashville for the 2019 NFL draft where he announced Central Florida defensive tackle Trysten Hill as the 58th overall pick of the Dallas Cowboys. 
This year Ed "Too Tall" Jones won't be announcing any draft picks. Like the rest of us, he'll be watching from his home when the first pick is announced. And he'll reflect back on that day 46 years ago when he heard his name called first overall and the amazing journey that has followed.