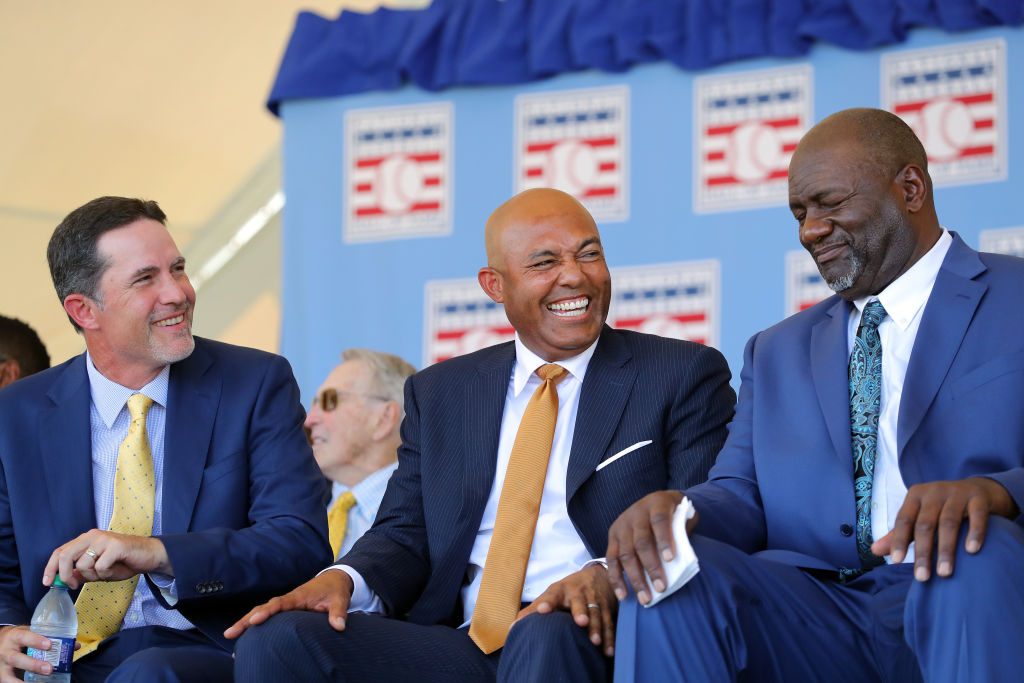 Which MLB Team Has the Most Players in the Hall of Fame?
Some baseball teams have a knack for acquiring this level of talent. The following franchises have the most players in the MLB Hall of Fame.
The MLB Hall of Fame celebrated a diverse group of new members in 2019. With it came debates about who should be in, who should be out, and whether voters got it right. Once someone is in Cooperstown's Hall of Fame, however, they're in. Some teams have a knack for acquiring this level of talent. The following franchises have the most players in the Hall of Fame.
5. Boston Red Sox: 12 members
Despite having one of the most infamous curses in the history of sports, the Red Sox have always brought in generational talent, even if it doesn't always equate to a World Series. Boston's Hall of Famers cover nearly a century. Jimmie Foxx and Lefty Grove both first played in 1925; Pedro Martinez hung up his glove in 2009. 
Boston's biggest HOF name, however, may be Ted Williams. His 21-year MLB career is one of the most storied in the history of baseball and serves as a bridge between old baseball and new. Williams saw not only the inclusion of Jackie Robinson and other African-American players in the league but the western expansion as well.
4. Cleveland Indians: 13 members
Stretching back over 123 years to Nap Lajoie's first game in 1896, Cleveland, has not seen a lot of recent success. But they do have a long line of worthy MLB Hall of Fame players demonstrating an eclectic history. The Indians only have one Hall of Famer who played after 1959, Jim Thome, who retired in 2012 after 21 years in the league. 
One notable Cleveland player is Larry Doby, who was the first African-American player to compete in the American League. His career stretched from 1947 through 1959 and included the Indians' last World Series in 1948.
3. Los Angeles Dodgers: 15 members
One of the most storied franchises in MLB history, the Dodgers' class includes many big names, from Willie Keeler, who started in 1892, to manager Tommy Lasorda, who left in 1996. It's rather strange that the Dodgers haven't had a Hall of Famer wear their hat since. (Their recent stretch ensures this will change in the future.)
The team's two biggest names are Jackie Robinson and Sandy Koufax, both among the most historic players to ever take the diamond. The Dodgers are also among the most important teams in MLB's western expansion, which their list of talent reflects.
2. San Francisco Giants: 17 members
Despite being one of the biggest baseball teams, the Giants haven't had a Hall of Fame player since Gaylord Perry, who hung it up in 1983. However, some of the biggest names in baseball history fill their HOF list. From Willie Mays to Willie McCovey, the Giants have always embraced their past.
One can't discuss the Giants and Cooperstown without mentioning the most famous Giant of modern times and reigning Home Run king. Barry Bonds is still not in the MLB Hall of Fame. He may not ever be inducted due to the suspicion that he may have used performance-enhancing drugs throughout his career. Still, the Giants should get some healthy representation when the players from their World Series years begin to retire. 
1. New York Yankees: 23 members
Perhaps the least surprising name on the list, the Yankees have earned their reputation as the biggest name in baseball with 23 Hall of Famers stretching back to the earliest days of the game. Including Lou Gehrig, Joe DiMaggio, Mickey Mantle, and Mariano Rivera, New York has the largest selection of all-time greats of any team in any sport. 
Without a doubt, the biggest name on their list is Babe Ruth. His name still gets mentioned in conversations about the greatest, and souvenirs from his career are worth millions to this day. The Yankees class will only grow. Derek Jeter is due for enshrinement, and many more will likely follow.