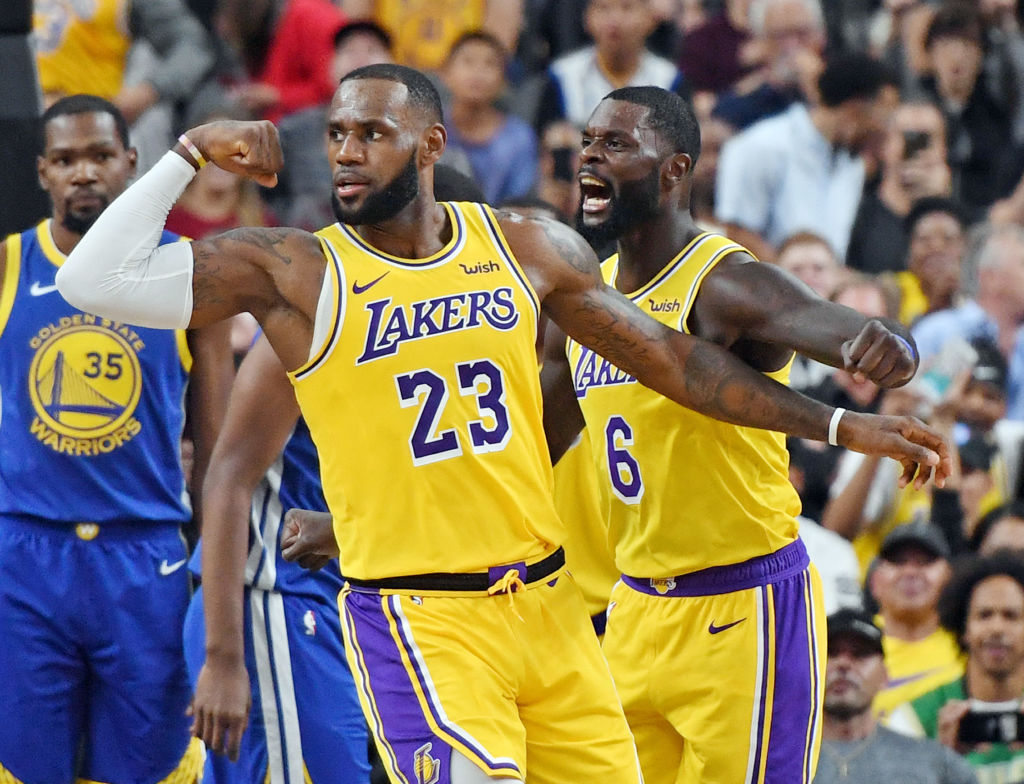 Would LeBron James Really Refuse to Play in an Empty Arena?
Would Los Angeles Lakers star LeBron James really refuse to play in an empty arena if the NBA deemed it necessary to do so?
Because of the growing coronavirus crisis, the NBA is taking some safety precautions, and one of the more drastic measures might be having to play some upcoming games in front of nobody. On Friday the league sent a memo to its teams telling them to brace for the possibility of having only 'essential staff' present if the coronavirus continues to spread. Some sports leagues overseas have already adopted this plan and it looks like the NBA might not be too far behind.
LeBron James said he won't play if there aren't any fans
After The Los Angeles Lakers defeated the Milwaukee Bucks on Friday night, LeBron James was asked about the possibility of playing in empty arenas.

"We play games without the fans? Nah, that's impossible. I ain't playing if I ain't got the fans in the crowd. That's who I play for. I play for my teammates, and I play for the fans. That's what it's all about. So if I show up to an arena and there ain't no fans in there, I ain't playing. They can do what they want to do."

LeBron James
With that Lakers' victory over the NBA-best Bucks, Los Angeles secured a postseason berth. On that same night, James stressed that one of his responsibilities when he came to LA as a free agent was to make sure the Lakers were relevant again.
So would James really jeopardize his team's success and important playoff seeding by going against the NBA's mandate and refusing to play? James is one of the most competitive athletes in all of sports and it would be difficult to imagine him sitting out, even if there weren't any fans in the building.
James is having another MVP-type season
Through 61 games this year, LeBron James is having yet another MVP-type season. James won consecutive MVPs in 2009 and 2010 and then won back-to-back MVPs again in 2012 and 2013.
This season he's been healthy and is putting up 25.6 points per game while dishing out 10.7 assists per contest. James, with the addition of Anthony Davis, has helped guide the Lakers to a Western Conference-leading record of 48-13 which is good enough for the top seed and a 5.5-game lead over the Los Angeles Clippers.
Friday's contest against the Milwaukee Bucks featured a battle between two of the league's top candidates for Most Valuable Player in James and Milwaukee's Giannis Antetokounmpo. James got the better of Antetokounmpo, who won the award last season, as he collected a game-high 37 points with eight rebounds and eight assists. Antetokounmpo finished with 32 points, 11 rebounds, and six assists.
It wouldn't be the first time a game was played without fans
In April of 2015, the Chicago White Sox and Baltimore Orioles played a baseball game at Camden Yards in an empty stadium due to safety concerns. After several days of unrest in Baltimore due to the death of Freddie Gray that resulted in burning cars, riots and protests throughout the city, it was decided the game would be played with zero spectators.
Despite there being no witnesses, the Orioles defeated the White Sox 8-2. During the game, it was sort of business as usual as the scoreboard was still running, music was still playing and the national anthem was played before the game.
Some players even had a little fun, including Orioles catcher Caleb Joseph, who pretended to sign autographs and wave to people in front of imaginary fans before the game was played.