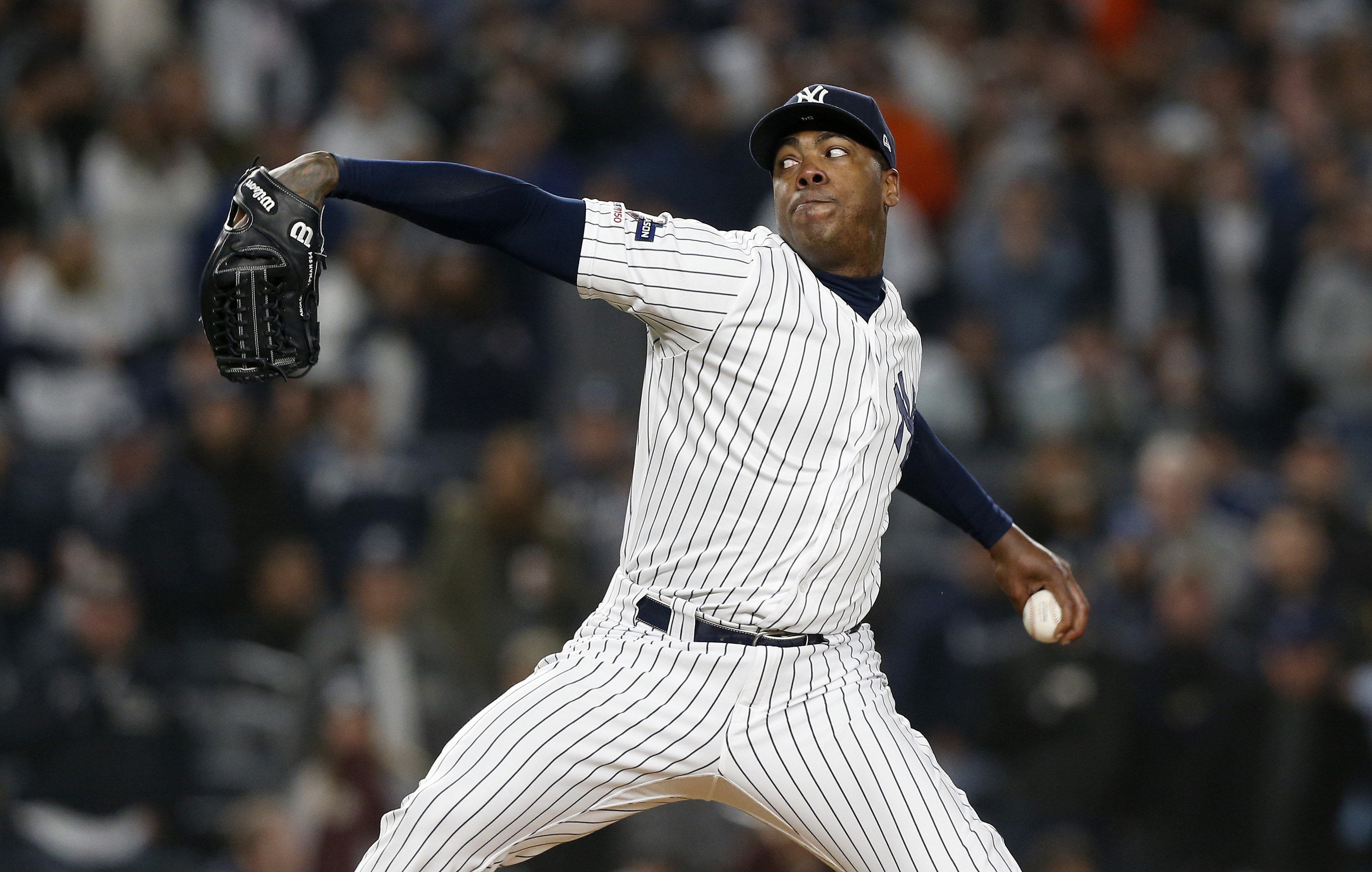 Yankees Pitcher Aroldis Chapman Worked as Cuban Government Informant Before Defecting
New York Yankees pitcher Aroldis Chapman is one of the best relievers in baseball. Just over a decade ago, he worked as an informant for the Cuban government.
In 2009, Aroldis Chapman walked out the front door of the Cuban baseball national team hotel, climbed into a waiting car, and headed for freedom with his eye on one day becoming a MLB pitcher. He was defecting from Cuba. It was his second attempt. The first one didn't go as planned and as a result, Chapman became a government informant that ended up sending multiple men to prison for years.
Aroldis Chapman's first defection attempt failed
Aroldis Chapman started playing baseball as a first baseman when he was 13. By the time he was 17, Chapman had transitioned to a pitcher and was playing with the Holguin Sabuesos, a Cuban National Series team. At 19, Chapman won gold at the 2007 Pan American Games and silver at the 2007 Baseball World Cup.
Unfortunately, he made just $150 a month and lived at home with his parents. Like so many Cuban athletes before him, he dreamed of a better life and wanted to escape. In March 2008, one of Chapman's teammates had hatched a plan that would allow him to do just that.
He would meet the teammate at a beach house, where they would wait for a speedboat to take them to a nearby country. Once there, freedom and a chance to make millions in baseball would be within their reach. Chapman showed up at the planned time with his girlfriend. His teammate never did.
As Chapman and the would-be smuggler waited for the boat, police arrived. Officers returned the pitcher to his parents' home and took the smuggler into custody. Chapman's punishment, at least publicly, was banishment from playing on the 2008 Olympic team.
Chapman becomes an informant
A few months after the failed attempt, Chapman was riding his bike near the local police station when two men approached him. Chapman was friends with Alejandro Medina, who was a big baseball fan. Medina was joined by his friend Curbelo Garcia, who lived in Miami with his wife and 16-year-old daughter. He also owned a small two-acre farm. He was back in Cuba visiting. 
During their brief discussion, Garcia asked Chapman when he planned to make millions in the U.S. Medina got angry by the mere suggestion knowing it could get the three men in trouble. Just minutes after the conversation and the two men drove off, police pulled them over and accused them of attempting to smuggle Chapman.
On July 30, 2008, according to records obtained by the Chicago Tribune, Garcia was arrested. The following day, Chapman and his father provided sworn statements accusing Garcia and Medina of smuggling. Both men sat in jail and waited for their day in court. It finally came in January 2009, when Chapman testified he had no intention of ever leaving Cuba. The Cuban judicial panel found Garcia and Medina guilty of trying to smuggle out "one of Cuba's greatest pitching talents."
Medina was convicted based solely on Chapman and his father's testimony. Garcia received a 10-year prison sentence. Medina received seven years.
Aroldis Chapman returns to baseball
The same month Aroldis Chapman testified he never planned to leave his homeland, many were surprised to see him return to action for the Cuban national team at the World Baseball Classic so soon after his failed attempt to defect. There was a reason. The Cuban government could have banished him from the game, as they had done to previous failed defectors. Instead, the government opted to use him as an informant—a common tactic used against other players, including Yasiel Puig and Orlando Hernandez.
In addition to Garcia and Medina, Chapman and his parents testified against two other alleged smugglers, who were arrested and charged with smuggling. At that trial, Chapman repeated the same assertion that he had no intention of leaving Cuba, which only helped him stay in good standing with the Cuban government. 
In July 2009, Chapman finally defected in the Netherlands before making his way to the U.S. to pursue his dream of playing baseball. Meanwhile, back in Cuba, life for Garcia and Medina was awful. Garcia lived in a 4-foot-by-6-foot cell with up to five other men. He was served maggot-infested meals and a single bucket of murky water each morning.
Medina was sent to a maximum security prison, with his diet primarily bread, sugar water, and food his wife could sneak to him. The prison reeked of urine and feces. 
In 2012, Garcia's wife sued Chapman for making false allegations that led to his torture. In 2014, after four years in prison and 11 months in a work camp, Garcia was on home confinement when the Cuban government granted him a three-month pass to leave the country. He traveled to Florida and never returned. A few months after Garcia's return to the U.S., the family settled with Chapman out of court after a judge found Chapman was dishonest when he testified in Cuba against Garcia.  
Medina never sued Chapman, but received about $30,000 as part of the Garcia settlement. He used some of the money to finance his and his wife's escape to the United States in 2016. He now lives in Houston.