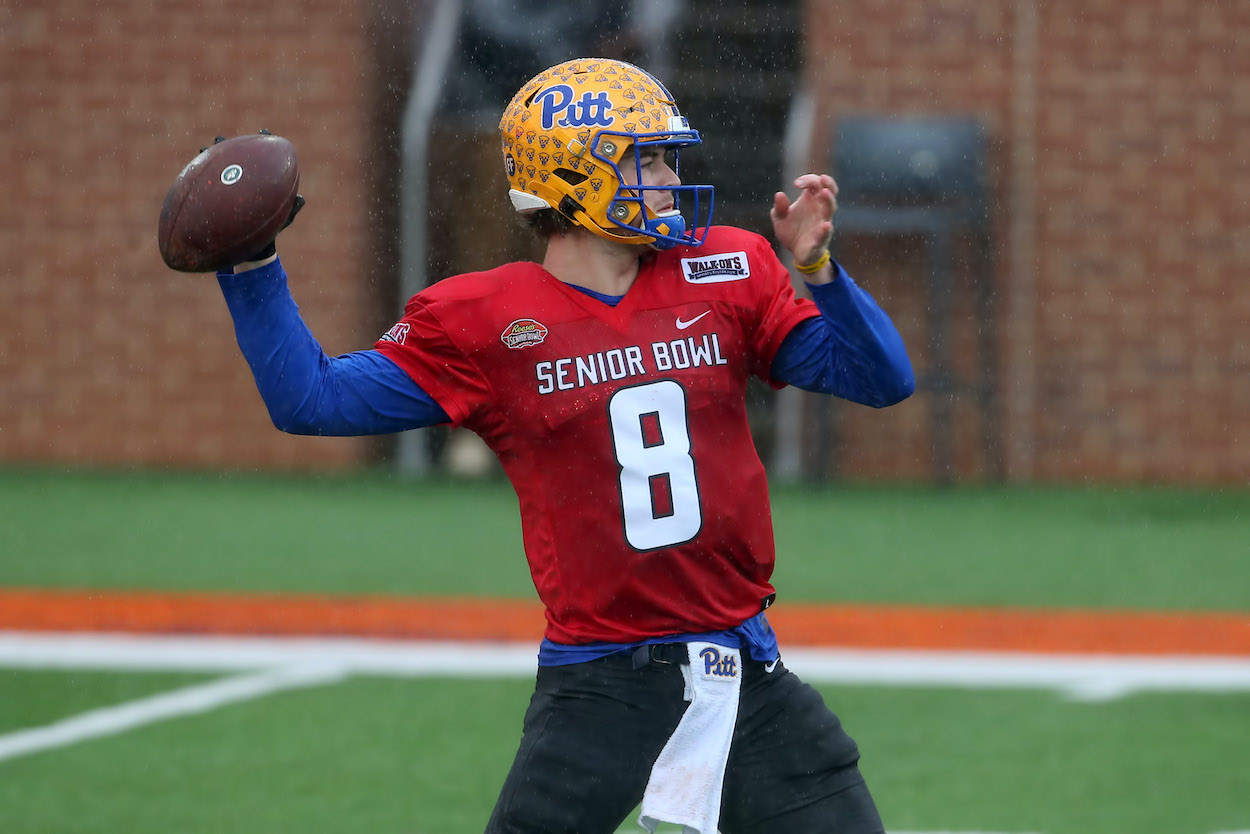 2022 Senior Bowl: Why NFL Draft Prospect Kenny Pickett's Hands Have Scouts Buzzing
Pitt QB Kenny Pickett, a top NFL Draft prospect, is the talk of the 2022 Senior Bowl thanks to his hand size and his unusual thumbs
The 2022 Senior Bowl kicks off this year's NFL Draft season as many of the top prospects converge on Mobile, Alabama. The quarterbacks are usually the biggest story, and this year — despite what many are calling a weak QB class — is no exception. Pitt's Kenny Pickett has most of the buzz this year and not because of his play on the field. Scouts are talking most about his hands.
Kenny Pickett's 2021 season at Pitt made him a top QB prospect in the 2022 NFL Draft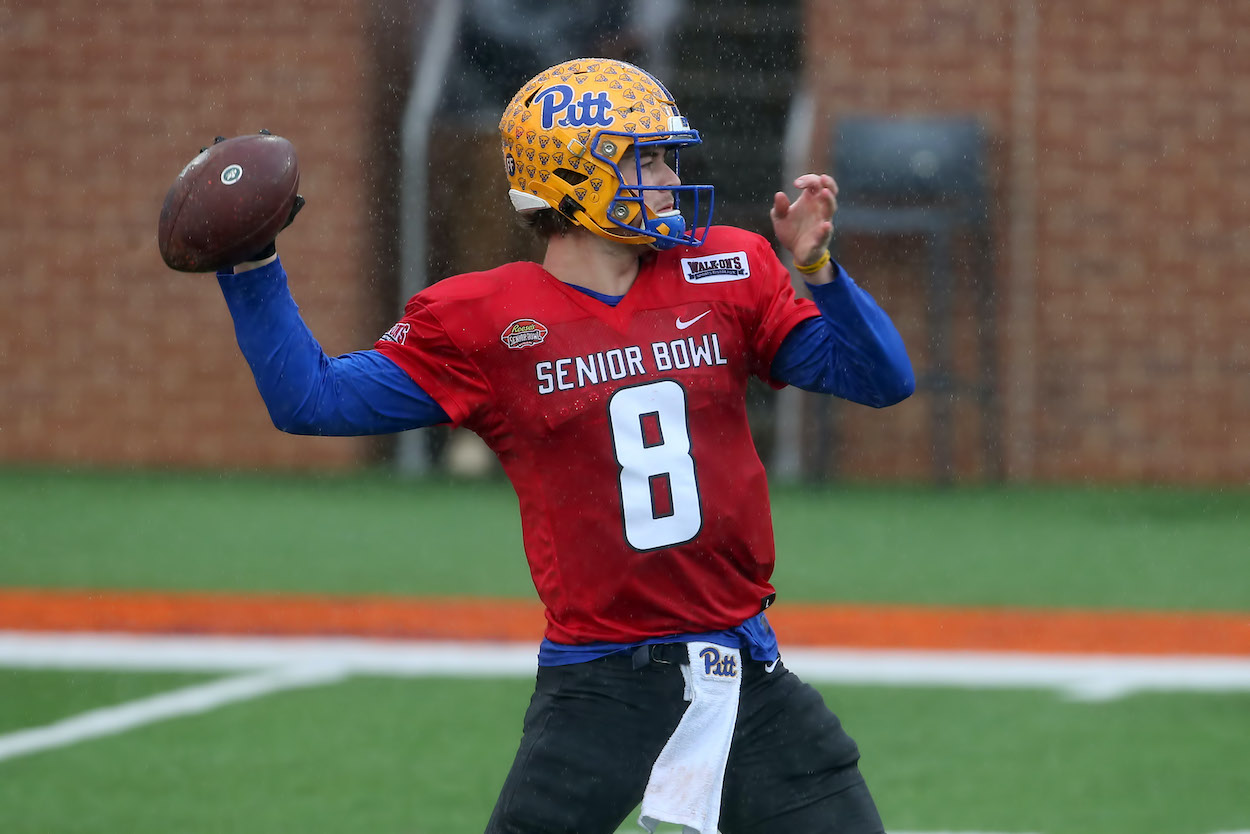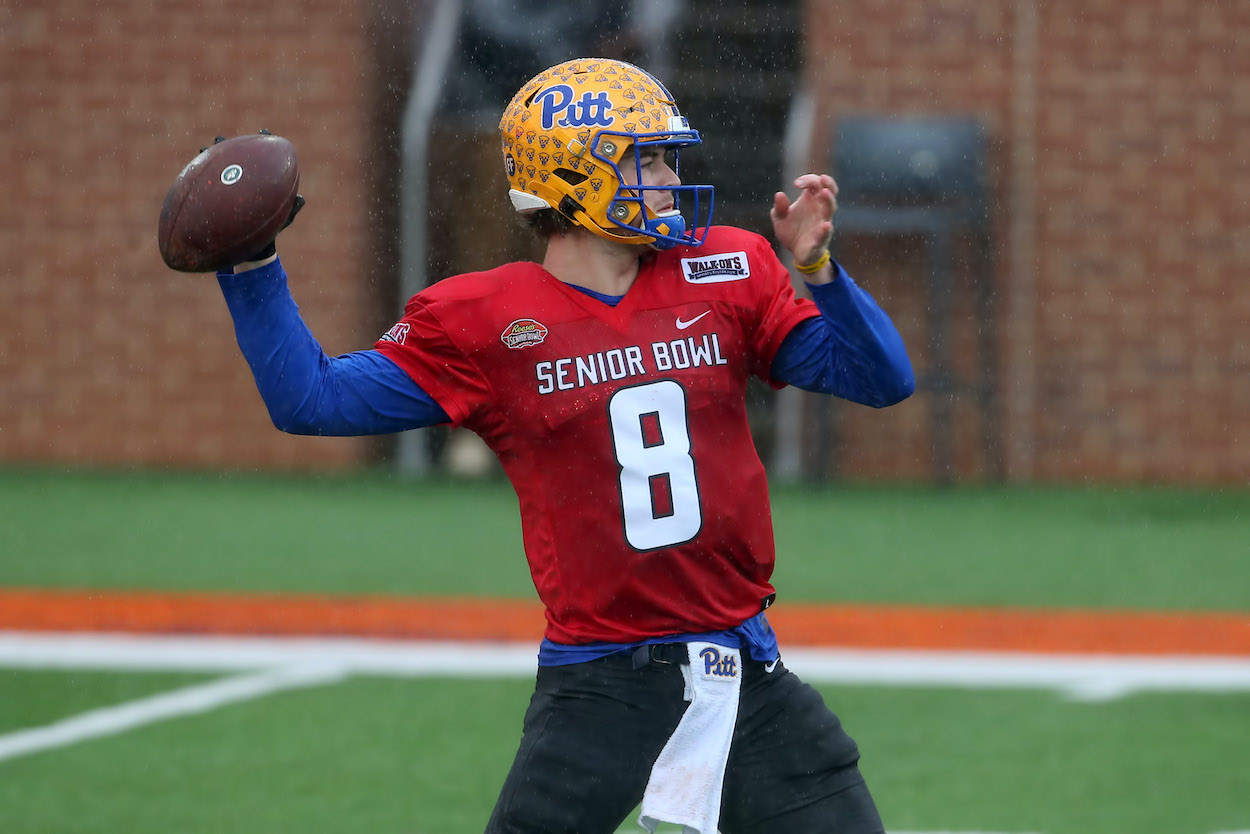 New Jersey native Kenny Pickett came into the 2021 season as a relatively nationally unknown fifth-year QB for the Pitt Panthers. He ended 2022 as a third-highest Heisman trophy vote-getter and the likely No. 1 QB prospect in the 2022 NFL Draft.
Pickett had a banner career at Pitt. Playing the same position at the same school as Dan Mario, the 23-year-old signal-caller finished his career in Pittsburgh as the school's all-time leader in passing yards (12,303), pass completions (1,045), total offense (13,112), total touchdowns (102) and passing touchdowns (81), per PittsburghPanthers.com.
He threw for 300-yards (16) and 400-yards (five) more times than any Pitt QB. Also, he won more games than any who came before him as well, producing a 32-17 collegiate record.
At 6-foot-3, 220-pounds with a strong arm and high-end athleticism, Pickett is the prototype top QB prospect in 2022. His size and skill set are reminiscent of NFL stars like Josh Allen, Justin Herbert, Patrick Mahomes, and Carson Wentz.  
Despite all the impressive production and physical traits, there is a major question surrounding Pickett at the 2022 Senior Bowl. What's up with his hands?
Pickett's double-jointed thumb is the talk of the 2022 Senior Bowl
The Senior Bowl is the first time that NFL general managers, coaches, scouts, and talent evaluators get an up-close and personal look at that year's draft class.
It is also the first time weird news starts to come out about the draft prospects. This year, the winner of the strangest debate goes to Kenny Pickett's double-jointed thumbs.
Pickett declined to allow NFL scouts to measure his hands at the Senior Bowl. NFL Network's Tom Pelissero explained why during a broadcast of a Senior Bowl practice. The reporter noted that the QB wears two gloves, which often leads to concerns about hand size and the QB's ability to grip the ball, especially in inclement weather.  
Pelissero went on to say that no one knows if Pickett has small hands yet. But he does have double-jointed thumbs that naturally point toward his palm instead of pointing out like most of us. This would affect the hand measurement and make it seem like Pickett has small hands, whether he does or not, according to the NFL insider.
The solution from Pickett and his camp is "working on joint mobility" before the Pitt passer allows the NFL to measure his hands at the 2022 NFL Draft Combine in March.
Believe it or not, these measurements could determine where Pickett comes off the board in this year's draft. In the past, there has been some correlation between QBs with small hands (by NFL standards) and success. Signal-callers like Chad Henne, Jimmy Clausen, Ryan Tannehill, Jared Goff, and Drew Lock are all members of the NFL Small Hands Club, and none of those guys are All-Pro QBs.
That said, Joe Burrow has "small" hands for a passer as well, and that's seemed to work out OK for the Cincinnati Bengals.
The Pitt QB headlines a "weak" group of signal-callers in this year's draft
Four QBs in the 2022 NFL Draft could join Kenny Pickett in the first round. They could also all fall to the second round or later this year, which tells you everything you need to know about this polarizing group of soon-to-be NFL passers.
Along with Pickett (No. 20), Liberty's Malik Willis (No. 21), Ole Miss' Matt Corral (No. 26), North Carolina's Sam Howell (No. 34), and Cincinnati's Desmond Ridder are all in Todd McShay's top 50 prospects on ESPN.com.
Beauty is in the eye of the beholder this year, too, as some draft prognosticators have Willis or Ridder coming off the board first.
The good news for NFL teams is that each first round since 2017 has produced at least one star QB. And if you count Carson Wentz, Jameis Winston, and Teddy Bridgewater as legit pro starters, a first-round hasn't been a complete QB bust since 2013 (EJ Manuel).
As we start draft season with the 2022 Senior Bowl, there are more questions than answers when it comes to this year's QB crop. The good news is, starting with the Senior Bowl game on Saturday afternoon, we'll begin to get some hints abut what's to come.  
Like Sportscasting on Facebook. Follow us on Twitter @sportscasting19