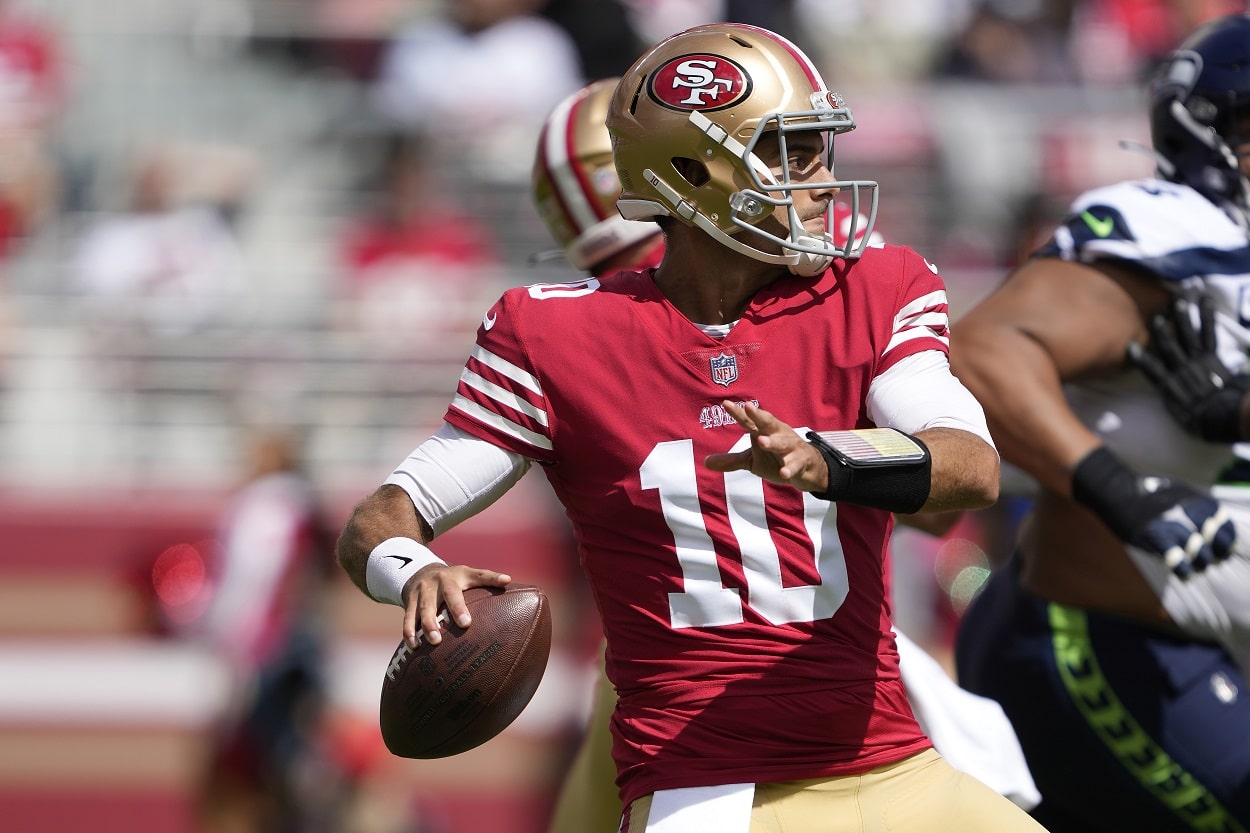 The 49ers Are Paying Jimmy Garoppolo a Lot More Than They Were Expecting to With Trey Lance Out of the Mix
Jimmy Garoppolo will earn a lot more money than he thought in 2022 with the injury to Trey Lance.
Just when it looked like Jimmy Garoppolo was destined to be the league's highest-paid backup, he's suddenly become one of the biggest bargains in football. 
A few weeks removed from renegotiating his contract with the San Francisco 49ers, the veteran quarterback watched his talented but unproven successor suffer a devastating setback that paves the way for a much better payday. 
In fact, with Trey Lance out for the year, Garoppolo can look forward to making an extra quarter of a million dollars on a weekly basis. And depending on how well he plays the rest of the way, he has a chance to make even more money once 2023 rolls around.
Another lost season for Trey Lance
Unfortunately for Trey Lance, his first season as an NFL starter ended after a mere 84 snaps. The 22-year-old sustained a severe ankle injury in Sunday's 27-7 win against the division-rival Seattle Seahawks that required surgery. 
As reported by ESPN's Nick Wagoner, Lance underwent a procedure at Stanford Hospital on Monday to repair a fibula fracture and ligament disruption in his right ankle. Although 49ers team physician Dr. Tim McAdams said in a statement that he's confident Lance will "recover completely in time for a full return in the 2023 season," it's clear San Francisco will have to wait another year to find out whether the No. 3 overall pick from the 2021 NFL Draft is a legitimate franchise quarterback. 
Of course, this isn't the first time the former North Dakota State standout has been hurt. As a rookie, Lance fractured a finger on his throwing hand and sprained a ligament in his left knee. 
Between injuries, the presence of Garoppolo, and the impact of COVID-19, the 6-foot-4, 223-pound signal-caller simply hasn't had many opportunities to play competitive football since 2019. At this juncture, Lance remains an enigma. And while it's hard to get overly excited about his future, it's easy to see how his costly setback benefits the person he was supposed to replace in San Francisco permanently.
Jimmy Garoppolo's financial future suddenly looks much brighter
If anyone knows how quickly things can change in the NFL, it's undoubtedly Jimmy G. 
At one point, the 2014 second-round pick appeared bound to replace Tom Brady in New England. Then, he found himself taking over a 49ers franchise desperate for a long-term answer at the most important position in sports. 
On several occasions, Garoppolo went from being San Francisco's starter to spending significant stretches on the sidelines. 
This past offseason, it looked like the oft-injured veteran would switch teams for the second time in his career. But after months of trade rumors, Garoppolo reworked his deal to remain with the franchise that acquired him for a second-round pick from the Patriots in October 2017. 
Although he took a pay cut to stay, he now has an opportunity to earn some of that money back—and quickly. 
Fortunately for Garoppolo, Lance's season-ending ankle injury puts him in a position to pocket another $250,000 per week. As detailed by NFL reporter Mike Garafolo, the soon-to-be 33-year-old revised contract includes a $250,000 bonus for each game in which he takes 25% or more of the offensive snaps. Plus, Garoppolo will make another $100,000 for each of those games the 49ers win. 
Needless to say, Lance's setback is costly on many levels. Not only does it prevent him from getting much-needed experience, but it will force the 49ers to dig deeper into their pockets to pay a player who clearly isn't in the team's long-term plans. 
Ultimately, though, if Garoppolo gets the job done, he will earn respect (and plenty of extra money) before he hits the free-agent market this spring.
Should the 49ers be considered a viable Super Bowl contender with Garoppolo under center?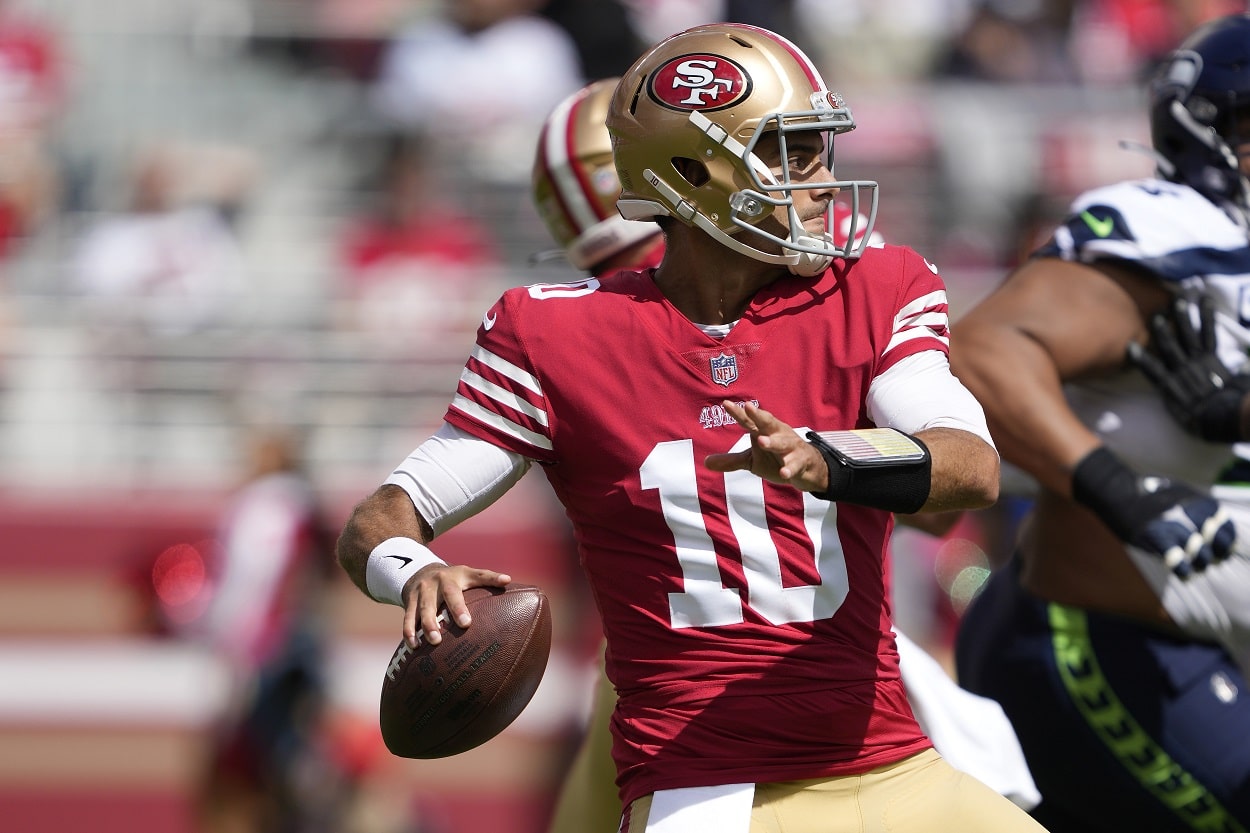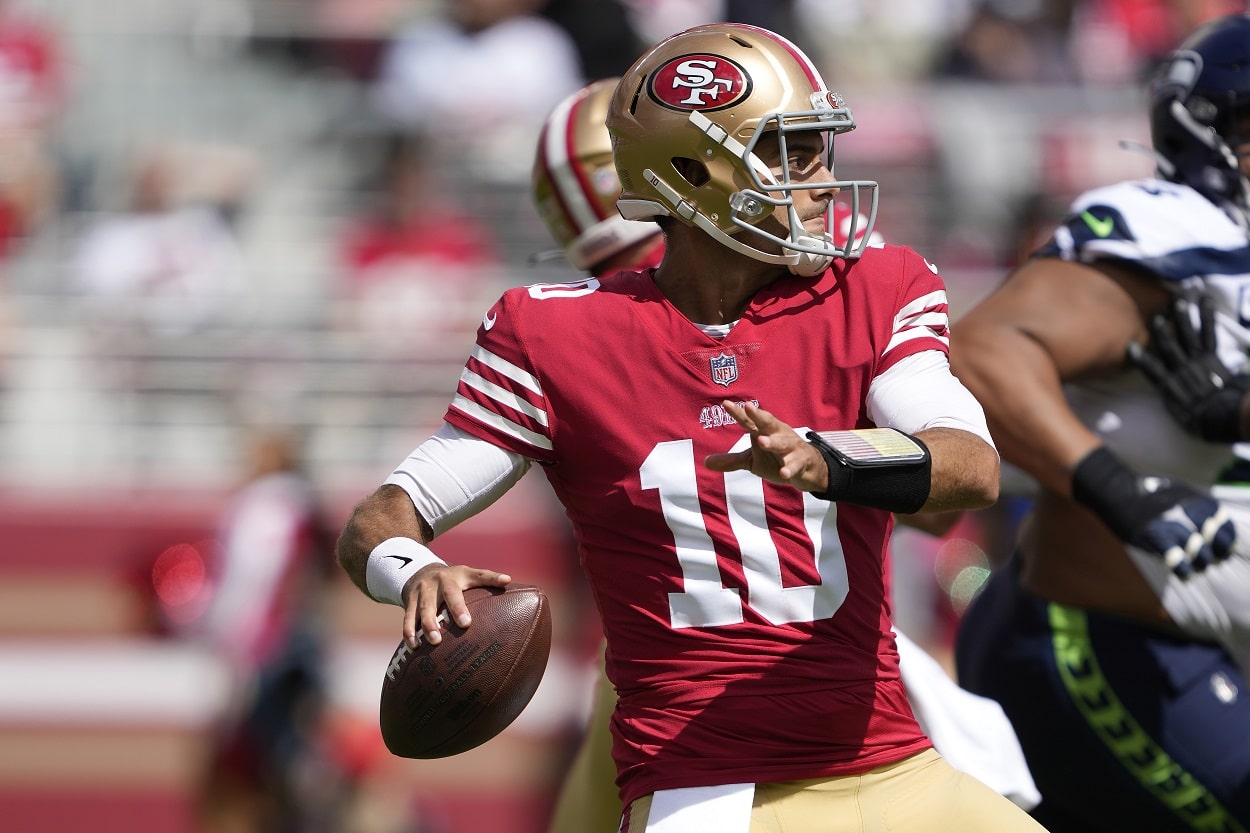 Ironically, San Francisco's Super Bowl hopes suddenly rest on the right shoulder of the signal-caller who lost his job to the younger, stronger, and faster option. 
Will the 49ers finally overcome their playoff woes in 2022? Or will Garoppolo fail to lead his team to a title? 
It's still early, so making any sensible predictions is difficult. After all, even though the Tampa Bay Buccaneers and Philadelphia Eagles are the only two NFC squads with 2-0 records, does anyone view them as unbeatable? Meanwhile, the 49ers enter their Week 3 matchup against the Denver Broncos with a 1-1 record, the league's third-ranked scoring defense, and an offense that will undoubtedly look different with Garoppolo under center. 
At full strength, that unit boasts scary potential. Deebo Samuel and George Kittle are easily top-five players at their respective positions, and former first-round pick Brandon Aiyuk finally looks ready to be a significant contributor.
However, in addition to losing Lance, starting running back Elijah Mitchell suffered an injury of his own, and Kittle's durability issues should give 49ers fans reason for concern. If health problems persist, San Francisco could once again fall short of expectations. 
Luckily for Kyle Shanahan, he has a championship-level defense headlined by big-name stars like Nick Bosa, Fred Warner, and Arik Armstead. The emergence of safety Talanoa Hufanga gives defensive coordinator DeMeco Ryans another high-end piece to utilize. 
At the end of the day, though, it's hard to envision Jimmy Garoppolo beating out Tom Brady or Aaron Rodgers in the postseason. So, even though he can look forward to making at least another $250,000 a week the rest of the way, no amount of extra cash can help secure the Lombardi Trophy.
Stats courtesy of Pro Football Reference; Contract info courtesy of Spotrac
Like Sportscasting on Facebook. Follow us on Twitter @sportscasting19 and subscribe to our YouTube channel.