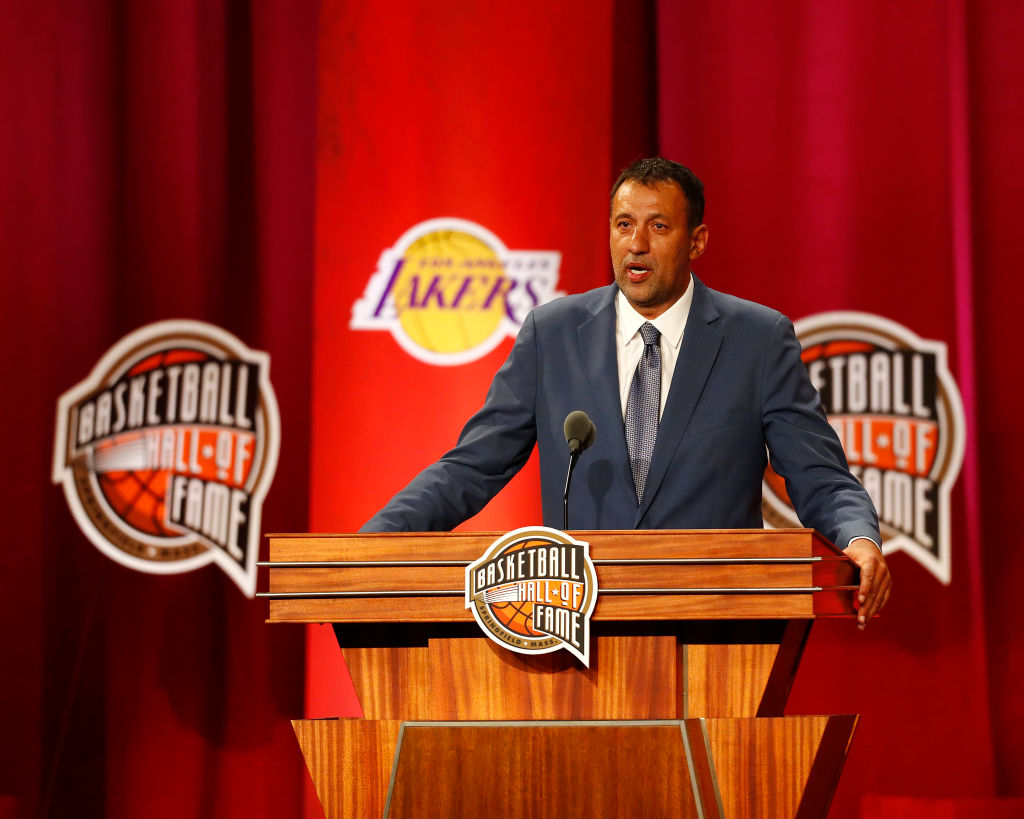 5 Takeaways From the Basketball Hall of Fame Class of 2019
The 2019 Basketball Hall of Fame class had a few recognizable names. Here are some of the biggest takeaways from this years' class.
The 2019 Basketball Hall of Fame class has a few notable names that deserve to be inducted this season. It takes years of hard work and dedication to be viewed as one of the game's all-time greats.
There were several players and coaches that earned their spot and with the ceremony concluding just a few days ago, we will look at the biggest takeaways from the 2019 class.
Vlade Divac is recognized for his impact on the game
Coming to the United States from Yugoslavia, Divac immediately made an impact in the middle for the Los Angeles Lakers. During his eight seasons in Los Angeles, he averaged 12 points, eight rebounds and six assists per game.
He was always viewed as one of the game's best passing big men, and when he arrived in Sacramento he was a valuable piece to Rick Adelman's offense.
For his career, he scored over 13,000 points, pulled down 9,000 rebounds, had 3,000 assists and over 1,500 blocks.
Playing defense still matters to the committee
Two players that were elected to the 2019 Basketball Hall of Fame class were known for their defense. Bobby Jones made eight consecutive All-NBA Defensive teams from 1977-84 and won an NBA title with the Philadelphia 76ers in 1983. He was selected to four All-Star teams and won the NBA Sixth Man of the Year award in 1983.
If you include his time in the ABA before the merger, Jones was named to 10 All-Defensive teams in a row.
The other defensive stalwart in the class of 2019 was Sidney Moncrief. Moncrief made five straight All-Star appearances from 1982-1986 and won back-to-back NBA Defensive Player of the Year awards. He was named to four All-Defensive teams and made the All-NBA first team in 1983.
Teresa Weatherspoon induction is well deserved
As the WNBA started to create its fan base, one of the faces of its New York Liberty franchise was Teresa Weatherspoon. Weatherspoon won two WNBA Defensive Player of the Year awards in 1997 & 1998 and was named to five WNBA All-Star teams from 1998 to 2003. 
"T'Spoon" was the first player in WNBA history to record 1,000 points and 1,000 assists. She also won an Olympic gold medal in 1988. Weatherspoon had success at all levels of the game, even leading Louisiana Tech to the NCAA Women's basketball championship.
Another inclusion from the Celtics
Bill Fitch was a 25-year veteran of NBA sidelines as a head coach. He was the second coach in league history to coach a team to three consecutive 60-win seasons and helped the Celtics win a championship in 1981.
Before getting his shot in the NBA, Fitch coached North Dakota University to back-to-back Division II Final Four appearances.
Basketball Hall of Fame snubs: Chris Webber and Ben Wallace
Easily the biggest snubs for the Basketball Hall of Fame yet again, Chris Webber and Ben Wallace don't seem to get any love from the committee. Webber was a decorated collegiate player, helping lead the University of Michigan to back-to-back NCAA championship games.
During his pro career, he averaged 20 points and 10 rebounds per game. His time in Sacramento saw him put up explosive numbers, including a 51-point, 26 rebound performance against the Pacers.
Webber was the 1994 NBA Rookie of the Year, was named to five All-NBA teams, and made five All-Star teams.
Wallace was the driving force behind the Pistons championship run in 2004 and won four NBA Defensive Player of the Year awards. He had six consecutive seasons where he averaged 11+ rebounds and over two blocks per game but seems to go unappreciated in NBA circles. We can only hope both of these amazing players hear their names called in 2020.