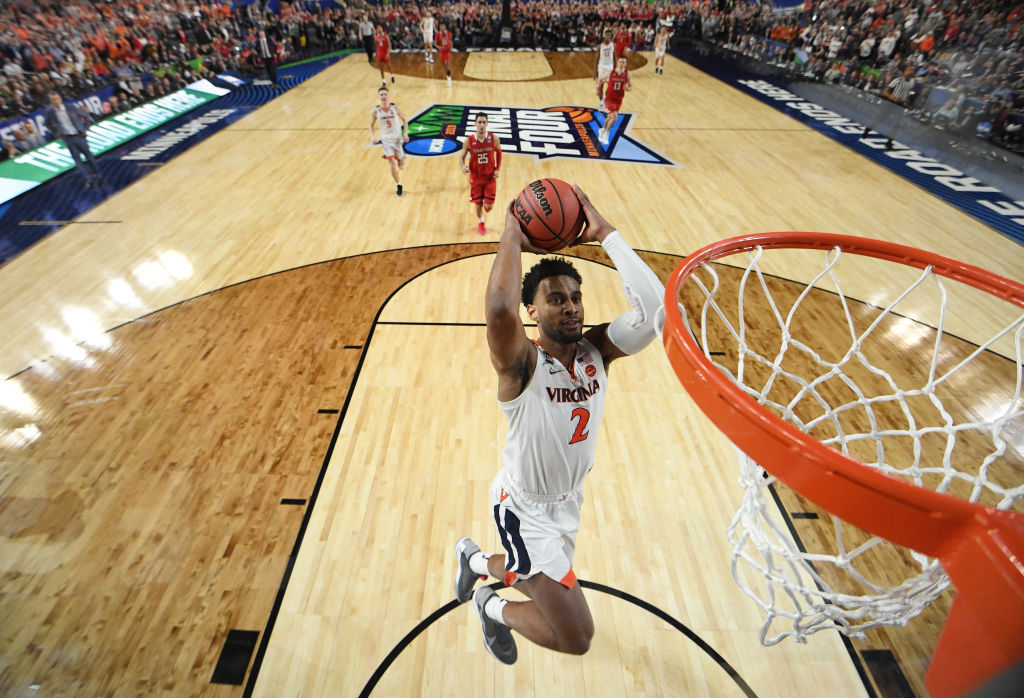 5 Things We're Already Missing About March Madness
We're all missing the NCAA Tournament this year. Here's a list of five things we miss most about this crazy time of year we call March Madness.
It's hard to believe, but today college basketball fans would typically be crowding into bars, hanging at a buddy's house, or maybe just chilling in the break room watching the second day of NCAA Tournament action. We're not. Unfortunately, we can only imagine. Since we're all deprived of our annual March Madness-watching rituals, here's a list of five things we already miss about this year's NCAA Tournament.
March Madness means missing two days of work
One of the things we miss the most about March Madness is missing work. It's always funny every year to see the stories on the numerous excuses people come up with when calling in "sick" to work. There are even templates online you can download that include numerous excuse letters you can send to the boss.
There's no denying those first two days of the tournament are always special. The anticipation and buildup are a big part of it, but then on Thursday and Friday, you know from 11 in the morning to 11 or later at night, you'll be able to watch wall-to-wall coverage of college basketball.
If you don't care about the teams playing or there's a blowout on one channel, you can flip to one of the other channels—what channel is TruTV again?— and find a game that's more to your liking. Basically, binge-watching college basketball for 48 hours. What's not to like about that?
Bill Raftery's sayings
We all know Bill Raftery's most famous utterance is "Onions!" It's always humorous to hear him say it and then think about those fans who might not be as familiar with the game and don't have a clue what he means. 
Another Raftery phrase we miss is "a nickel-and-dimer," when he disagrees with the referees for calling a touch foul. Next to "onions," Raftery offers another compliment with "a big ticker," talking about someone who plays with a lot of heart. And whenever a bank shot is made, Raftery often pulls out his "a little kiss" comment. 
First weekend upsets
The first weekend of March Madness generally produces the most madness as that's when most of the upsets happen. Two years ago, No. 16-seed Maryland-Baltimore County delighted us all with its historic first-round upset of the top-seeded Virginia Cavaliers. 
There have been plenty first-round upsets in recent years. Among them: No. 15 Middle Tennessee State upending No. 2 Michigan State in 2016; No. 15 Florida Gulf Coast defeating No. 2 Georgetown in 2013; and one of the most exciting ones, when No. 13 Valparaiso shocked No. 4 Ole Miss in 1998 on a last-second three-point shot by the coach's son, Bryce Drew.
Looking for Cinderella 
After the first weekend of games when the field is narrowed down to the Sweet 16, we almost always have one or two Cinderellas to watch.  
The Loyola Chicago Ramblers came out of nowhere in 2018 as a No. 11 seed and made it all the way to the Final Four. That year a Catholic nun, Sister Jean, became a national superstar.
In 2013, Florida Gulf Coast became the first-ever No. 15 seed to reach the Sweet 16 upsetting Georgetown in the first round, and San Diego State in the second. 
And 12 years ago in 2008, the Davidson Wildcats, a No. 10 seed, which hadn't won a tournament game since 1969, reached the Elite Eight defeating a No. 2 seed in Georgetown and a No. 3 seed in Wisconsin behind the shooting of a relatively unknown player named Steph Curry. The Wildcats lost in a close one, 59-57 to No. 1 Kansas, which went on to win the national title.
Checking your March Madness bracket
During the three-plus weeks of March Madness, which actually ends in April, it's always fun to watch the games, especially the first weekend's worth, and question, "Did I pick that team to win?" Disappointment or excitement awaits depending on your selection.
With online brackets and pools, there's nothing like checking your bracket to see if you've maintained that ever-elusive perfect one and where you rank with your co-workers, family, friends, or in many cases, just random people who enjoy the game just like you.
In the end, that's why we miss March Madness so much. The enjoyment it provides us for a few weeks in March and April where we can escape from the day-to-day grind that is life and watch some college kids compete at the highest level for one reason—their love of the game. A game we all love.