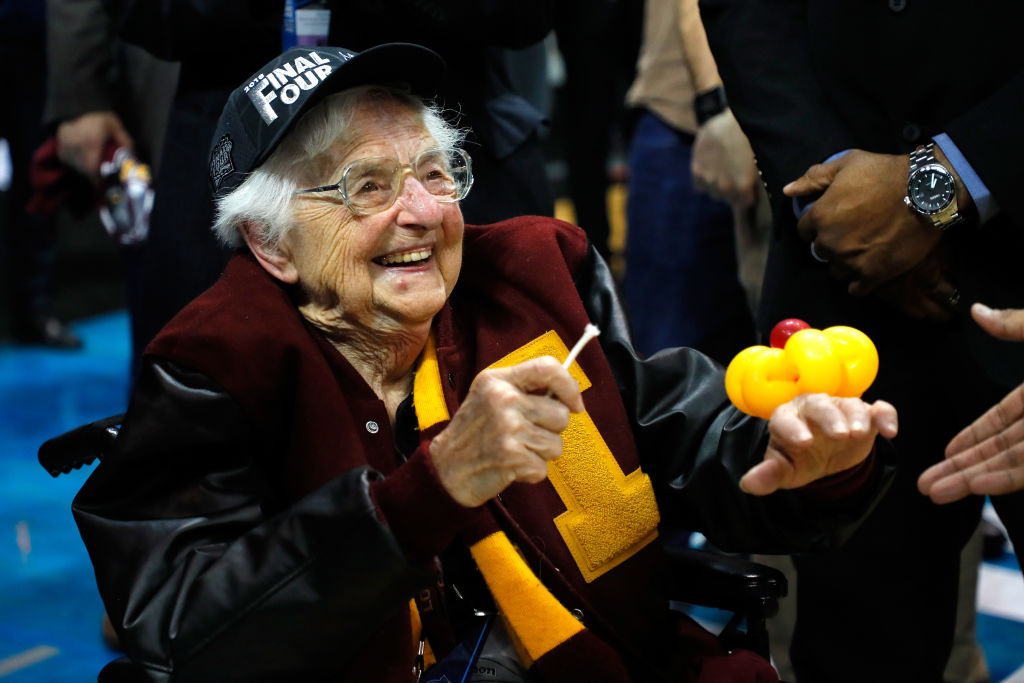 The Year a Nun Stole the Show at the NCAA Tournament
Loyola University stunned the NCAA Tournament field in 2018 making it to the Final Four with a nun providing spiritual support. What happened to Sister Jean?
Two years ago, the Loyola University Chicago Ramblers basketball team made an improbable run deep into the NCAA Tournament, and to the Final Four. Chances are you don't remember any of the players, but you likely remember one person—team chaplain Sister Jean Dolores Schmidt. What is Sister Jean doing today?
Before her rise to fame
Before Sister Jean became a household name during the 2018 NCAA Tournament, she had already gained notoriety on the Loyola Chicago campus.
Loyola hired Jean in 1991, and three years later, the school assigned her to work with the Ramblers men's basketball team in a support position. In that role, she worked with student-athletes helping them maintain their grades and retain their eligibility to play.
Eventually, her role expanded into official team chaplain, with her pre-game prayers and advice to players becoming an integral part of the team's success. 
What most outsiders don't realize is Sister Jean is more than just inspirational. She knows the game of basketball. So much so when Loyola hired now head coach Coach Porter Moser, Sister Jean provided him with a scouting report on each one of his players.
"She still sends me an email after every single game," Moser told the Peoria Journal Star in 2017. "There is no human like her." 
The Loyola community adores her so much the school created a bobblehead doll in her honor in 2011. A year later, the school honored her with a "Sister Jean Day." 
The 2018 NCAA Tournament run
When Loyola upset Miami (Fla.) in the first round of the 2018 NCAA Tournament, it was the start of something special for the team and more broadly, the college basketball world.
In that three-week journey through the 68-team field that included additional victories over Tennessee, Nevada, and Kansas State, Sister Jean appeared in dozens of stories from CNN and the New York Times to People magazine, and ESPN. Each outlet singing the praises of the Catholic sister.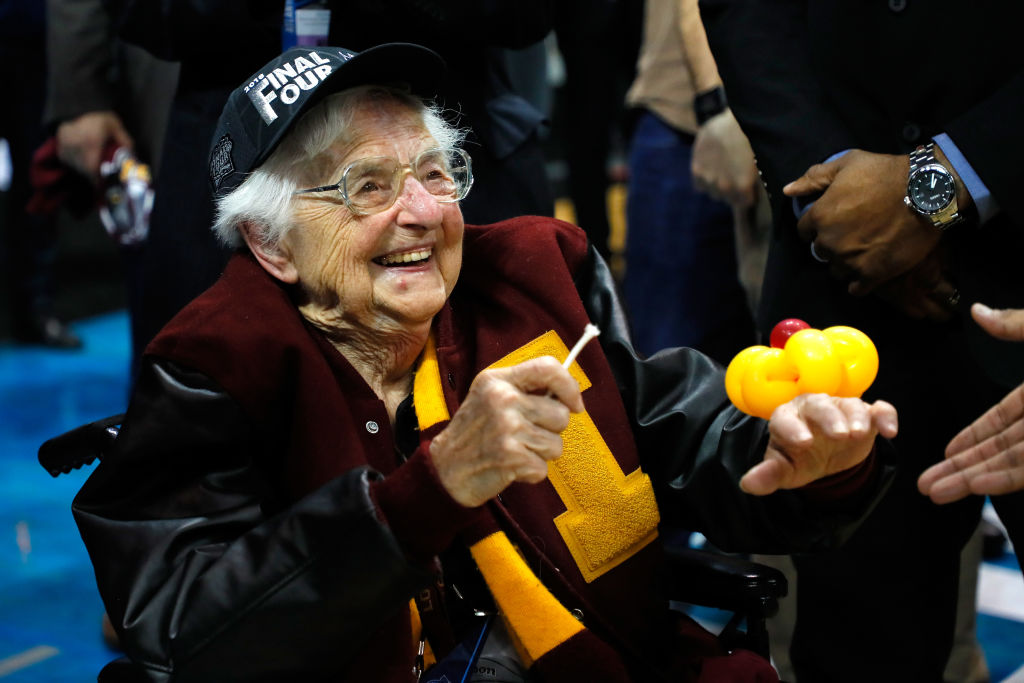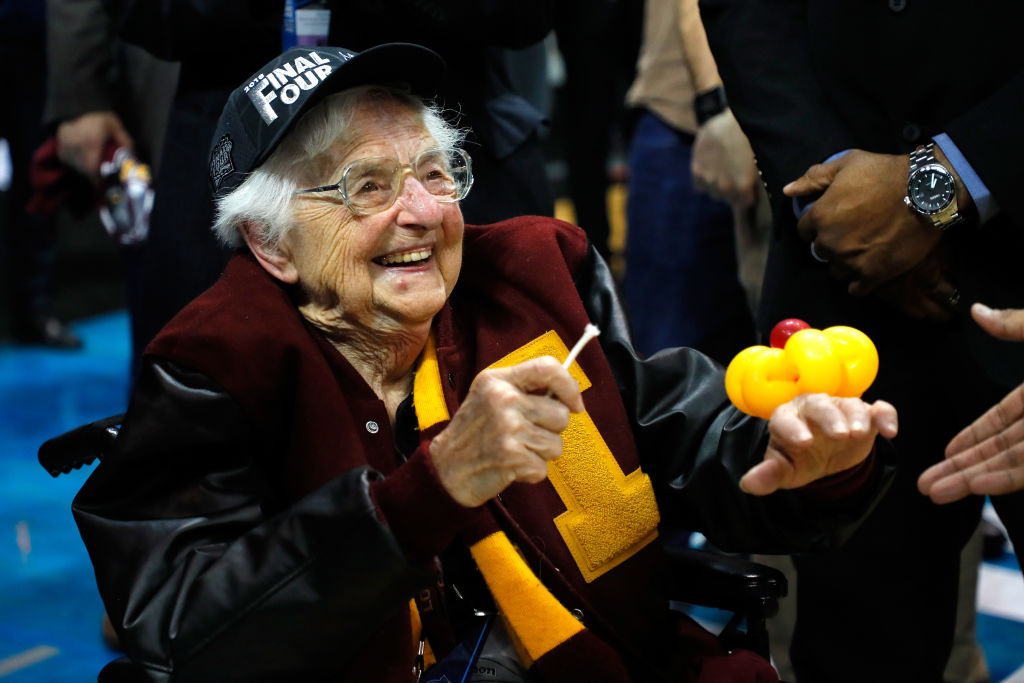 And there was a lot to praise. Her infectious smile. Her hugs for each player. Her encouragement during the game. Each one of them an expression of love from someone who embodies love. She loves her school. She loves her players. She loves the game of basketball. 
That's what made Sister Jean's presence so special. Whenever the cameras flashed to her seated in her wheelchair near the Loyola bench, it always brought a smile to anyone watching. You might not have had a rooting interest in Loyola, but there's no way you couldn't root for the always-smiling Catholic nun.
When Loyola's feel-good story ended with a loss in the national semifinals to Michigan, the spotlight shifted away from the basketball team and Sister Jean. Although the Ramblers' Cinderella story had come to an end, Sister Jean had made her mark on the sports world.  
Celebrating her 100th birthday
Last August, Sister Jean turned 100. There were cakes. Lots of cakes. Ten, in fact, as she celebrated her birthday by attending ten different birthday parties in her honor. 
The number of celebrations is a reflection of just how many lives she has touched in her almost 30 years at Loyola. And she doesn't plan on stopping anytime soon. When it is all over and finally comes to an end, how does she want to be remembered?
"I'm a very happy person. A very generous person with my time and with my energy. A person that really wants to be involved, and I believe that's what has kept me so young, is being with young people."
Those young people who make her feel young will one day in the future look back on their time at Loyola and realize just how fortunate they were to know Sister Jean and have her in their lives.
And the rest of us will never forget that joyous smile of a Catholic nun who helped a little-known team from Chicago make it all the way to the Final Four.