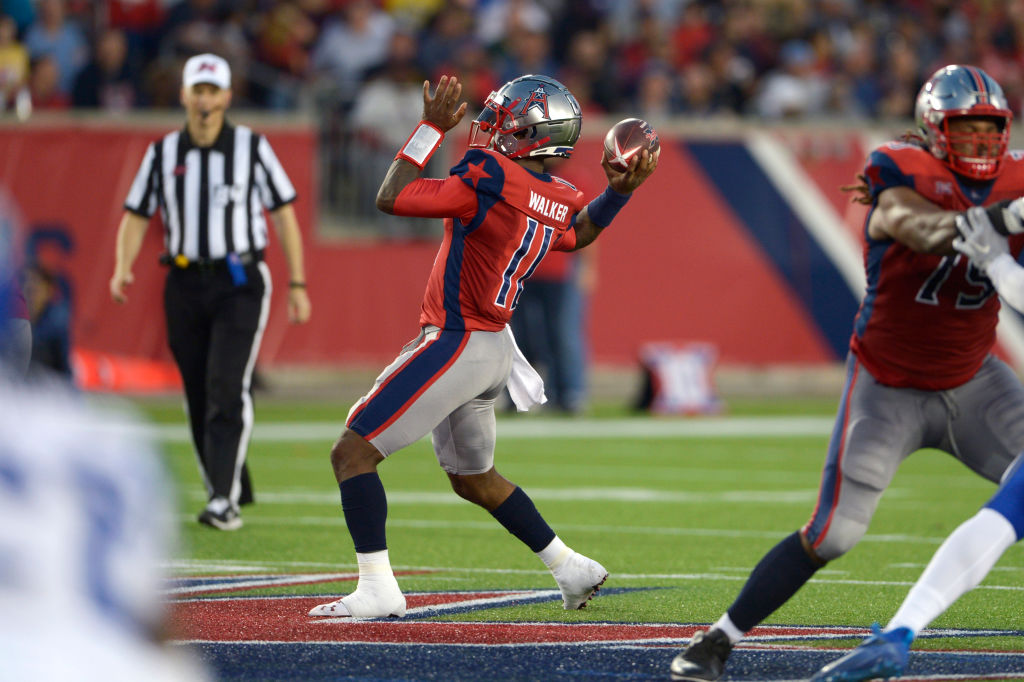 5 XFL Players Who Could Make the Leap to NFL
The XFL season was suspended due to the coronavirus outbreak. But here are five players who could find themselves on an NFL team this summer.
The XFL season may be over sooner than it began, but that doesn't mean the road stops here for some of the league's best players. Vince McMahon's latest football venture proved to be quite a step up from the American Alliance of Football. Through the first month, several players stood out with performances worthy of a look by the NFL.
As NFL teams prepare for free agency and the draft, it would be worthwhile to consider signing some of the XFL's top talent. Several of the league's prominent players have already passed through practice squads. Others have experienced playoff success. And for some, the opportunity to join an NFL organization could be right around the corner.
P.J. Walker, QB, Houston Roughnecks
There's no doubt that the XFL's best player this season was P.J. Walker. The dual-threat quarterback took the league by storm and became its first 1,000-yard passer. In just five games, Walker totaled 1,338 passing yards and 15 touchdowns while adding another 99 yards and another score on the ground.
Walker's emergence shouldn't be such a surprise. The 25-year-old excelled in Matt Rhule's offense at Temple and helped turn around a moribund program. With his former college head coach now in charge in Carolina, Walker could be an intriguing developmental prospect. And with Cam Newton's future up in the air, Walker could find himself in a quarterback battle with Kyle Allen and Will Grier.
Cam Phillips, WR, Houston Roughnecks
Walker's stellar season wouldn't have been possible without Cam Phillips. The XFL's leading receiver averaged 91 receiving yards and nearly two touchdowns per game before the league suspended operations due to the coronavirus (COVID-19) pandemic.
It turns out that only a league stoppage could slow down the Roughnecks receiver. The 24-year-old did sign with the Buffalo Bills following a highly productive four-year career at Virginia Tech. Though he never made an NFL appearance, Phillips should receive a second shot in the NFL after proving his big-play ability in the XFL.
Donald Parham, TE, Dallas Renegades
You can't teach size. And when it comes to Dallas Renegades tight end Donald Parham, they don't get much bigger. The 6-foot-8 pass-catcher proved to be a major mismatch for XFL defenders. Parham's 307 receiving yards ranked third in the league. The next closest tight end had just 133.
At 22 years old, Parham is still in the early stages of his development. He dominated as as a senior at Stetson University (85 catches, 1,319 yards, 13 TD) before getting looks from Detroit and Washington. An athletic mismatch with rare length and height, Parham fits the NFL's prototype of a power forward on the football field.
Cavon Walker, DT, New York Guardians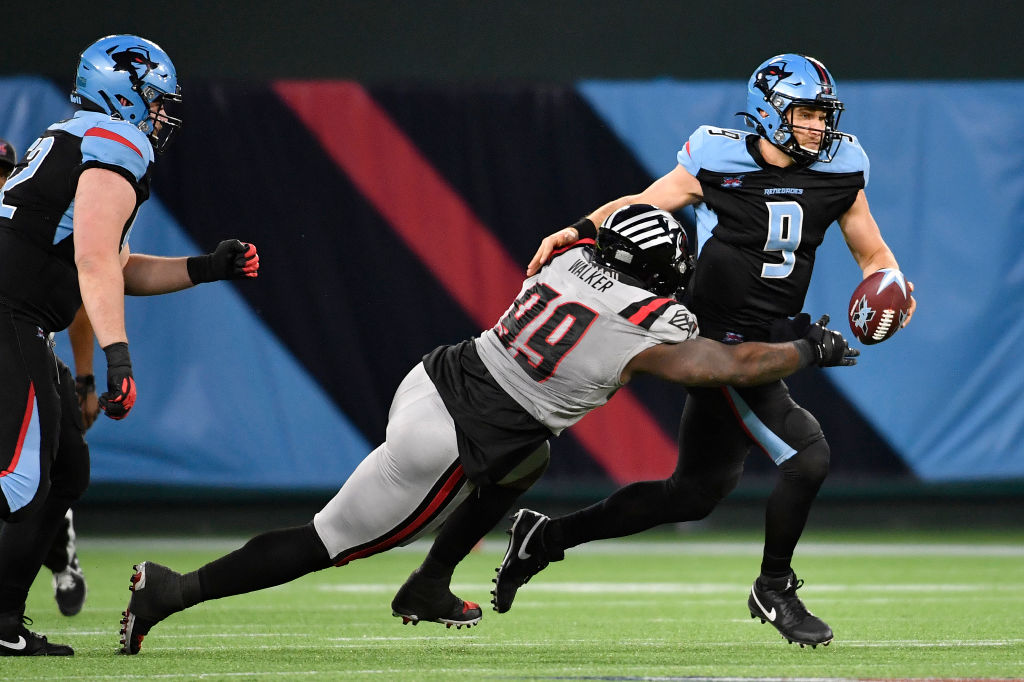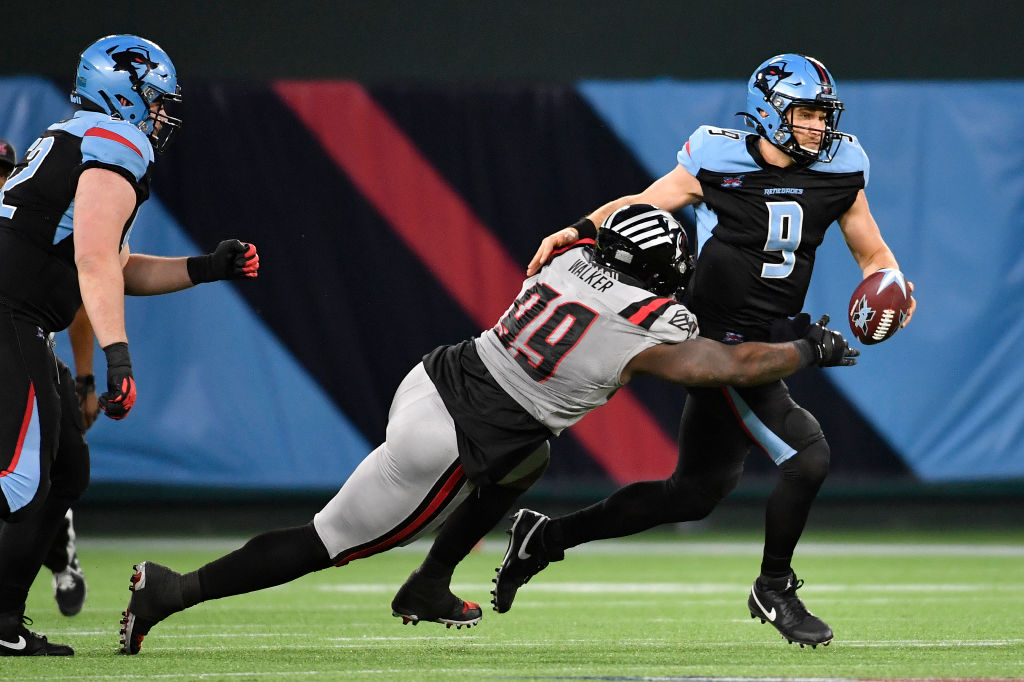 When it comes to getting after the quarterback, the NFL doesn't really care where you come from. As long as you can put pressure on the passing game, you have a shot. Well, after leading the XFL with 4.5 sacks, Cavon Walker certainly stands a shot at latching on in the league.
At 6-foot-2, 287 pounds, Walker doesn't bring great size to the position. However, he did have to make the transition from linebacker to defensive line midway through his collegiate career. Walker's pass-rush prowess helped the New York Guardians hold opponents to just 85 points in five games—the second-lowest total in the league. He won't be a fit for every system, but Walker could certainly try to hone his technique and continue to develop his body at the next level.
Marquette King, P, St. Louis Battlehawks
An unceremonious exit at the hands of Jon Gruden led Marquette King to go from one of the NFL's most popular punters to an XFL outcast. The gregarious, big-legged veteran wasted no time showing why he belongs back in the NFL.
Playing for the St. Louis Battlehawks, King averaged 45.7 yards on 19 punts. That mark actually represented an improvement on his final NFL season when he averaged just 44 yards on 20 attempts for the Denver Broncos. At just 31 years old, King certainly hasn't boomed his final NFL punt. It would be a shock if he isn't picked up to at least provide competition in training camp.