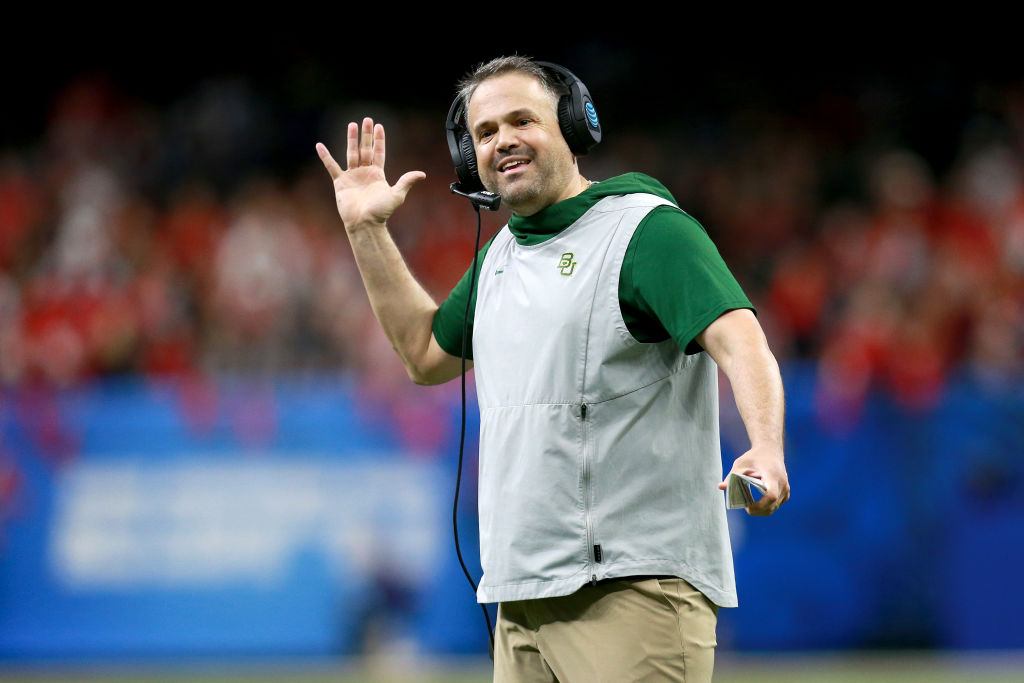 Who is Matt Rhule and How Much Are the Carolina Panthers Paying Him?
After firing Ron Rivera, the Carolina Panthers have found their new head coach. But who is Matt Rhule and how much are the Panthers paying him?
After a few weeks of action, the NFL's coaching carousel is starting to slow down. Mike McCarthy has joined up with Jerry Jones and the Dallas Cowboys, and Ron Rivera is already making changes in Washington, D.C. On Tuesday, Rivera's former club, the Carolina Panthers found their replacement, 44-year-old Matt Rhule.
Where has the new head coach plied his trade up to this point? And how much are the Carolina Panthers paying him each season?
Matt Rhule's coaching career
Like many other NFL coaches, Matt Rhule started his career as a player. He walked onto the Penn State football team and spent four seasons as a linebacker under Joe Paterno.
After his playing career ended, Rhule headed to the sidelines. He bounced between several smaller jobs at schools like Albright College, Buffalo, UCLA, and Western Carolina before settling down at Temple. While he joined the Owls as a defensive line coach, Rhule soon switched to the opposite side of the ball; by 2008, he was the team's offensive coordinator. He left Philadelphia in 2012 to spend a season working with the New York Giants, but return to the school to take over as head coach.
Despite struggling in Rhule's first season at the helm, the Owls started to turn things around; two wins turned into six, then ten. After two straight bowl games, though, it was time to move on. Rhule took over a disgraced Baylor football program in 2017 and, as he did at Temple, took the team from the bottom of the standings to double-digit wins.
How much are the Carolina Panthers paying their new head coach?
Once the NFL coaching carousel started spinning, Matt Rhule became a trendy name. While he was primarily linked to the New York Giants due to his year with the organization, the coach will be heading south and joining the Carolina Panthers.
Panthers' owner David Tepper was apparently willing to shell out the big bucks to bring Rhule to the organization. According to Adam Schefter, the new head coach signed a seven-year contract worth $60 million; with performance incentives, that payout could rise to $70 million.
It goes without saying that such a massive contract is a major show of faith. Not only will Matt Rhule be making a salary comparable to some of the league's leading coaches, but seven years is an eternity in the NFL. If things go well, Carolina will have their ideal candite tied down for quite a while; if things don't click, Tepper will be eating the costs.
Will Matt Rhule be a fit with the Carolina Panthers?
While it's never easy trying to predict how a college coach will transition to the NFL, the Carolina Panthers can definitely take some positives from Rhule's time with Baylor.
The Bears tended to line up in a pistol formation and tried to establish a strong ground attack; once opposing teams defenses started packing the box, they would mix in play fakes and passing plays. They would also use running backs as receivers out of the backfield, trying to force mismatches against opposition linebackers. Even if the Panthers don't use the same formation—no matter who they have under center, he probably won't have the skills of Lamar Jackson—that game plan sounds perfect for Christian McCaffrey, who's equally comfortable carrying the ball or catching passes.
Even if his playbook doesn't translate to the pro game, the Carolina Panthers will have to hope that Matt Rhule is able to continue his history of building winning cultures; if not, he'll be an extremely costly mistake.