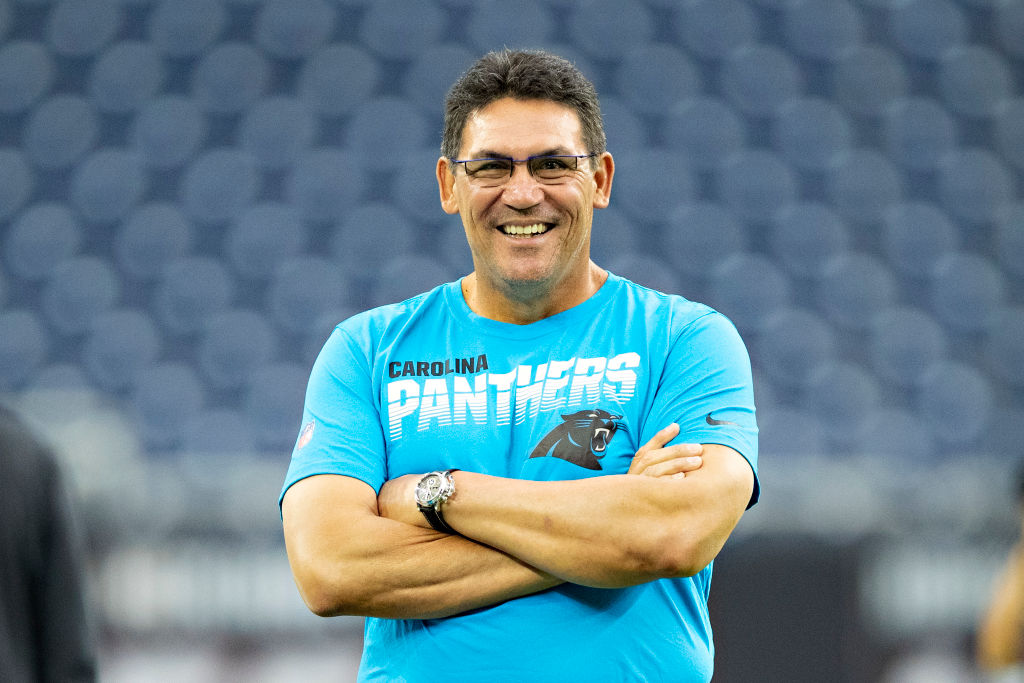 1 Change Ron Rivera Already Made to the Washington Redskins' Locker Room
Ron Rivera has been on the job for less than a week, but the Washington Redskins' new head coach is already making some big changes.
Professional sports teams usually hire and fire coaches in a cycle. When a talented squad underperforms, ownership brings in a disciplinarian to whip them into shape. Once the team tunes out his message, he'll be replaced with a player's coach, more likely to collaborate than crack skulls. By hiring Ron Rivera, the Washington Redskins placed themselves firmly in the former camp.
Rivera has been in the nation's capital for less than a week, but he's already shaking up the Redskins organization. His first significant change, however, will involve redecorating the locker room.
The Washington Redskins' disappointing 2019 campaign
Despite their rich history, the Washington Redskins haven't done much in recent years. The 2019 campaign, however, was disappointing, even by their standards.
Despite drafting Dwayne Haskins, Washington started the year with Case Keenum under center. The veteran presence didn't help, though, as the Redskins dropped their first five games. That poor start cost Jay Gruden his job, but the results didn't really improve.
Washington finished the season 3-13, missing the playoffs yet again. There was a minor uproar when their rookie quarterback missed a snap to take some selfies. Trent Williams refused to suit up after the team misdiagnosed a cancerous growth on his head. Unsurprisingly, the franchise is looking to get back on track.
In the early days of 2020, the Redskins hired Ron Rivera to serve as their new head coach. He won't just patrol the sidelines, though; Riverboat Ron will also have to change the team's culture and whip an underperforming squad into shape.
Ron Rivera has no time for fun and games
Modern football locker rooms are more than simply places to get changed; they're filled with all sorts of amenities designed to make athletes' lives a little more comfortable. Ron Rivera, however, has no time for fun and games.
Shortly after taking charge of the Redskins organization, the head coach reportedly had a ping pong table and a shuffleboard table removed from the players' locker room. While the former game didn't seem to be too popular, the message was still clear; players were there to work, not to play games.
While many hailed the move on social media, others pointed out that the ping pong table was a bit of a straw man. While there's nothing wrong with Rivera trying to send a message to his players, it's naive to suggest that the Redskins struggled because they spent too much time playing a game rather than practicing.
Does Ron Rivera have what it takes to change the Washington Redskins?
When push comes to shove, removing the ping pong table from the Washington Redskins locker room isn't going to make much of a material difference. Bonding over the game will simply be replaced by gathering around a stereo, card table, or any other amenity; in 2020, no coach can demand that his players be football-focused robots. If Rivera pushes too hard in that direction, he'll eventually lose the locker room.
At the same time, though, Rivera has already sent a message to everyone affiliated with the Washington Redskins. The new head coach has laid his cards on the table and established a precedent of taking things seriously. Now it's up to him to follow through on that vision and ensure that everyone buys in.
We've seen Ron Rivera lead the Carolina Panthers to the Super Bowl. We've heard his former players speak highly of him. Removing a ping pong table won't magically turn the Redskins into an elite team, but, if it helps the players buy into Rivera's vision, that could make all the difference.