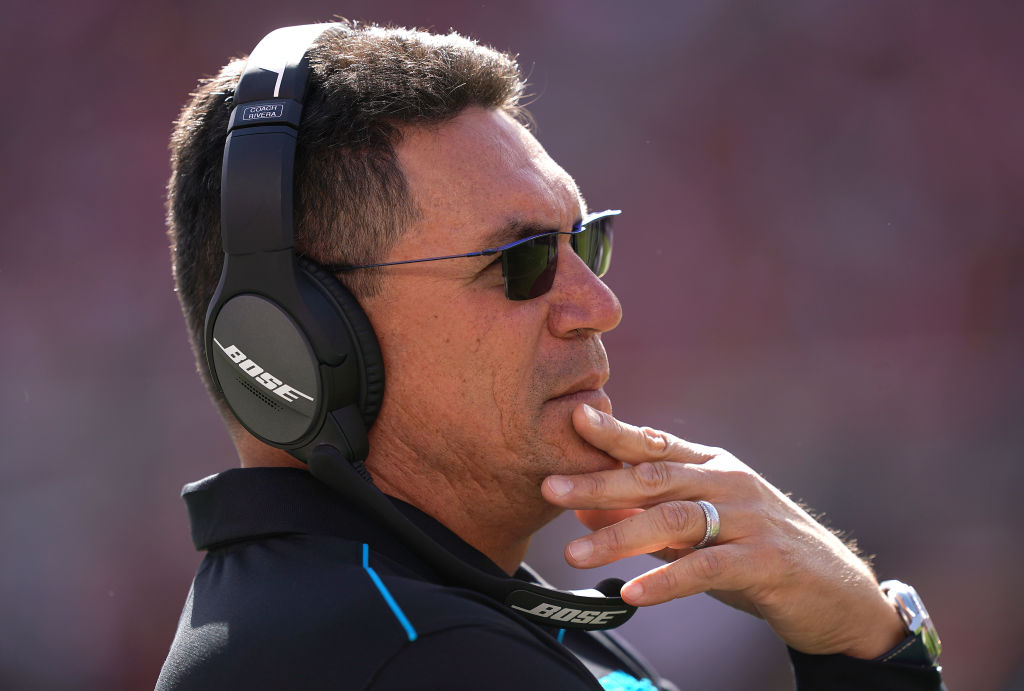 How John Madden Made Ron Rivera the Head Coach He is Today
Ron Rivera will need all the help he can get coaching the Washington Redskins. Thankfully, he's learned a thing or two from John Madden.
The NFL is full of illustrious coaching trees. Bill Belichick, for example, worked under Bill Parcells in New York. Andy Reid worked under Mike Holmgren, before starting a massive tree of his own. While Ron Rivera plied his trade on Reid's Philadelphia Eagles staff, the new Washington Redskins coach also learned from an NFL legend: John Madden.
Madden last plied the sidelines in 1978, but he's still one of the NFL's premier minds. Ron Rivera has experienced that wealth of knowledge firsthand.
Ron Rivera's NFL career
While Ron Rivera has learned a great deal from John Madden, he also has plenty of hands-on experience, too. During his playing days, the coach was an All-American linebacker at Cal; after the Bears drafted Rivera in 1984, he spent nine NFL seasons in Chicago, winning Super Bowl XX.
At the end of the 1992 season, Rivera called it a career. He spent some time as a TV analyst before rejoining the Bears organization as a quality control coach. One year later, he headed to Philadelphia. After four seasons as the Eagles' linebackers coach, however, he rejoined the Bears, this time as defensive coordinator; before long, Chicago's defense had transformed into one of the league's top units.
After a spell in San Diego, Rivera finally got a chance to be run his own team in Carolina. Although the Panthers took a couple of seasons to get rolling, the group eventually clicked. In 2013, Rivera took home Coach of the Year honors as his clubs won 12 games; two years later, he won the award again, finishing the season with a 15-1 record and a trip to the Super Bowl. After that run of success, however, the Panthers couldn't maintain their form. Eventually, Rivera paid the price with his job.
Learning from John Madden
Ron Rivera first met John Madden as a teenager. While the two first crossed paths in a chance encounter, they would go on to develop a genuine relationship.
During Rivera's playing career, he would chat with Madden, who had become a television broadcaster, during pre-production meetings. When the linebacker became a head coach, Panthers owner Jerry Richardson suggested that he visit the legendary coach. Rivera did, and the pair spoke for four hours; their conversation grew into an annual tradition, supplemented by phone calls and text messages.
Many of Rivera's hallmarks can be traced back to Madden. He gives his teams the same three rules that the Oakland Raiders had to follow. His relationship with Cam Newton—one that featured parameters that quarterback was free to work within—was influenced by Madden's handling of Ken Stabler. The list goes on and on.
One piece of Madden's advice should serve Ron Rivera well with the Washington Redskins
While Ron Rivera established his coaching credentials in Carolina, he'll have a brand new challenge in the nation's capital. The Washington Redskins are a notoriously dysfunctional franchise; the head coach will not only be tasked with changing the team's win-loss record but changing the entire organizational culture.
Luckily, Madden once gave the coach a piece of advice that's well suited to this situation. While a good leader trusts his staff, he also needs to lead from the top.  "You can delegate the authority, but you cannot delegate the standard," Madden explained.
"I always used to wonder why Coach Ditka pushed us so hard and got pissed off at us," Rivera told Bleacher Report's Dan Pompei. "Then it dawned on me after I talked with Coach Madden. He was trying to get us to reach his standard. And his standard was that of a Hall of Famer. I am by no means a Hall of Famer, but I have tried to establish a similar standard."
Ron Rivera is going to have quite a challenge with the Washington Redskins. If there's anyone he'd want in his corner, though, it would be John Madden.