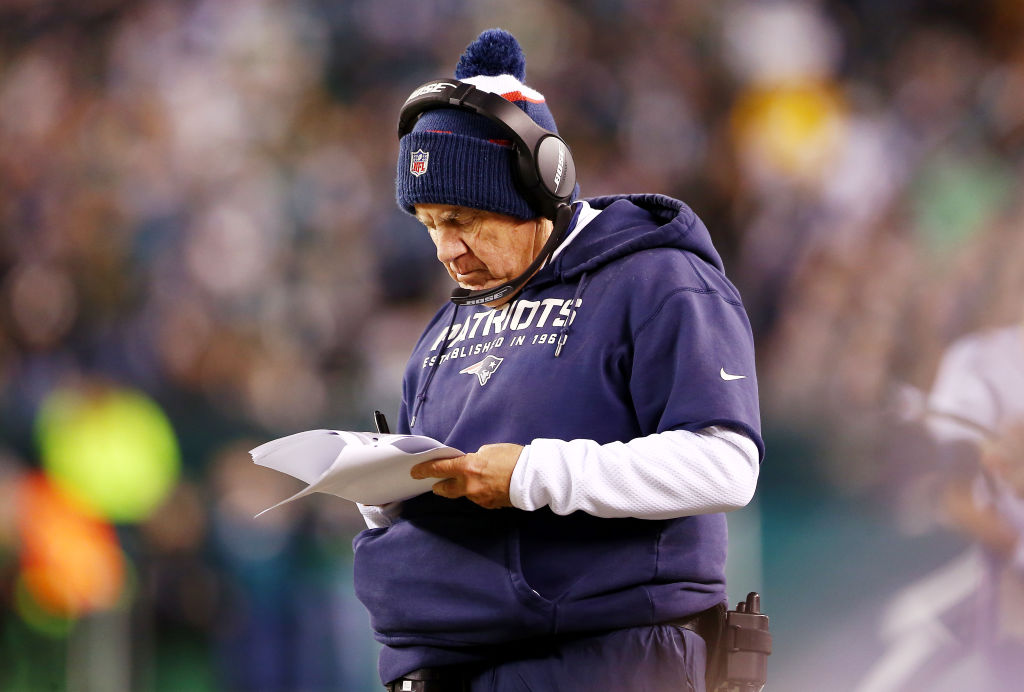 How an Ancient Philosopher Shapes Bill Belichick's Coaching Strategy
New England Patriots coach Bill Belichick finds football wisdom everywhere, even in the works of ancient philosophers.
Whether you love him or hate him, you can't argue with Bill Belichick's NFL record. While he might be a bit blunt during press conferences, the Patriots head coach has done just about everything possible. He's won over 300 games and six Super Bowls and, perhaps more impressively, he's still improving.
While every head coach picks up wisdom from a variety of sources, Bill Belichick gets ideas from some unconventional places. In fact, his coaching philosophy has been shaped by one specific ancient philosopher.
Bill Belichick's impressive NFL career
While Bill Belichick has made a name for himself on the sidelines, he wasn't the first coach in the family. Belichick's father worked on the United States Naval Academy's football staff, giving Bill an early taste of football and discipline.
After his college playing career ended, Belichick headed into coaching, too. In 1975, he secured a job as a special assistant for the Baltimore Colts. After one season, he left Baltimore, joining up with the Detroit Lions and Denver Broncos before taking a job the New York Giants. In the Big Apple, Belichick would start to make a name for himself.
Belichick joined the Giants' organization as a special teams coach and defensive assistant but quickly started climbing up the coaching ladder. He started working with the team's linebackers in 1980 and, by 1985, took the reigns as defensive coordinator. Teaming up with Lawrence Taylor, Belichick's defense helped the Giants win two Super Bowls as the Giants defeated the Denver Broncos in 1986 and upset the Buffalo Bills four years later.
On the back of that success, Belichick earned his first head coaching job with the Cleveland Browns. He left town in 1995, taking assistant coaching roles with the Patriots and Jets. In 2000, however, he returned to New England; the franchise ascended to the top of the NFL heap and still hasn't looked back.
What Bill Belichick has learned from 'The Art of War'?
In honor of the NFL's 100th season, the league has been assembling a list of the greatest players and coaches of all-time. Unsurprisingly, Bill Belichick earned a place in history.
When the Patriots' head coach was asked to explain his coaching philosophy, he mentioned a surprising source. Rather than quoting Vince Lombardi, Chuck Noll, or any other NFL greats, Belichick cited The Art of War, an ancient military treatise attributed to Sun Tzu.
"You can go all the way back to a few hundred years B.C., Sun Tzu, The Art of War," he explained. " Attack weaknesses, utilize strengths and figure out what the strengths are on your team. There are some things you have to protect.  Find the weaknesses of your opponent and attack. You can't win a war by digging a hole. You gotta attack. You have to figure out where you want to attack, how you want to attack and that changes week to week and game to game."
How adaptability informs Belichick' coaching strategy
While most fans probably think of Bill Belichick as tough and uncompromising, he isn't afraid to adapt. Whenever the Patriots enter a big game, you can be sure that their head coach has a specific game plan tailored to disrupt the opposition. That same trend can be seen in his overall management of the team; no matter which players depart each offseason, the Patriots always find a way to adjust their schemes and compete for a Super Bowl.
While it's hard to assign success to one specific trait, that mindset is probably responsible for the lion's share of New England's success. While some NFL coaches are dogmatic and unwilling to rethink their strategies, Belichick isn't afraid of change. Other coaches are trying to win a single game; Bill Belichick is thinking about the entire war.