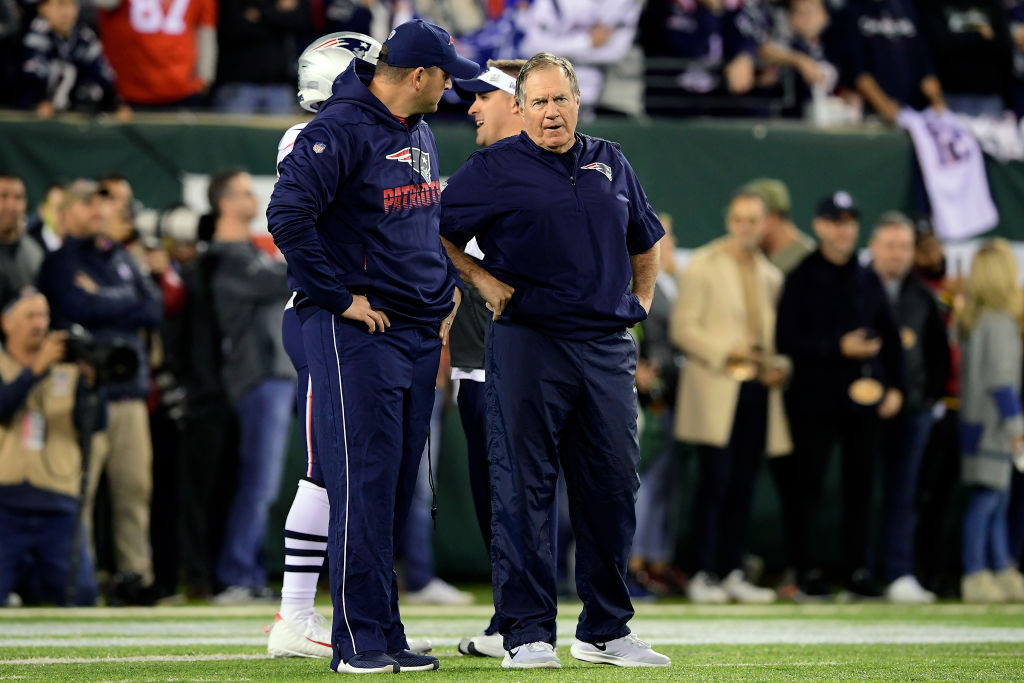 Bill Belichick Confirms His Time in New England Might Not Be Over Anytime Soon
Bill Belichick is the greatest NFL head coach of all-time. But how long can he possibly stay with the New England Patriots?
While the players get most of the glory, football coaches play a key part of each team's success. With massive rosters and even larger support staff, every head coach has to manage the big picture and individual minutia at the same time. There's no one better at that balance than New England Patriots head coach Bill Belichick.
While it seems like Belichick has been prowling the sidelines in his signature hoodie forever, he's not in any rush to retire. In fact, the head coach recently suggested that he could keep working for quite a while.
Bill Belichick's coaching career
Like most coaches, Bill Belichick started his football career as a player. He had an early connection to coaching, however, as his father was an assistant coach on the United States Naval Academy staff.
After hanging up his shoulder pads, Belichick got into coaching himself. He took a job as a special assistant for the Baltimore Colts, before moving on to Detroit and Denver. In New York, however, Belichick really started to shine.
He joined the Giants staff as a special teams coach and defensive assistant but quickly moved up in the organization. He became the linebackers coach in 1980 and, by 1985, was the defensive coordinator. Led by Lawrence Taylor, Belichick's defense won two Lombardi Trophies as the Giants knocked off the Denver Broncos in 1986 and upset the Buffalo Bills in 1990.
On the back of that success, Belichick landed his first head coaching job with the Cleveland Browns in 1991. After leaving the midwest, he took jobs with the Patriots and Jets. In 2000, however, he returned to New England; the franchise never looked back.
The end of a Patriots era?
Tom Brady and Bill Belichick have formed an unstoppable partnership with the New England Patriots. That dynamic duo, however, could soon become a thing of the past.
Rumors have recently started swirling that Tom Brady could leave the Patriots after this season. The quarterback's Brookline, Massachusetts home is currently for sale; Brady's trainer, Alex Guerrero, is also selling his house. Those factors, combined with the quarterback's age, led ESPN's Adam Schefter to publically explain that he thinks Brady will move on.
While there haven't been any specific rumors about Belichick, the clock may be ticking. In 2009, the head coach said he didn't want to coach into his 70s. That would give him three more seasons on the NFL sideline.
How long can Bill Belichick coach?
While Belichick previously cast age 70 as his cutoff, the coach appears to be changing his tune. During his weekly radio spot on WEEI, he suggested that he could remain on the sidelines for a while.
"When I said it, maybe I didn't know what 70 felt like," Belichick explained. "So I'm not really sure if that's an accurate statement today or not. At the time, I didn't feel that way. Now that I'm closer to that age, I don't know."
While it's hard to know how long Belichick will want to keep coaching, there's no reason to believe he'll be in any rush to retire. He has complete control over the Patriots' football operations and gets along well with owner Robert Kraft. Belichick's sons, Steve and Brian, are also on the coaching staff, which could minimize the need to retire for family reasons.
At this point, Belichick is within touching distance of the NFL's all-time wins record, trailing Don Shula by 47 victories. While it's hard to know the head coach's plans, it's hard to believe he won't try his best to break the record before riding off into the sunset.