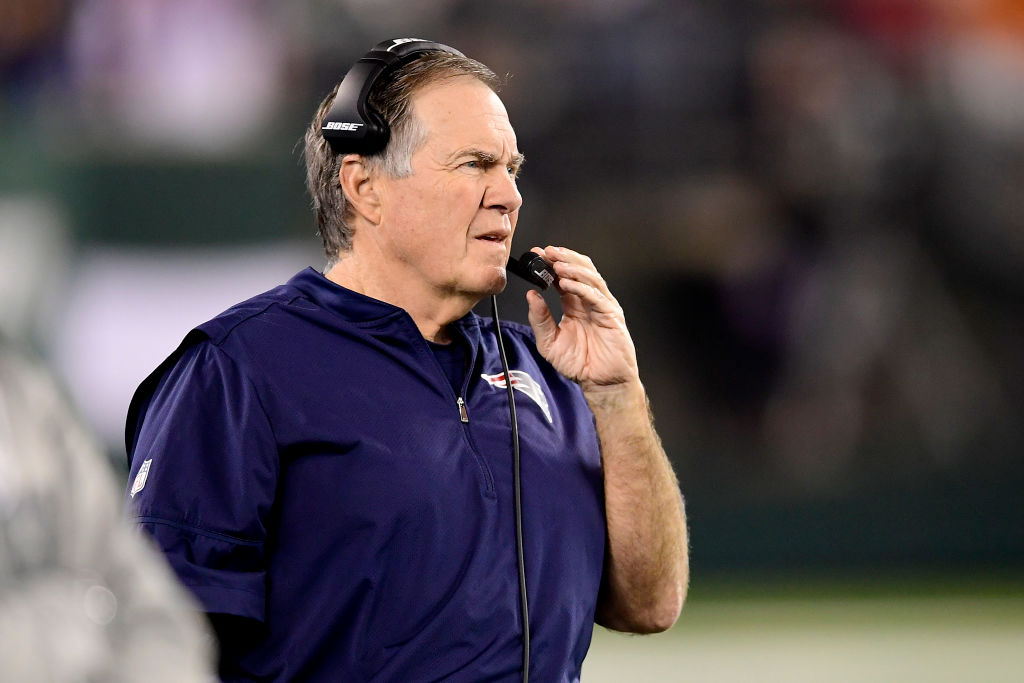 Bill Belichick Says This Is the 1 Thing That Really Wins Football Games
Bill Belichick is arguably the greatest winner in NFL history. But what is the New England Patriots head coach's secret to Super Bowl success?
When it comes to modern NFL success, it's impossible to look past the New England Patriots. The franchise has risen from mediocrity thanks to the dynamic duo of Tom Brady and Bill Belichick; it's hard to imagine a better coach-quarterback combo than those two.
Most teams, however, aren't lucky enough to have all-time greats under center and on the sidelines. Belichick, though, recently dropped a hint that every franchisee should follow. The coach said one specific thing helped him win 300 NFL games.
Bill Belichick's coaching history
Bill Belichick's name is now synonymous with excellence, but he didn't develop a thirst for success on his own. The coach's father was actually on the United States Naval Academy's football staff, which helped Bill learn about holding oneself to high standards.
After his own college playing career, Belichick followed in his father's footsteps and moved to the sidelines. He joined the Baltimore Colts as a special assistant before taking the same title with the Detroit Lions and Denver Broncos. After a move to the New York Giants, however, Belichick's career began to take off.
Despite starting as a special teams coach and defensive assistant, Belichick quickly took on more and more responsibilities. He started working with the team's linebackers in 1980 and, five years later, became the defensive coordinator. That unit, led by Lawrence Taylor, carried the Giants to two Super Bowls in 1985 and 1990.
Those titles helped Belichick get his first head coaching gig, which came in 1991. After his time with the Browns, the coach worked for the New England Patriots and New York Jets. He accepted the Patriots head coaching job in 2000 and altered the course of NFL history.
Climbing the NFL ladder
While everyone knows Bill Belichick's coaching credentials, he added another achievement to his resume last weekend.
When the Patriots topped the Cleveland Browns last Sunday, Belichick claimed his 300th win as an NFL head coach. He's only the third man ever, joining Don Shula and George Hallas, to reach the plateau.
Despite sitting 47 wins behind the all-time record, Belichick still dominates the NFL coaching leaderboard. He's won the most conference championships, Super Bowl titles, and postseason games in league history; he also could keep coaching for years to come, giving him a chance to tighten his grip on the record book.
Bill Belichick's key to success
Given his historic dominance, it's easy to assume that Bill Belichick has some magic secret. His key to success, however, is something much more straightforward.
"I know one thing," the coach said during his weekly radio spot on WEEI. "I've had a lot of good players and that's what wins football games, good football players. If you've got a bunch of bad players, you're probably not going to do very well. I've had a lot of good ones, I've had some great ones going back to the Giants, so that's the main thing, is to have good players that are tough, smart, and dependable."
Belichick has believed that's the key to football for a while. In 2017, he cited a similar set of criteria for his players, saying that they needed physical and mental toughness to shine in the biggest moments. While there's a limit on the number of superstars each team can legitimately have, filling out the roster with reliable role players is a crucial part of team success.
While it's a bit easier to do in New England—Belichick has virtually complete control of football operations and the backing of owner Robert Kraft—NFL teams can learn from his advice. If you can't have an all-pro in each position, you have to make sure each player is able to execute his job and help the team succeed as a whole.