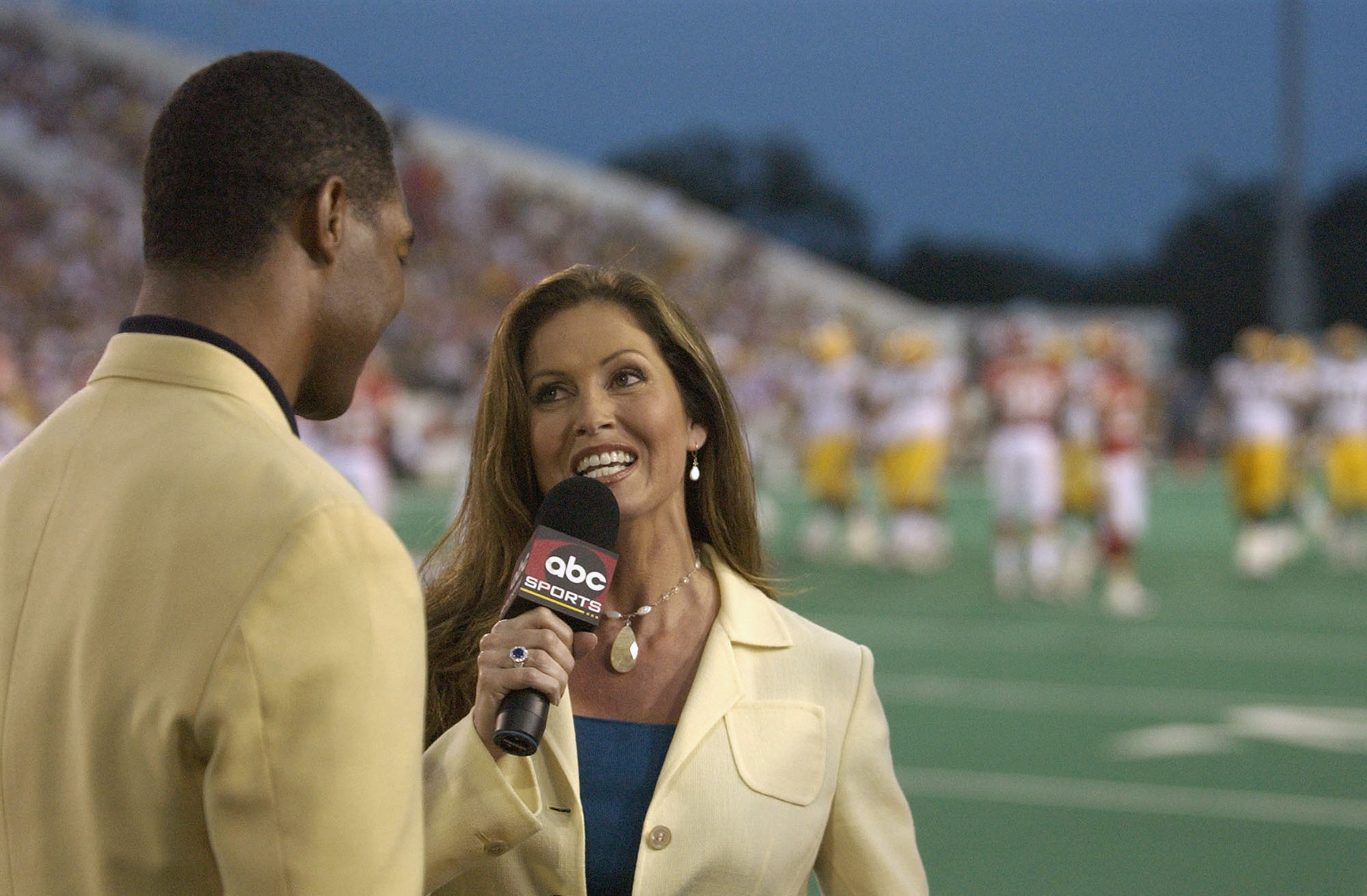 Lisa Guerrero Faced Depression, Suicidal Thoughts After Monday Night Football Stint
Lisa Guerrero battled through suicidal thoughts and clinical depression after her one-year stint with Monday Night Football.
Sports have always played a role in Lisa Guerrero's life. They also nearly ended it. The former Los Angeles Rams cheerleader and co-host of The Best Damn Sports Show Period got what would seem to be a dream job in sports media as a sideline reporter on Monday Night Football in 2003. It was a job that drove her into depression and had her contemplating suicide.
Lisa Guerrero has become a successful reporter
Lisa Guerrero's early days in the reporting field were spent in the world of sports. She was a sports anchor at KCBS-TV in Los Angeles in 1997. In 1999, she went over to Fox Sports and worked on various shows, including The Beast Damn Sports Show Period.
After one dreadful year of working for ABC's Monday Night Football, Guerrero regrouped and eventually made her way to Inside Edition, where she started out as a correspondent in 2006. Guerrero remains with Inside Edition and it's been a different reporting ride than she was used to in sports.
Guerrero's an investigative reporter. She's tackling some tough issues and confronting those involved with criminal activity. "Part of what I do now is to physically go out and confront people," said Guerrero to The New York Post. "A lot of them are bad people, criminal and dangerous."
Guerrero was hired to work Monday Night Football in 2003
When Lisa Guerrero was working for Fox, she opened a few eyes. During her time on The Best Damn Sports Show Period, she was noticed by then-Monday Night Football executive producer Fred Gaudelli. Gaudelli approached her about a job. Guerrero had never been a sideline reporter. She even turned down opportunities to do sideline reporting for college games when she was at Fox.
She said no thanks to Gaudelli, but when she told her agent, Ken Lindner, that she wanted to decline the offer, Lindner thought she was crazy. He convinced her to meet with Gaudelli. When she met with Gaudelli, Guerrero clearly remembers him saying the position wouldn't be an X's and O's one. "I was like, 'Oh, that changed the whole thing for me,'" Guerrero told The New York Post.
Guerrero's job was supposed to focus on entertainment and football, but that all changed. She got the job, but the "pearl clutchers" at Disney, as Guerrero put it, didn't want the sports entertainment role anymore. Her job became a traditional sideline reporter, a position in which she had no experience. After one year, she was fired.
Guerrero was clinically depressed
A couple of months after she was fired from her job with Monday Night Football, Lisa Guerrero happened to put on sports radio in her car and heard the hosts laughing at a Pittsburgh Post-Gazette article that humiliated her. The article labeled her as "MNF"'s "biggest liability ever." 
Guerrero was distraught. "I considered killing myself," Guerrero told The New York Post. She pulled over and called her father. His message was simple – there's more to life than sports. It took several attempts for that message to sink in.  "I don't know how many times he had to tell me before it got through my head that sports isn't everything," she said.
Guerrero is thriving now. There are no more days of throwing up before each game. There's no more weight loss associated with worrying about her image and how she would get through the day. "Now, I wake up and pinch myself every day," Guerrero said. "I can't believe I get to chase bad guys every day for a living. I get to make a difference in people's lives and I get to make change happen."
How to get help: In the U.S., call the National Suicide Prevention Lifeline at 1-800-273-8255. Or text HOME to 741-741 to connect with a trained crisis counselor at the free Crisis Text Line.